Description
The Resilient Farms Conference will address the needs of Wisconsin's farmers looking to explore and develop new business ideas for their farm. The conference will provide information, resources and tools to help plan for your new enterprise. Topics include various value added production topics, marketing and business strategy, business planning and analysis, and guides to the regulatory and licensing process.
This one day conference is for farmers who are in the brainstorming, early planning and beginning entry phases of adding additional revenue streams to their farm operation.
Attendees will have the opportunity to attend a variety of sessions as well as the opportunity to meet with industry experts for 20 minute consultations.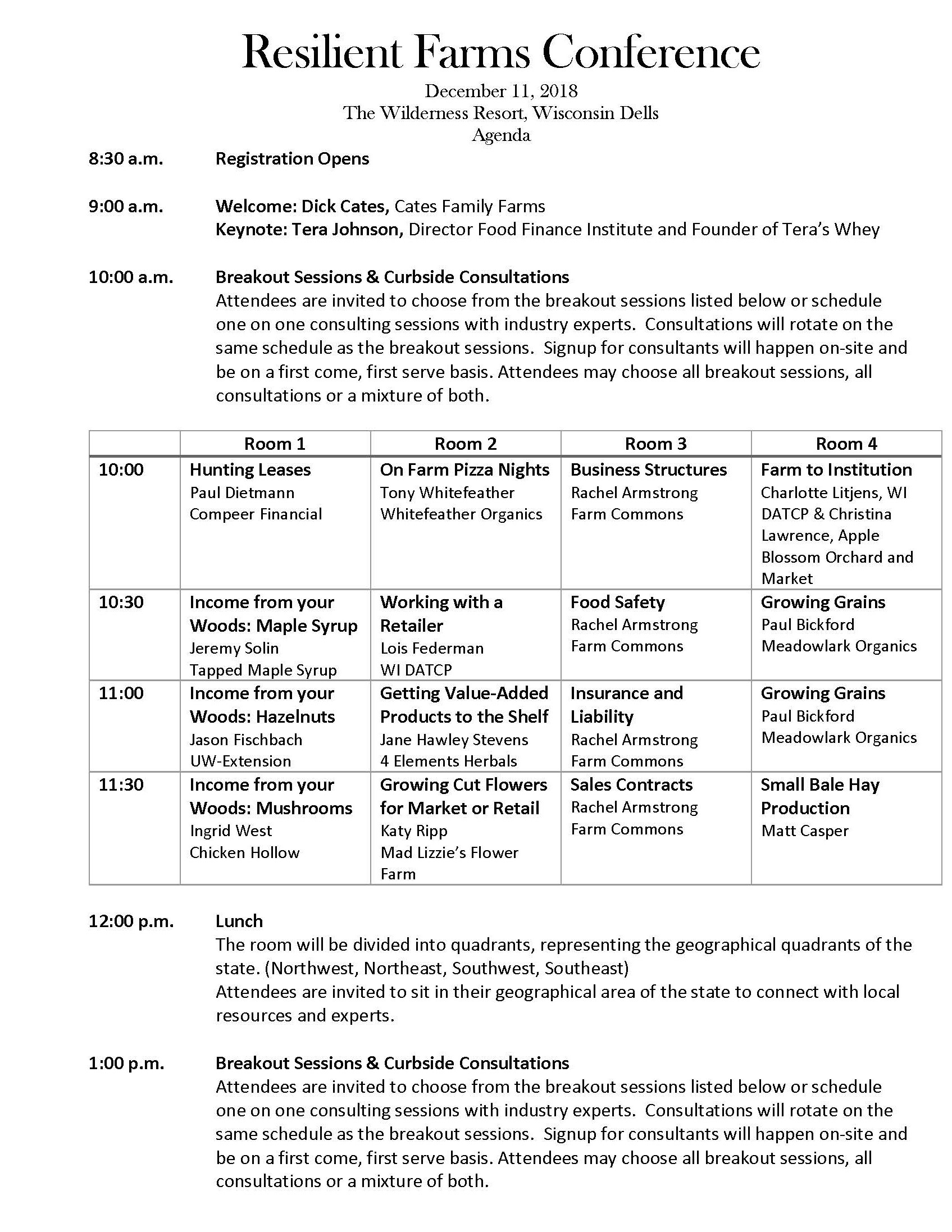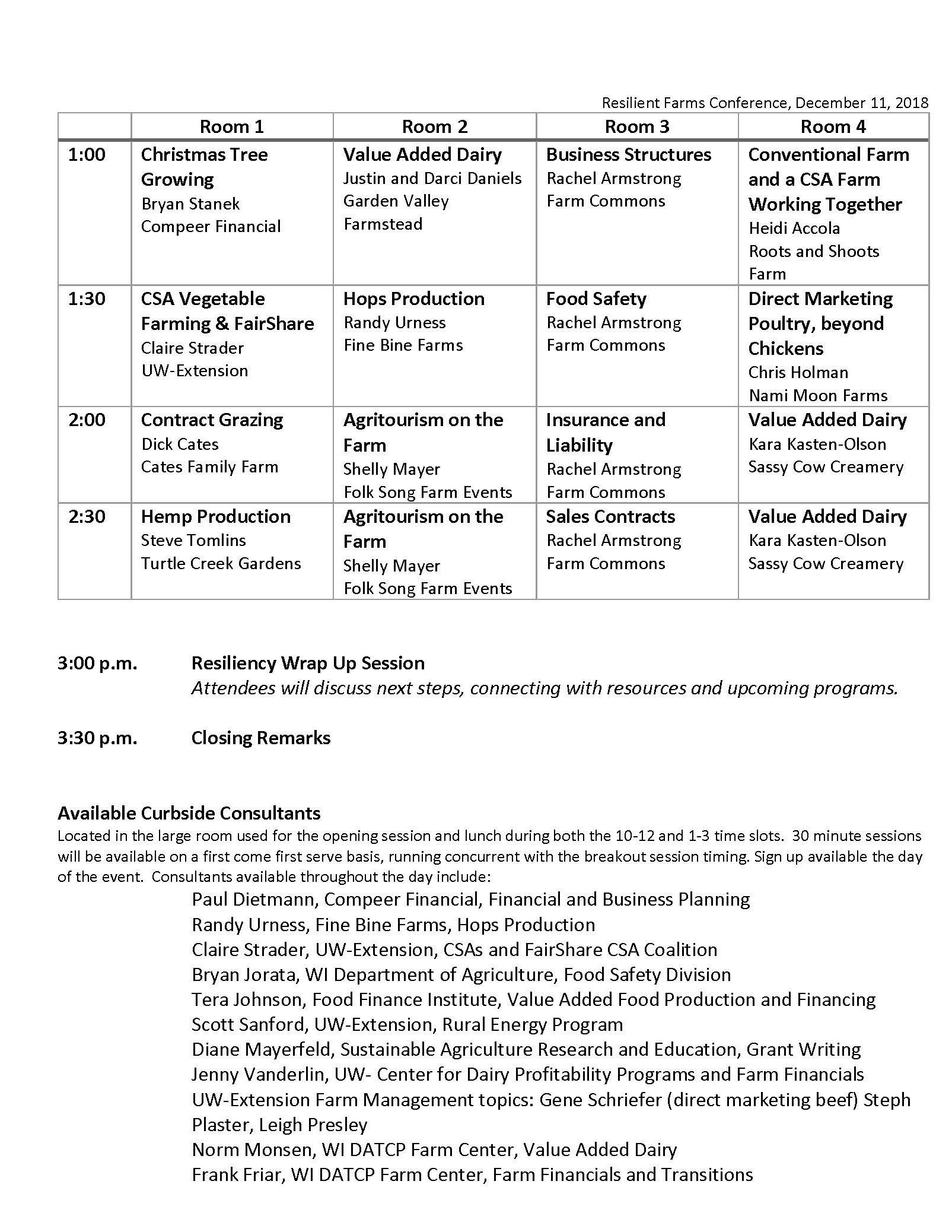 Curbside Consultations
How it works
From 10:00-12:00 and 1:00-3:00 attendees are invited to attend either breakout sessions or schedule one on one consulting sessions with industry experts. Attendees may choose all breakout sessions, all consulting sessions or a mixture of both.
Each consulting session will last 20 minutes. Sign up will be available on a first come, first serve basis on the day of the event.
Consultations will happen in the Wilderness Room
Consultants
Paul Dietmann is a Senior Lending Officer in the Mission Financing group at Compeer Financial, a member-owned rural lending cooperative and Farm Credit System institution serving Illinois, Minnesota, and Wisconsin. Paul and his colleague, Sai Thao, are responsible for Compeer's Emerging Markets Loan Program, which provides loans to farmers who market their products through local food systems.
Prior to joining the staff at Compeer, Paul spent 16 years with the State of Wisconsin; eleven years as a county agriculture agent with the University of Wisconsin-Extension and five years as director of the Wisconsin Farm Center, which is the farmers' assistance program in the Wisconsin Department of Agriculture, Trade and Consumer Protection (DATCP). He served as Wisconsin's Deputy Secretary of Agriculture in 2010. Dietmann holds a Bachelor of Science in Agricultural Economics from the University of Illinois, and a Master's Degree from UW-Madison. He is co-author of the book Fearless Farm Finances: Farm Financial Management Demystified. Contact: (608) 370-6956 paul.dietmann@compeer.com
Topic: Financial and Business Planning; Financing Farm Businesses
Frank Friar grew up on a farm near Boscobel and earned his BS and MS in agricultural education from the University of Wisconsin-Platteville. He worked at Badgerland Financial for 30 years and retired as Senior Vice President of Branch Operations. After a short retirement he entered the workforce again at WI-DATCP in the Farm Center where he has been for over 10 years assisting farmers with financial analysis, transition work and estate planning. Contact: (608) 224-5049 frank.friar@wisconsin.gov
Topic: Financial Analysis, Transition and Estate Planning
Tera Johnson Tera Johnson is a serial entrepreneur whose mission is to create the next generation of environmentally and economically regenerative food and farming businesses. The founder of teraswhey® and host of the Edible-Alpha™ podcast, Tera participated in the full arc of creating a successful investor-financed company. Now the founder of the Food Finance Institute at the University of Wisconsin System and winner of the UW-Extension Chancellor's 2017 Wisconsin Idea Award, Tera is a frequent speaker, teacher and financial consultant to sustainable food and farming businesses, social venture funds and investors. Contact: (608) 890-0780
Topic: Business Models for Farms, Financing Farm Businesses
Brian Jorata is a Food Scientist-Licensing Specialist with the Bureau of Food and Recreational Businesses within the Wisconsin Department of Agriculture, Trade and Consumer Protection. He works with new operators helping them understand the facility requirements, food safety, and public health impact when starting a food, dairy or recreational business. Contact: (608) 215-4042 brian.jorata@wisconsin.gov
Topic: Food Safety Regulations and Planning
Joy Kirkpatrick began her Extension career as a county-based Dairy & Livestock Agent. In 2004 she became the Outreach Specialist for the University of Wisconsin's Center for Dairy Profitability. In her current job she collaborates with colleagues to provide educational programs and information to farm businesses on farm succession planning. Contact: (608) 263-3485 joy.kirkpatrick@ces.uwex.edu
Topic: SWOT Analysis for your business
Diane Mayerfeld is the Wisconsin SARE State Coordinator and is a Sustainable Agriculture Outreach Specialist with the University of Wisconsin-Madison Extension where she facilitates professional development in sustainable agriculture, in topics ranging from local food system development to cover crops and agroforestry. Contact: (608) 262-8188 dbmayerfeld@wisc.edu
Topic: Grant Writing
Norm Monsen serves as Wisconsin DATCP's Dairy Economic Development Consultant. In this role Norm works with start-up and existing dairy companies to find and capture opportunities as well as address challenges. Much of his work has been with start-up dairy entrepreneurs- those that he says "think outside the box and prompt innovation in dairy".
His work through DATCP (and with the Dairy Business Innovation Center) has allowed him to engage with dairy in Wisconsin, the U.S., and on International dairy projects. Norm farms with his wife, Kim, outside of Stoughton. Contact: (608) 224-5135 norm.monsen@wisconsin.gov
Topic: Value Added Dairy Processing
Stephanie Plaster is the Agriculture Educator for both Washington and Ozaukee County UW-Extension. Her focus is primarily on dairy, livestock and farm business management, increasing production efficiencies. She received a Master of Agriculture from Colorado State University in Integrated Resource Management where she worked with beef and sheep grazing and feedlot systems. Stephanie also has experience in urban agriculture, commercial aquaponics, and vegetable seed production. Contact: (262) 335-4477 stephanie.plaster@ces.uwex.edu
Topic: Vision and Mission development
Leigh Presley is the Agriculture Educator for Racine and Kenosha County UW-Extension. Her focus is primarily on farm business management, small farms and food systems. Leigh also has experience with agriculture literacy, educating and communicating with members of the public on agriculture topics. Contact: (262) 857-1948 leigh.presley@ces.uwex.edu
Topic: Exploring direct marketing options for your business
Scott Sanford is a Distinguished Outreach Specialist in the Biological Systems Engineering department at the University of Wisconsin-Madison where he has been on staff since 2002. He works on and manages the Rural Energy Program. He develops educational materials, audit tools and makes presentations on energy efficiency for dairy farms, irrigation system, grain drying, cold storage facilities, maple syrup production, greenhouses and renewable energy. Scott also does applied research and is currently working on a new method for the distillation of essential oils mainly mint. Prior to joining the university, Mr. Sanford worked in the dairy equipment business for 17 years holding positions in engineering, marketing and manufacturing. Contact: (608) 262-5062 sasanford@wisc.edu
Topic: Rural Energy Program
Gene Schriefer is the Agriculture Agent for Iowa County UW-Extension. His focus is primarily animal science; farm business; forage management; grazing; nutrient management; soil health. Gene has been instrumental in livestock grazing education programs in southwest Wisconsin and a resource for farmers across the state. Gene also has experience with emerging agricultural markets and alternative markets and marketing. Contact: (608) 930-9850 gene.schriefer@ces.uwex.edu
Topic: Direct Marketing Beef
Claire Strader is the Organic Vegetable Educator for Dane County UW-Extension and the FairShare CSA Coalition. In this shared position, Claire works with organic vegetable farmers serving direct markets. Her previous experience is as a certified organic vegetable farmer, beginning farmer educator, and retail produce buyer. She has worked in the Wisconsin local food system since 1993 and joined Extension in 2013. Her key projects include on-farm research on cover crops and reduced tillage techniques for organic vegetables, a new Organic Vegetable Farm Manager registered apprenticeship, and the annual Organic Vegetable Production Conference serving farmers in Wisconsin and surrounding states. Contact: (608) 224-3710 Strader.Claire@countyofdane.com
Topic: CSAs and FairShare CSA Coalition
Randy Urness co-owns and operates Fine Bine Farms, LLC with his wife, Peggy, in the Town of Bevent, located in central Wisconsin. Randy became interested in growing hops after hearing a brewer talk about the potential of using local hops. His interest in home brewing and background in mechanical engineering and farming provided the impetus to put in the first hop rhizomes for a commercial operation in 2010. Harvesting and processing capabilities were added at the farm in 2013. Contact: (715) 498-9607 randy@finebinefarms.com
Topic: Hop Production
Jenny Vanderlin is the Associate Director of the Center for Dairy Profitability and has over 20 years of experience with farm financial management programs and software. In her current position, she collaborates with colleagues to develop and coordinate courses, conferences and educational programs in the areas of financial management and record-keeping. Jenny coordinates the Heart of the Farm – Women in Agriculture Program and maintains the Center's financial database FARMBENCH (formerly AgFA©). Contact: (608) 263-7795 jenny.vanderlin@wisc.edu
Topic: Understanding financial of your business