Event Information
Location
10665 Stanhaven Place
Third Floor Conference Center
Suite 3109
White Plains, MD 20695
Description
Can you relate to this illustration from @CoachCalebT about the day of an entrepreneur?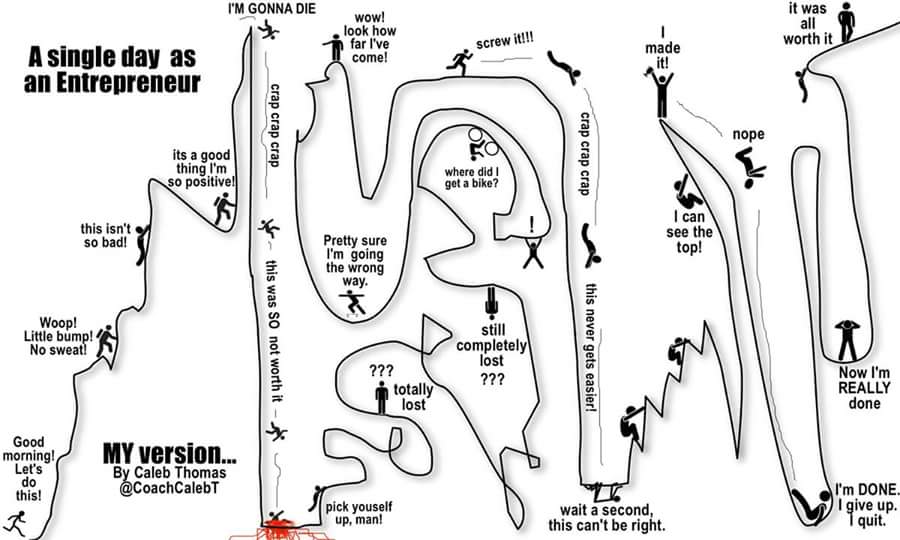 Are you ready to make your vision a structured, definable, concrete reality? Or are you stuck trying to re-launch your business or an offering or product?
This intensive is for you if…
You are a 'Go-Getter'
You have a 'Get-it-Done' Attitude
You have big ideas but are not sure how to make them a reality.
You have some success but want to grow to the next level.
You hate wasting time.
You love to learn and try new things.
You have a business but want to pivot in a different direction.
You believe 'service & solving' trump 'selling'.
What's in store?
Well this is a roll-your-sleeves up and put on your thinking cap kind of working session. The entire process will take approximately 3 hours.

We will cover overall strategies and tools to conceptualize, optimize, and expand your business vision in a group setting.

The second portion of the workshop includes one-on-one strategy sessions along with guided activities to brainstorm, plan out and create your high-level business blueprint to achieve your goals.
Requirements:
Come with your business concept, problem, vision in your mind or jotted down on paper. Dedicated to a customer-driven approach to business solutions. Bring your computer, notebook, journal (whatever you use to work on your business) bring it. I will have coffee, snacks, and motivation. No fluff, just getting mess done!!!
Space is limited to accommodate one-on-one sessions.
"If you focus on perfection, you may never get out of the gate since you'll fear falling short of that. Even in diving, the definition of a score of 10 is excellent, not perfect."
-Greg Louganis, Olympic diver, in an article on Entrepreneur.com
Date and Time
Location
10665 Stanhaven Place
Third Floor Conference Center
Suite 3109
White Plains, MD 20695