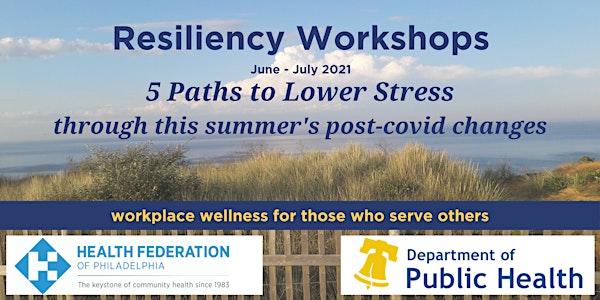 Resiliency Summer Series - 5 Paths to Lower Stress Post-Covid
Sales Have Ended
Registrations are closed
This event has ended, but check with msullivan@healthfederation.org to be notified of future events.
Five paths to lower stress for those in workplaces that serve others. Five dates to choose for workplace wellness strategies.
About this event
This series is specially designed for workplaces and community members who through their work are involved with those affected by the substance use crisis in Philadelphia. This Virtual Resilience series is designed to support our community as it does its work and to help everyone take care of themselves. All times listed are in Eastern Time (EDT)
Click the Register Button to select any or all sessions
Reviving the Spontaneity & Joy We Lost in the Pandemic
Thursday, June 3, 2021, 10 – 11:15 am EDT
Okay, you're vaccinated. And you just got a text to meet up, outside, with equally vaccinated friends. So why is it that your anxiety was just triggered? This past year required thought, planning, and weighing risks to go to the grocery store, let alone an impromptu gathering. As we emerge out of this pandemic, how do we get some of that joy back? This workshop will create space to name what we miss, what we yearn for, and share a few ideas to get that dopamine flowing again.
Co-Regulation: Another Tool for Your Box
Thursday, June 17, 2021, 10 – 11:15 am EDT
How much does the mood you're in affect your clients? Turns out, quite a bit - and knowing this combined with understanding how to regulate others can facilitate therapeutic relationships. This workshop will cover the neuroscience of co-regulation and share effective techniques that are simple and easy to use.
Fatigue + Burnout = Moral Injury
Thursday, July 1, 2021, 10 – 11:15 am EDT
This year has taken a toll on caregivers - and your body is telling you this is more than being exhausted or even burned out. What is going on? This workshop will explore the idea of moral injury, also known as a soul wound. This workshop will create space to sense what our bodies are trying to tell us, and practices will be shared to create opportunity for healing.
The Neuroscience of Community
Thursday, July 15, 2021, 10 – 11:15 am EDT
We are wired for connection - deeply wired. And yet our society has moved away from "village" living - living in a multigenerational, supportive community. Learn how this affects our ability to manage stress as well as ways to expand the capacity to manage stress.
Find the Freedom that Comes with NOT Knowing What Comes Next!
Thursday, July 29, 2021, 10 – 11:15 am EDT
Uncertainty. We react negatively to the very thought, yet this past year has been a crash course in managing it. What if, instead of avoiding or resenting uncertainty, we learned to embrace it? To let it become the container in which we live? This workshop will explore the discomfort - and potential for comfort - of uncertainty, with time for practices that help with this adjustment.
About the Facilitator
Rebecca Bryan, DNP, has many years of experience in medical settings, schools, and in the community; her experience as an adult educator in diverse settings; and passion for raising awareness about trauma-informed care across social sectors utilizes rapidly evolving research into understandable, immediately applicable knowledge for you to use.
This program is funded in part by the Philadelphia Department of Public Health