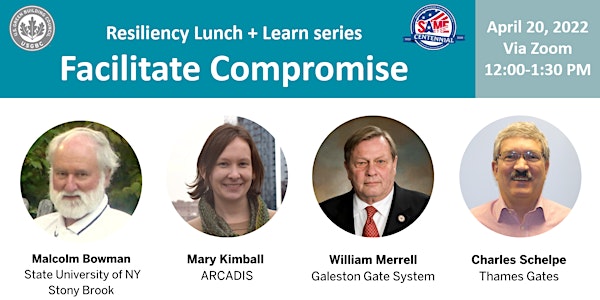 Resiliency Lunch + Learn: Facilitate Compromise
Presented by the USGBC Middle Atlantic New England region and the Society of American Military Engineers (SAME) NYC Post
About this event
24 hour sale: Use Discount code USGBC50 for 50% off
USGBC's Middle Atlantic and New England region has collaborated with the NYC Post of the Society of American Military Engineers (SAME) to bring you a variety of monthly webinars focused on resiliency in 2021. We are back for 2022 with 6 new installments, starting February 16. Topics will include Community Vitality; Hazard Adaptation; and integrated long term master planning, and more. We will also host community-based programs.
See this article for links to recordings of our past Lunch + Learns.
April 20, 2022 - Facilitate Compromise
Facilitate compromise between organizations by bringing them together to understand each other's challenges.
This panel should be of interest to professionals and students in coastal oceanography, meteorology, engineering, architecture, environmental sciences and urban planning relating to major coastal resilience infrastructure development, planning, construction, maintenance and operations.
CEUS:
Will provide Professional Engineer continued education credits (CEUs / PDHs) for those who attend the full session.
Seeking CEUs for GBCI and AIA.
Attendees are welcome to self-report this session to their accrediting body for continuing education.
Presenters:
Malcolm Bowman, Distinguished Professor of Oceanography, State University of NY Stony Brook School of Marine and Atmospheric Sciences. (MODERATOR)
Mary Kimball, Senior Planner, Urban and Coastal Resiliency, ARCADIS
William Merrell, Regents Professor at Texas A&M University Department of Marine and Coastal Science, Galeston Gate system
Charles Schelpe, Principal Engineer Jacobs UK, Thames Gates
Session description:
Major infrastructure projects such as regional storm surge barriers designed to protect coastal cities against storm surges from extreme weather events of Superstorm Sandy magnitude may cost 5 to 20 billion dollars and take 5 to 20 years to construct. How will such projects be designed and financed, how will these costs be recovered if ever, who will pay for capital expenses, and what are the costs versus benefits? Are the probabilities weighted heavily on the benefits side of the equation or not?
Who will build, maintain and operate the barriers for the next 75-100 years without failure. How often will the gates be closed to keep out a major hurricane or a winter nor'easter? Will barrier gates be deployed several times a year, or perhaps only once every 10 years? How will rising sea levels as well as monster storm surges be managed?
Such mammoth endeavors are by nature controversial and fierce conflicts between the so called "gray versus green" communities can often erupt. So how can conflicts between the design engineers (the grays), the environmentalists (the greens), and the unprotected (the poor) be be resolved? Are there ways around these philosophical, ecological and economic divides?
This session's panel is composed of experts representing The Netherlands, the United Kingdom, Texas and New York/New Jersey. Panelists will relate case studies of their own experiences in different countries with differing forms of government, different funding mechanisms and huge uncertainties in the perceived risks lying in the years ahead. Are there clever ways to minimize erupting controversies early on so that projects are not unnecessarily delayed for years or even decades by warring parties?
Speaker bios:
Malcolm J. Bowman, PhD, PE, Professor of Oceanography and Distinguished Service Professor, State University of New York at Stony Brook, NY
Malcolm Bowman is a physical oceanographer and a registered professional engineer with more than 40 years of experience in coastal marine science, ocean and water quality modeling, storm surge science and the interactions of the physical environment with marine ecosystems. Dr. Bowman holds a B.Sc. degrees in physics and mathematics, a M.Sc. (summa cum laude) in Radiophysics from the University of Auckland, New Zealand, and a PhD degree in Engineering Physics from the University of Saskatchewan, Canada. His research includes the causes, nature, dynamics and consequences of extreme weather events such as hurricanes and winter nor'easters in an era of climate change and rising sea levels. Focused on the northeastern seaboard, his research group investigates storm surges, storm waves, associated threats and consequences for coastal erosion, inundation and infrastructure damage. He investigates regional natural and built coastal protection measures appropriate to Metropolitan New York, northern New Jersey and coastal Long Island. He provides consulting and advisory services to local, regional and state governments, commercial and industrial businesses and engineering companies. Professor Bowman is the Founding Director of the Stony Brook Storm Surge Research Group, Chair of the Metro NY/NJ/LI Storm Surge Working Group, a Distinguished Member of the National Society of Collegiate Scholars, President of the Stony Brook Environmental Conservancy, and a Director of the Environmental Defence Society (New Zealand).
Mary Kimball, Senior Planner, Urban and Coastal Resiliency, ARCADIS
Mary Kimball is an urban planner with Arcadis and works on community resilience planning and climate adaptation across the country, including projects in New York City, Boston, Miami, Louisiana, and the Bay Area. Before joining Arcadis, she worked for the New York City Department of City Planning on long-term strategic waterfront planning, coastal zone management, and developing land use and zoning tools to address coastal flood risk.
William Merrell, Regents Professor at Texas A&M University Department of Marine and Coastal Science, Galeston Gate system
William J. Merrell holds a B.S. in physics and a M.A. in mathematics from Sam Houston State University and a Ph.D. in oceanography from Texas A&M University. He is Regents Professor, President Emeritus and the George P. Mitchell chair of marine sciences at Texas A&M University at Galveston, , TAMUG. He has been president of the H. John Heinz III Center for Science, Economics and the Environment, vice chancellor for Strategic Programs of The Texas A&M University System, vice president for Research Policy of Texas A&M University, chair of the Ocean Studies Board, served on the Space Studies Board and the Board on Sustainability of the National Research Council and has held presidential appointments with the National Science Foundation. Among his awards are the Distinguished Achievement Medal from the Geosciences and Earth Resources Council and he is the only person to receive the Distinguished Service Award of the National Science Foundation twice. Following the devastation of Hurricane Ike, Dr. Merrell began the Ike Dike project to provide hurricane surge protection for the Upper Texas Coast including all of Houston and Galveston and helped establish the Institute for a Disaster Resilient Texas.
Charles Schelpe, BSc Eng, MICE, Principal Engineer Jacobs UK, Thames Gates
Charles has over 35 years broad experience in the delivery of flood risk management, river, water, public health and utility infrastructure projects in the UK and internationally, and is Jacobs Global Technology Lead for River and Flood Infrastructure Engineering. In the UK he is currently providing technical leadership on a number of flagship coastal flood resiliency schemes for the Environment Agency and other local authorities such as the Boston, Bridgwater and Lowestoft Barrier projects, the Humber 2100+ strategy, and the Thames Estuary Asset Management 2100 programme, which includes the Thames Barriers. As part of his global role Charles has been providing technical leadership to fluvial, coastal and storm surge barrier related flood resiliency projects in Australia, Canada, New Zealand, Singapore and the US including the New York East Side Coastal Resiliency and San Francisco Waterfront Resilience projects.
About SAME
The Society of American Military Engineers Resilience Community of Interest (COI) directly supports the second SAME strategic plan goal to "Build and Sustain Resilient Communities." The national effort contributes to government and private sector collaborations that serve to minimize the impacts of and enhance effective response and recovery to natural and man-made threats.
The goal of the SAME NYC Post Emergency Preparedness and Infrastructure Resilience Committee is to support such efforts in the New York/New Jersey region. After Superstorm Sandy in 2012, flood mapping from the Federal Emergency Management Agency changed. Structures lining 100 miles of shoreline, both along the Atlantic Ocean and deeper inland, along the regions' many rivers, need to respond to new flood inundation heights. The design and construction response to this need affects owner economics, insurance rates, insurance risk underwriting, engineering feasibility and facility usability. SAME NYC Post is committed to being the facilitator to generate the dialogue between government and the private sector about solutions.