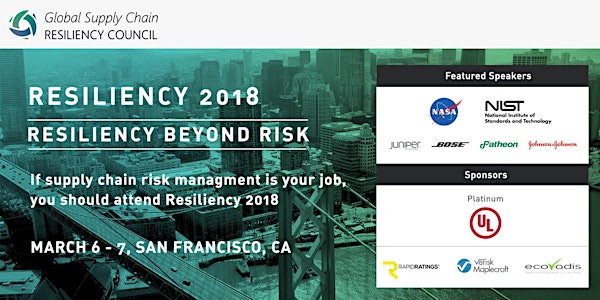 Resiliency 2018
When and where
Location
San Francisco Airport Marriott Waterfront 1800 Old Bayshore Highway Burlingame, CA 94010
Description
Resiliency 2018 is the 'must attend' annual event for supply chain risk management professionals. Learn from the best in the industry, network with your peers at other top companies, and discover the latest trends in supply chain resiliency.
Keynote Speakers:
Michael C Galluzzi from NASA, and Jon Boyens from NIST
Featured Speakers:
Tony Moraes - Marsh, Ann Barry - Juniper Networks, Jay Anderson - Patheon, Deepak Paluru - Dentsply, Eric Knothe - Micron Technology, James Davis - Juniper Networks, Michelle Dinsdale - Bose Corporation, Melissa Bouilly - Dell, Joanne Jaeger - Johnson and Johnson, Lang Ware - AIAG, Jim Lieghhio - AIAG, Mike Landberg - Boston Scientific
RESILIENCY 2018
Highlights, DAY 1
Keynote: Industry Best Practices and Using the Cybersecurity Framework to Proactively Protect Supply Chains from Cyber Attacks, Jon Boyens, NIST
Navigating Hurricane Maria with Patheon and Dentsply
Breakout sessions on:
Metrics (Micron Technology)
Opportunities in High Technology Supply Chains (Underwriters Laboratories)
Talent Management, Development, and Training in Supply Chain Risk (GSCRC)
Event Response Framework (Juniper Networks)
Opportunities in Life Sciences Supply Chains (Underwriters Laboratories)
Resilinc Sourcing Intelligence Platform Feedback and Resilinc in the Classroom
Quantifying Value in your Supply Chain Risk Program
Resilinc Platform Demonstration
and much more...
Highlights, DAY 2
Keynote: Supply Chain Planning in the Stars – Supply Chain Risk in the Space Shuttle Program, Michael Galluzzi, NASA
Insurance Perspectives on Supply Chain Risk, Juniper Networks and Marsh
Breakout sessions on:
Sustainability Risk (Johnson and Johnson)
Supplier Financial Risk Case Study (Rapid Ratings)
Supply Chain Risk Maturity Benchmarking Session (Resilinc)
Managing Cybersecurity in the Supply Chain, Automotive Industry Action Group
End-to-End Risk Exposure, JLT Specialty
Business Continuity Planning, Underwriters Laboratories
Supply Chain Risk Program Overview, Boston Scientific
Supply Chain Risk Game
…and much more….