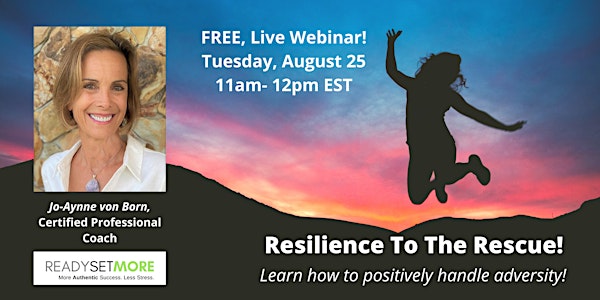 Resilience To The Rescue-How to postively handle adversity.
FRUSTRATED by all the disruption? OVERWHELMED by change? Learn the secrets to resilience from a certified professional coach.
About this event
Don't let challenges get in the way of your authentic success and happiness.
Transform troubles into turning points where you take positive control of your choices and behaviors. Learn to innovate and adapt with more confidence and enthusiasm.
Level up your resilience!
Hi. I'm Jo-Aynne Von Born. a certified professional coach at www.READYSETMORE.com, a professional and personal development firm. My mission is to help you get back on track to create the fulfilling career and life experience you want and are ready to take action on.
In this free webinar, you will get access to this perspective-shifting information:
Why resilience is a superhero skill you need
How to quickly disrupt adversity with 4 questions
10 simple strategies to be more resilient
Ready to rebound to better work and life? Register now. Hurry, attendance is limited!