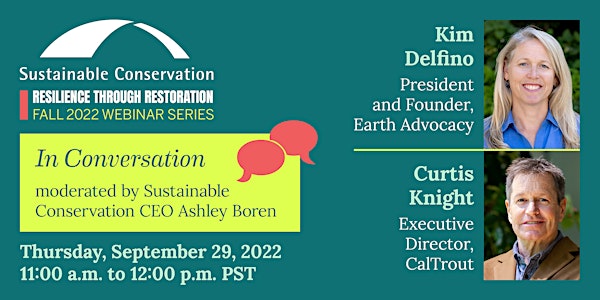 Resilience Through Restoration - Kim Delfino and Curtis Knight
Kim Delfino and Curtis Knight will kick off our Fall 2022 webinar series and highlight the importance of ecosystem restoration.
About this event
Sustainable Conservation is delighted to announce our Fall 2022 Webinar Series, Resilience Through Restoration! Join us as we explore the need for habitat restoration at scale and highlight the importance of collaboration and collective stewardship.
We'll be kicking the series off on Thursday, September 29 from 11:00 AM to 12:00 PM with a conversation between President and Founder of Earth Advocacy and Sustainable Conservation Board Member, Kim Delfino, and Executive Director of CalTrout, Curtis Knight, moderated by CEO of Sustainable Conservation, Ashley Boren. This conversation will set the scene for the rest of the series and explore why we must accelerate the pace and scale of ecosystem restoration to boost climate resilience in California.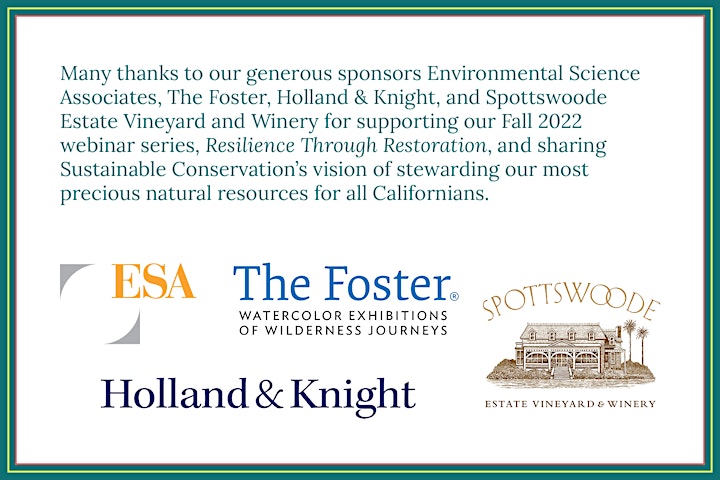 About Sustainable Conservation
Sustainable Conservation is a California-based non-profit organization that advances the collaborative stewardship of California's land, air, and water for the benefit of nature and people. Every day, we bring together business, landowners, communities, and government, in some of the most productive yet economically disadvantaged parts of California, to steward the resources on which we all depend in ways that are just and make economic sense.
Speakers
Kim Delfino: Kim Delfino is the President and Founder of Earth Advocacy. Kim provides policy and advocacy expertise to nonprofits and foundations with the goal of protecting and restoring our lands, water, and wildlife for future generations. Prior to establishing Earth Advocacy, Delfino was the California Program Director for Defenders of Wildlife for two decades. Delfino has nearly thirty years of experience in public and private land use planning and policy, species conservation, and water policy, including serving on the California Water Commission from 2010-2015. In addition to serving on the board of the Golden State Salmon Association, Delfino serves on the boards of the Water Education Foundation; Sustainable Conservation; and the American Bar Association Section of Environment, Energy and Resources Trends. Delfino began her career as an associate attorney in Washington, D.C. with the public interest law firm of Meyer & Glitzenstein, where she specialized in cases involving the Endangered Species Act, Clean Water Act and other environmental laws. She holds a BA from UC Davis and a JD, cum laude, from the University of the Pacific McGeorge School of Law.
Curtis Knight: Knight has worked for California Trout since 2000 heading up the Mt. Shasta Office before becoming Conservation Director in 2010. In 2014, Curtis was named Executive Director where he currently leads CalTrout's work to solve complex resources issues while balancing the needs of wild fish and people. His passion for all things water led him to pursue a masters degree in Fisheries from Utah State University. His first job out of graduate school was with The Nature Conservancy living and working at the McCloud River Preserve where in between hatches he successfully finished his thesis. When he is not canvassing California for CalTrout, he lives in Mt. Shasta with his wife Amy and their two daughters Greta and Isabel. With six regional offices across the state, CalTrout partners with landowners, NGOs, agencies, and other stakeholders to execute science-based restoration projects and legislation with multiple benefits for wildlife, people, the economy, and the ecosystem.
Moderated by Ashley Boren: Ashley has directed the strategy, growth and operations of Sustainable Conservation since 1997. Ashley received a 2007 James Irvine Foundation Leadership Award for her unwavering commitment to innovative, balanced problem-solving to address a variety of critical environmental problems facing California. Prior to Sustainable Conservation, Ashley spent eight years at Smith & Hawken, a mail-order and retail gardening company, where she worked in finance, new business development, inventory planning and retail merchandising. She began her career at The Nature Conservancy in program development and fundraising. Ashley served on California's State Board of Food & Agriculture from 2006 to 2022 advising Governors Schwarzenegger, Brown and Newsom and Secretaries of Agriculture Kawamura and Ross on issues of food, agriculture and natural resources. She also served on the Board of the Robert and Patricia Switzer Foundation from 2002 to 2011 (the last two years as Chair), on Stanford Business School's Alumni Consulting Team Board from 1995 to 2002 (the last three years as Chair), and Executive Committee of the Agricultural Sustainability Institute's External Advisory Board at UC Davis from 2008-2018. Ashley is a graduate of the Marlborough School in Los Angeles, which awarded her their 2008 Woman of the Year Award, and has a BA in human biology, an MA in applied economics and an MBA from Stanford University.