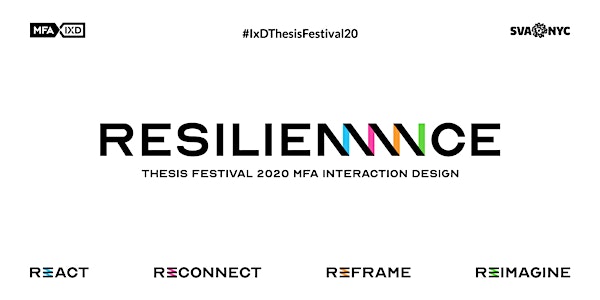 RESILIENCE: The MFA Interaction Design 2020 Thesis Festival
RESILIENCE is a celebration of work from SVA MFA Interaction Design candidates who will share their thesis explorations in a public forum.
About this event
Watch now: https://youtu.be/skNprPfrdJI
Join our online thesis festival premiere on Monday, May 18,10am-1pm ET, as we showcase the work of the Class of 2020.
In these unprecedented times, the ability to thrive in an ever-changing landscape has become even more essential. How might society develop RESILIENCE in the face of adversity?
In order to spring society forward, the Class of 2020 has designed cutting-edge solutions to address the world's most complex problems. Together, these designs explore our ability to:
REACT… to challenges
RECONNECT… with others
REFRAME… your outlook
REIMAGINE… your future
As we face a world of evolving challenges, their projects bring new perspectives to build resilience and drive lasting change.
Be sure to tune in to the festival on May 18, and follow the event on social media using #IxDThesisFestival20.
RESILIENCE, the 2020 MFA Interaction Design Thesis Festival at the School of Visual Arts, is a celebration of work from interaction design graduates who will share their thesis explorations in a public forum. Online are talks from graduate students in interaction design—a group of designers, engineers, storytellers, musicians, entrepreneurs, and inventors—who present work that connects ideas to the human experience.