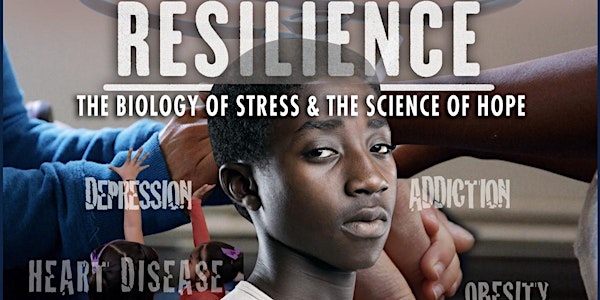 Resilience: The Biology of Stress & The Science of Hope Film Screening
San Francisco Chapter of The Links, Inc and NorcalMLK Foundation MLK Health and Wellness Festival 2022 present virtual screening of the film
By The San Francisco Chapter of Links, Incorporated
When and where
Date and time
January 12, 2022 · 3pm - January 18, 2022 · 12am PST
About this event
The San Francisco Chapter of The Links, Incorporated in support of our Health and Human Services programming, and as co-presenters with the NorcalMLK Foundation Health Festival and Liberation Film Festival, is going to bring "Resilience: The Biology of Stress & The Science of Hope" to MLKDAY 2022 with a FREE virtual screening of the film January 13-17, 2022. 
Resilience is the latest film from documentary director-producer James Redford and producer-writer-director Karen Pritzker. It features the work of Dr. Nadine Burke Harris – Founder and CEO of the Center for Youth Wellness and Founding Physician of the Bayview Child Health Center. The film explores the link between Adverse Childhood Experiences (ACEs),a study done in partnership between Kaiser Permanente and Centers for Disease Control (CDC) and lifelong health. 
After the screening we will feature our pre-recorded panel discussion with "Mental Health Partners" from the community moderated by Belva Davis, Bay Area Emmy Award winning journalist.
•James Redford (1962-2020), Director and Producer of Resilience
•Claire Willhite, LMFT, Associate Director of Clinical Programs, Center For Youth Wellness
•Lyslynn Lacoste, Esq., BMAGIC Director, San Francisco Office of the Public Defender
•Lauran Cherry, Educational Leadership Coach, Alameda Department of Education, and a San Francisco Link
This effort is focused on health advocacy relative to behavioral health and the immediate access needs of the Bay Area Community. We will highlight the ways in which the community is supported through preventative behavioral health community benefit programs and mental health literacy to raise awareness on these matters.
Our ultimate goal is that the audience will walk away with a deeper understanding of how ACEs impact them and their family members, and that they will know how to access resources that can support them in the healing process.
Trailer - http://kpjrfilms.co/resilience/
About the organizer
The San Francisco Chapter of The Links, Incorporated is an organization of talented and professional women, linked in friendship and connected in service, committed to enriching its members and improving the lives of African-Americans, and of the African diaspora, and the underserved in the San Francisco Community, with an emphasis on its youth, through dynamic and transforming cultural, civic, educational and health-related community programs.
San Francisco, CA 94159-1812