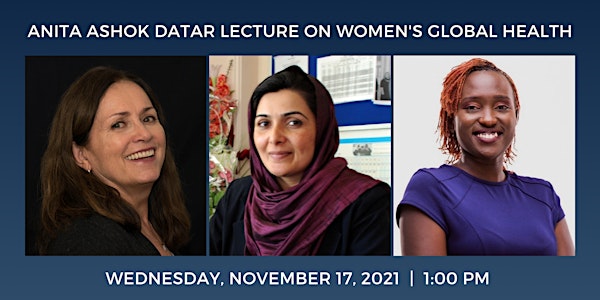 Resilience, Empowerment, and Peace: Advocating for Refugee Women
Join us for the Anita Ashok Datar Lecture on Women's Global Health, a virtual event with Sarah Costa, Suraya Pakzad, and Foni Joyce Vuni.
About this event
The UN High Commissioner for Refugees estimates that 82.4 million people around the world have been forced to flee their homes as a result of persecution, conflict, violence, human rights violations, or events seriously disturbing public order. Among them are nearly 26.4 million refugees, around half of whom are under the age of 18.
Join the Institute for Women's Leadership consortium, Rutgers Global, and the Innovation, Design, and Entrepreneurship Academy (IDEA) for a virtual conversation moderated by Sunita Kramer, Associate Vice President for Research and Experiential Education at Rutgers University. This global and timely event will bring important perspectives to the current refugee crisis and the health and well-being of women and families.
Click the link below at 1:00 PM EST on November 17 to access the conversation.
Zoom Link: https://rutgers.zoom.us/j/92557061991
Featured Speakers
Sarah Costa, Executive Director, Women's Refugee Commission
Sarah Costa is the executive director of the Women's Refugee Commission, a leading global organization advocating for the rights and protection of women, children, and youth displaced by conflict and crisis. Under Sarah's leadership, the organization has experienced significant growth and has expanded its ability to ensure refugees' right to sexual and reproductive health care, to safety from gender-based violence, and to economic and social empowerment.
Sarah has more than 25 years' experience in the fields of women's rights, reproductive health, gender, and youth development, as well as global philanthropy. Throughout her career, including positions at the Global Fund for Women and the Ford Foundation, she has worked in partnership with those closest to the issues, from government officials to local women's organizations.
Sarah was active in the national women's movement in Brazil, serving as a member of the Advisory Committee to the National Council on Women's Rights. She is a member of World Learning's Global Advisory Council.
Suraya Pakzad, Founder, Voice of Women
A recipient of many prizes, including the 2008 International Women of Courage Award and one of TIME magazine's 100 most influential people in 2009, Suraya Pakzad is a globally renowned women's rights activist for her lifelong work to help and protect Afghan women and girls from all forms of violence in the face of life-threatening abuse.
Suraya ran a covert school for girls in Kabul during the Taliban years which later evolved into the Voice of Women NGO. It runs five safe houses in western Afghanistan, providing refuge and legal services to more than 1000 women and girls subjected to various forms of violence, and works on gender equality and justice in 29 of the 34 Afghan provinces.
Connecting the dramatic levels of violence against women to poverty and war, she calls on the international community to commit to tailored interventions focused on economic security, and for foreign interference in the Afghan conflict to end. Twice the subject of religious edicts ordering her assassination, Suraya lives under daily threat to her life.
Foni Joyce Vuni, Coordinator, Global Refugee Youth Network
Foni Joyce Vuni is a refugee from South Sudan, who was born and lives in Kenya. She is the coordinator of the Global Refugee Youth Network (GRYN). She helped found GRYN because she believes that it is important to create platforms that allow refugee youth to transfer skills and support each other.
She previously served as the UNHCR Global Youth Advisory Council Co-Chair. Through the work of the Council, she was able to contribute to policy discussions, as well as the Global Compact for Refugees.
Foni holds a BA in mass communication from Jomo Kenyatta University of Agriculture and Technology. She serves on the board of the Women's Refugee Commission.
Submit Questions in Advance
We invite you to submit questions for the conversation in advance. If you would like to share a question, please email info@iwl.rutgers.edu.
Honoring Anita Ashok Datar
The Anita Ashok Datar Lecture on Women's Global Health draws to campus* groundbreaking pioneers, researchers, field workers, and activists to explore growing international health challenges and the vital role that the United States and leaders from across the globe must continue to play in addressing them.
Anita Ashok Datar, an alumna of Rutgers University ('95), dedicated her career to public health issues, especially those concerning women and children. While working on a mission for USAID in the African country of Mali, Anita's life was tragically cut short when she was the lone American killed on November 20, 2015 in a terrorist attack that claimed twenty other lives. Rutgers University is proud to join Anita's family and friends to create a lasting tribute to her remarkable life of service.
* This year the event will be virtual due to the COVID pandemic.
Institute for Women's Leadership Consortium
The Institute for Women's Leadership consortium is dedicated to the study of women and gender, to advocacy on behalf of gender equity, and to the promotion of women's leadership locally, nationally, and globally. Our programs, research, and collective work position Rutgers University-New Brunswick as a premier place for deepening research and expanding opportunities to develop women's leadership for social change.
The Institute for Women's Leadership consortium includes Douglass Residential College, the Department of Women's, Gender, and Sexuality Studies, Center for American Women and Politics, Institute for Research on Women, Center for Women's Global Leadership, Center for Women and Work, Center for Women in the Arts and Humanities, Office for the Promotion of Women in Science, Engineering and Mathematics, Center on Violence Against Women and Children, and the Center for Women in Business.