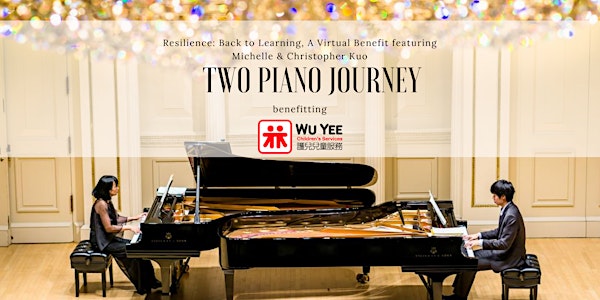 Resilience: Back to Learning, A Virtual Benefit featuring Two Piano Journey
Join us for a virtual conversation with No Small Matter Producer and a Benefit Recital by Two Piano Journey.
Refund Policy
Refunds up to 1 day before event
Eventbrite's fee is nonrefundable.
About this event
Please join Wu Yee Children's Services for Resilience: Back to Learning, A Virtual Benefit Recital featuring Two Piano Journey, the critically acclaimed mother and son piano duo, Michelle Chen Kuo and Christopher Kuo.
The evening will begin with a conversation with No Small Matter Co-Producer and Campaign Director, Laura Fallsgraff, San Francisco Board of Supervisors President and former Executive Director of Wu Yee Children's Services, Norman Yee, and Bay Area Regional Manager at Common Sense, Jamie Nunez. Wu Yee's Chief Executive Officer, Monica Walters, will moderate the discussion. Read their bios below.
Funds raised will help educators and families meet their basic needs like food, early learning kits, and digital access so children can get back to learning.
A donation of $100+ at registration or prior to 11/5 enters you in a drawing for a pair of Bose noise cancelling headphones.
The event doors will "open" at 5:45 so please log on early to play an ECE trivia game and have a chance to win a $100 Amazon gift card!
Plus, all donors of $100+ during the event will be entered to win an iPad!
There are many ways to get involved and support Wu Yee:
RSVP and attend the event!
Make a donation to support quality early learning for all kids.
Create a campaign and set your own fundraising goal - visit wuyee.org/donate & click "I Want To Fundraise For This"
Host a watch party with friends!
Share the event posts on social media with your networks and encourage them to join you in supporting San Francisco children and families.
To join as a 2020 Sponsor or Host please visit wuyee.org/sponsor.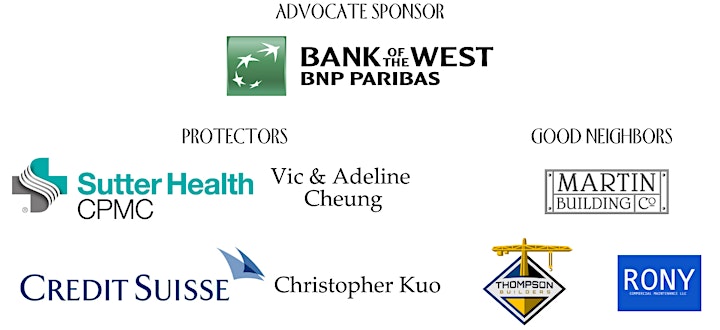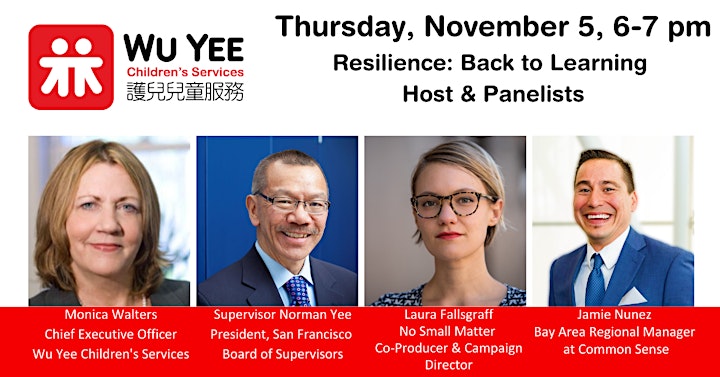 Monica Walters joined Wu Yee Children's Services in 2012, after serving as Executive Director at Cameron House. Through Monica's education and experience as an executive leader of nonprofits, she has an extensive background in advocacy to address early childhood education and development, chronic poverty, domestic violence, health care, and economic equality. She is a member and leader of many coalitions, leading advocacy efforts on behalf of early childhood education in San Francisco, the Bay Area, and California.
Supervisor Norman Yee is President of the San Francisco Board of Supervisors, and has worked on behalf of San Franciscans for the past 35 years. A former Executive Director of Wu Yee, he has spearheaded the creation of numerous civic organizations and initiatives, including the San Francisco Early Head Start Program, the Asian Parent Education Network, the San Francisco Child Care Providers Association, and the Chinatown Beacon Center. He was elected to serve on the Board of Education for two terms and he currently serves on the board of directors of the San Francisco Child Care Providers Association and the Chinese Culture Foundation.
Laura Fallsgraff is the Co-Producer & Campaign Director for No Small Matter, and leads strategy and impact for Kindling's feature films and digital campaigns. After writing for video and digital content for President Obama's re-election campaign, she joined Kindling Group as a producer and impact producer. She has led campaigns for Kindling's films @home and Radical Grace, and just premiered her directorial debut, The 39th, a short about a grassroots political campaign in her Logan Square neighborhood of Chicago.
Jamie Nunez is the Bay Area Regional Manager at Common Sense and supports school districts across in their efforts to implement digital wellness initiatives. For over 17 years, Jamie has redefined education practices by combining student online narratives and school data. As a former high school teacher, school administrator, and after-school director, Jamie has trained thousands of educators and families on ways to weave student online identities into learning. When not working Jamie can be found on the beach teaching his 5-year-old daughter how to surf in the chilly ocean of San Francisco.
Two Piano Journey: Michelle and Christopher are a mother & son two piano team on a mission to make the world a better place. Christopher was inspired to launch their project in 2016 to give his mother a chance to live her performance dreams after she sacrificed her career to raise her children. They have performed together in many major performance spaces and in collaboration with many inspiring philanthropic organizations, including Wu Yee, they have raised nearly $1,000,000 for social causes.