Meet fine artist Mara Sfara at opening night reception for Resilience exhibition of oil paintings and sparking Lucite® teddy bear sculptures
About this event
Resilience is a solo exhibition of realism painter and contemporary sculptor Mara Sfara's quixotic artwork and the artist's powerful empathy for nature and the animal kingdom. Curated by Emillions Art founder and global art consultant Marlissa Gardner, the exhibtion features more than two dozen oil paintings of animals, idyllic landscapes of mountains, glaciers and oceans (what Ms.Sfara refers to as "heavenly scenes") and chic 12-inch Lucite teddy bears.
The exhibition opens Thursday, Nov. 18 with a personal appearance by the artist at a reception 5 – 7 pm in Emillions Art's 2,000 square foot showroom with its spacious outdoor balcony overlooking fashionable 5th Avenue South in Naples, Fla.
An exhibition highlight is the original painting of Marilyn Monroe and a Pekingese Dog. Based upon an iconic 1955 photograph by award-winning New York photographer Milton H. Greene, Ms. Sfara conceived a figurative oil portrait of the star, noting while her subject is beaming in the painting, the work also nods to the many hardships the actress endured, recognizing Ms. Monroe's loss is as relevant today especially during COVID-19 pandemic where loss has been common.
"Mara's passionate personality and her lifelong love of animals is reflected in her art," notes Ms. Gardner, adding Mara uses her art as a platform to teach people about the benefits of a healthy, symbiotic relationship with both nature and animals. "She engages the viewer in a colorful, ethereal fantasy with her wry humor, while blending traditional artwork with new media to create her own unique fantasy world."
The Resilience exhibition will be open to the public Tuesday through Saturday, 10 am until 5 pm Nov. 18 through Dec. 8. EmillionsArt.com (239) 687-3101.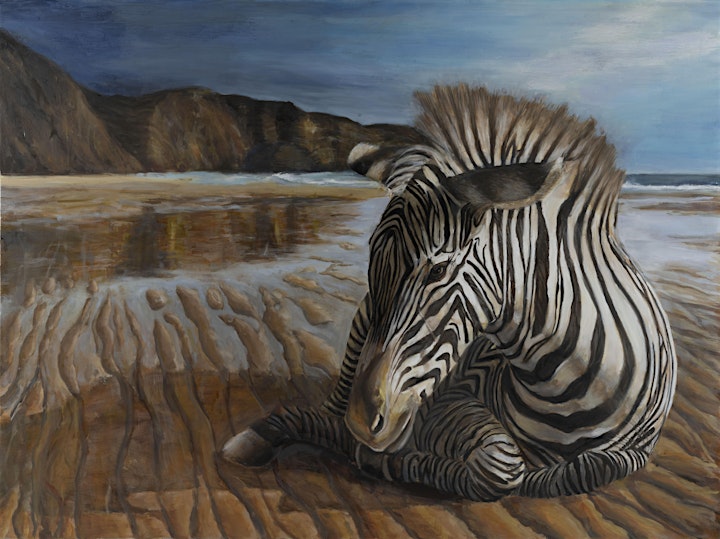 "In art, animals can be endeared to us by focusing on their commonalities with humans. I painted Zebra to portray my belief that this wild animal really does have feelings like human emotions," says artist Mara Sfara. "Perhaps my painting will inspire activism for the growing number of endangered animal species," she muses.
Other domestic and endangered animal species in the exhibition include colorful sea life full of tropical reefs, clownfish, and sea anemones; a polar bear mother and her two cubs; playful piglets swimming; a gigantic elephant submerged in the ocean surrounded by tiny sea creatures; a bunny sitting on kitchen windowsill; two horses nuzzling; and Haley the dog, and more.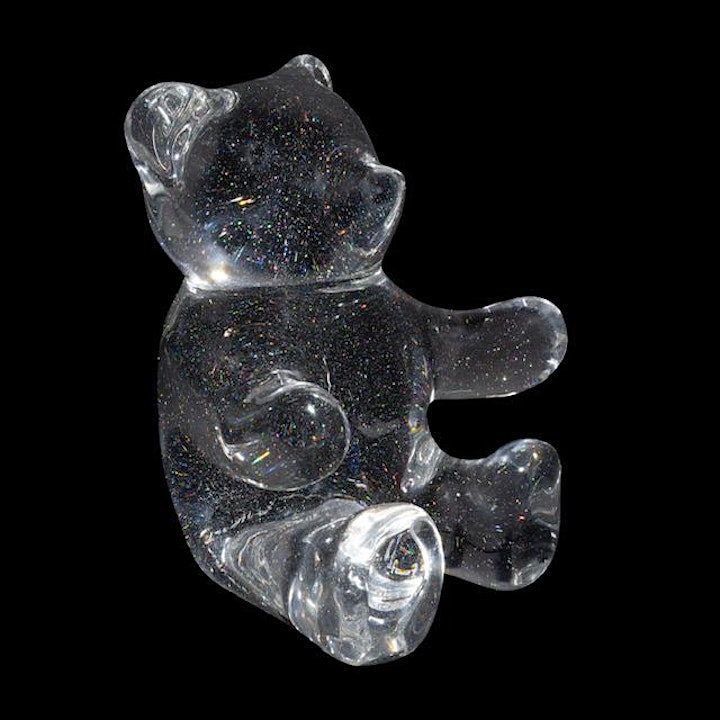 Captain Bear King of the Space Voyagers is a limited edition sparkling 12-inch Lucite® teddy bear by Mara Sfara requiring a multi-step process involving 3D printing, the perfect mix of chemicals, and exacting temperatures to develop a top-quality mold.
Lucite® is an exceptional material that produces a visually perfect effect because it is strong and crystal clear. To make the model, Mara begins with a drawing then uses armature and non-drying clay to create a sculpture and bring her concept to life. A CAD (computer-aided design) is generated from the clay sculpture and sent to a 3D printer. After a meticulous cleanup process, a flawless mold is transported to the foundry where Lucite® is poured into the mold within a sterile room to reduce the risk of imperfections. The Lucite® is allowed to cool before being placed into an autoclave (a pressurized oven) to heat at a precise temperature for hours to squeeze out any air bubbles. Grinders, buffers and sanders remove rough edges with multiple cycles of hand-polishing to its final gleaming, smooth sculpture.
"Due to the manual and precise way each teddy bear is formed, every piece is unique," promises Ms. Sfara, adding only a few companies in the world are of capable of producing Lucite® sculptures. Each limited-edition Captain Bear King of the Space Voyagers is numbered and features accompanying satin gloves with a certificate of authenticity bearing the sculpture's production number.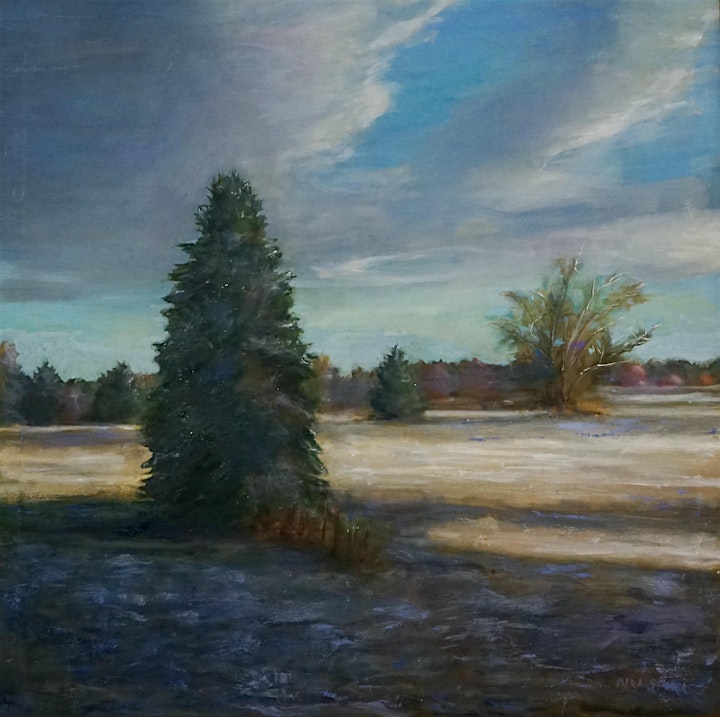 Mara has studied for more than 25 years with prominent American realism painter Burton Silverman, well-known for his 1970 artwork for Jethro Tull's best-known and best-selling album Aqualung.
Her idyliic landscape oil paintings reflect serene scenes ranging from a tree on the Farmington Golf Course to a Mexican sunset to a St. Maarten beach to sand dunes in the Hamptons to a Martha's Vineyard boatyard.
Her paintings and sculptures are exhibited in museums, galleries and art shows in California, Connecticut, Massachusetts, New York, Rhode Island, Texas, and internationally in Argentina, England and Spain. Her artwork is in the permanent collections of the Springfield Museums in Springfield, MA; Mattatuck Museum in Waterbury, CT, Cradle of Aviation Museum in Garden City, NY and the QCC (CUNY) Art Gallery/Museum, Bayside, New York. Her sculptures and paintings were also featured at a fundraising event for a new wing at the historic Westbrook Manor at the Bayard Cutting Arboretum, Great River, NY.