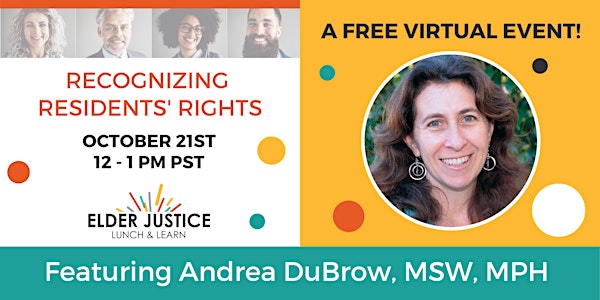 Residents' Rights
Bringing Our Leading Senior Service Professionals Together for a New Kind of Event
About this event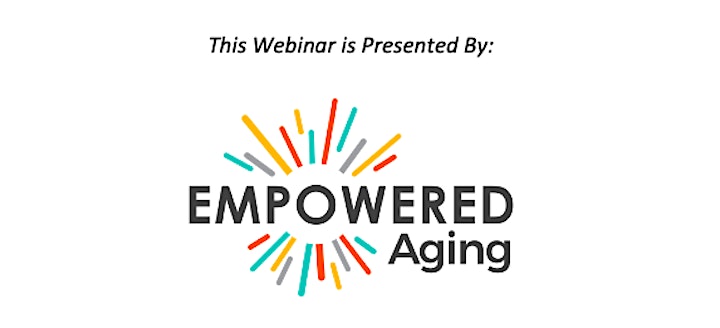 Recognizing Residents' Rights
Register Now for this FREE virtual webinar on October 21, 2021
October is Rights Month. An annual event where we come together to recognize the rights, respect, and dignity that all long-term care residents are entitled to. No one understands the importance of Rights better than the family members of those in assisted living. As many of us know, advocating for long-term care residents to help solve problems and ensure they receive quality care is a tough job to navigate. An essential part of Rights Month is spreading awareness and education to empower the residents, the families, and all who serve them.
We are excited to welcome Andrea DuBrow, a social worker and family member of a long-term care resident, as our presenter for this session. Andrea will share her personal experience advocating for a parent in long-term care and what she wishes she would have known. If you're ready to strengthen your position as a residents' rights advocate and learn more about how you can help spread awareness, join us!
More About Andrea:
ANDREA DUBROW has been a field consultant and lecturer at the School of Social Welfare in the Strengthening Organizations and Communities concentration since 2010. She also advises and teaches students in the dual or concurrent degree programs with social welfare and public health.
Prior to joining the faculty, DuBrow worked for the Contra Costa County Health Services Department for more than a decade, coordinating various public health programs, including youth organizing, tobacco prevention, health, and homeless services. She successfully raised millions of dollars from federal grants and private foundations and has expertise in grant writing, program planning, and coordination of projects, advocacy, and multi-disciplinary teams. She also served as a board member for the National Health Network in Washington, DC, for eight years as well as on a local public charter school board and was previously a health educator for Planned Parenthood: Shasta-Diablo. She was honored in 2018 to receive the UC Berkeley Extension Honored Instructor Award.
In conjunction with UC Extension and the Bay Area Social Services Consortium (BASSC), DuBrow coordinates the Executive Development Program for the Human Services, which brings together managers from throughout the Bay Area county human service programs for a nine-month professional development program.
In 2015, she was nominated by her students and received the UC Berkeley Faculty Mentoring Award, sponsored by the Graduate Division. DuBrow is the first individual in social welfare to receive the prestigious honor.
DuBrow is also a consultant on grant writing, planning, and facilitation, and she was a member of the Alameda County Public Health Commission.
More on the Elder Justice Lunch and Learn Series:
The Elder Justice Lunch and Learn Series will deliver twelve FREE virtual webinars designed to support aging professionals in preventing and fighting against abuse and neglect in the age of COVID-19. Industry experts and local elder justice warriors will share knowledge and resources that have helped enhance their work with older adults.
Mark your calendars for the third Thursday of every month from June `17, 2021, to May 19, 2022. Each session is scheduled from 12 to 1 PM PDT/PST.
Click here for more information on upcoming presenters and sessions!
The Elder Justice Lunch and Learn Series would not be made possible without the following sponsor and planning partners.