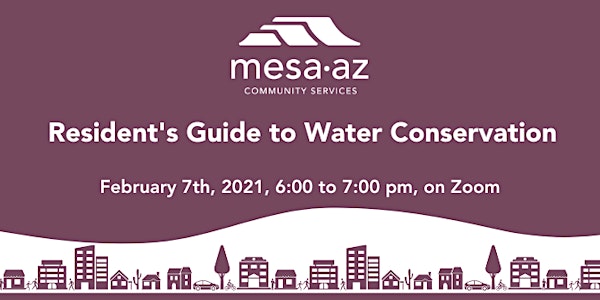 Resident's Guide to Water Conservation (Online Webinar)
In this class you will connect with City programs to help you conserve your water use, as well as tips to reduce water consumption.
About this event
In this 60-minute class, you will:
Get the latest news about drought and our water supplies
Learn how saving water means protecting the environment while keeping more money in your pocket
Find out how water is typically used in a household
Hear how to get a free Water-Saving Kit
Learn about Mesa's "Cash for Grass" program for residents and HOAs
Get Mesa's top indoor and landscape tips on how to save water
After completing your registration, you will be provided with a link that will directly connect you to the Zoom webinar.
The City of Mesa is committed to making its programs and services accessible. For accommodations, translation, or additional information, please contact the City of Mesa Diversity Office at least 48 hours before the meeting at (480) 644-3705 or AzRelay 7-1-1 for those who are deaf or hard of hearing.
Si necesita asistencia o traducción en español, favor de llamar al menos 48 horas antes del evento al 480-644-2767.