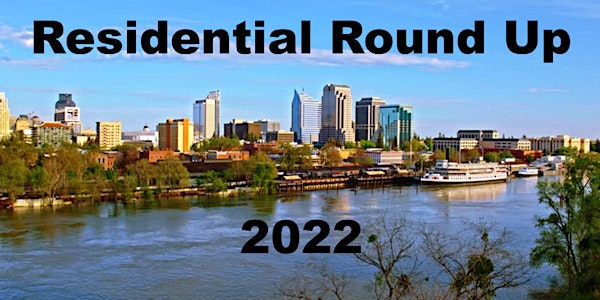 Residential Round Up - 2022
Overview of the Sacramento Area Real Residential Estate Markets, where we have been in 2021 and where we are headed in 2022.
Date and time
Tuesday, January 25, 2022 · 9 - 11am PST
About this event
RESIDENTIAL ROUND UP - 2022
Real estate has been going crazy the last 2 years, so what's ahead?
The Round Up is designed to see where we have been and where we are headed in the Sacramento Region. There is no fee to attend, and the information you gather will help throughout 2022!
This year we are very excited to have 4 of the most knowledgeable local experts presenting for us. The specialty and topics they will cover are:
Ryan - Sacramento Area Residential Trends; Sales Prices, Volume, etc.
Chris - Property Management and Laws that affect real property.
Dean - New Construction and the Bay Area Influences.
(Sanjay - Unable to present this year.)
Zoom links will be sent the day before and the morning of the event. We look forward to seeing you there!
Ryan Lundquist is a certified residential appraiser and housing market analyst in the Sacramento area. Ryan runs the Sacramento Appraisal Blog, which is a top-ranking appraisal blog in the United States. He has been quoted in local and national publications and has been involved with local real estate associations for more than a decade. Ryan is a member of the Real Estate Appraisers Association of Sacramento. His clients include home owners, real estate agents, governmental agencies, CPAs, and attorneys. In his spare time and for stress relief Ryan does woodworking.
https://www.SacramentoAppraisalBlog.com
Chris Airola has worked in property manager for over 30 years. He is the owner of RentPros Property Management which manages about 1,000 units in the Sacramento area. He has been involved with policy makers and associations for many years. He also started the CA Landlord Association to help owner/landlords guide through management issues in California.
https://www.roaca.org/
Dean Wehrli, Principal, has over 20 years of experience in the Real Estate Industry and has directed analyses of residential and commercial projects throughout the United States, including master planned communities, apartment complexes, active adult housing, single-family rental and build for rent, high-rise and urban projects and a variety of commercial and retail developments, as well as LAFCO annexation analyses. He is also the host of the New Home Insights podcast. Dean has a B.A. from California State University-Fullerton, and an M.A. and Ph.D. from UCLA.
https://www.realestateconsulting.com/
Event sponsor is Gobbi Wright Enterprises LLC, helping investors make informed real estate investment decisions across the United States.
https://www.GobbiWright.com