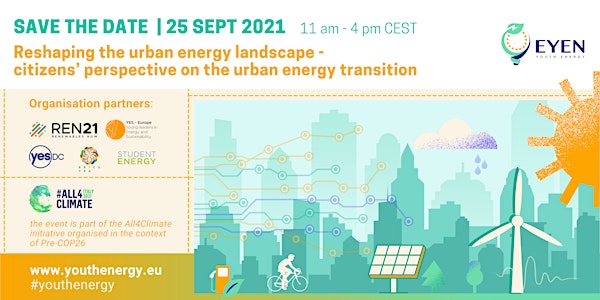 Reshaping the urban energy landscape - Citizen's perspective of the energy
Have you ever wondered how to decarbonise the energy system of your city & want to share your opinion on that? Then this event is for you!
About this event
Dear participant,
Please, use the following link to join:
1. The Keynote presentation and Panel Discussion @ 11 AM - 1:30 PM (CEST) - JOIN HERE
2. The workshop session @ 1:30 PM - 4:00 PM (CEST) - JOIN HERE
If you have any technical issues in connecting or if you have any questions, please do not hesitate to write us at events@youthenergy.eu.
________________________________________________________________________________________________
City governments around the world have been increasingly taking action on energy and climate. Now, we need to do more to accelerate the urban energy transition and reach net-zero targets.
The brand-new European Youth Energy Network (EYEN)⚡, placing youth at the heart of the European energy transition, has partnered up with REN21, Young leaders in Energy and Sustainability Europe, Young Energy Specialists and Development Co-operation (YES-DC), BRICS Youth Energy Agency and Student Energy to launch the event "Reshaping the urban energy landscape - citizens' perspective on the urban energy transition"! The event is part of the All4Climate initiative organised in the context of Pre-COP26 and will bring high-level experts together with the audience to collect the perspective of citizens and youth on the energy transition of 6 cities on 3 continents (see details below). The ideas & visions collected throughout the event will be handed over to decision-makers. This will stimulate cities to boost their impact!
This awaits you on 25 September (agenda tbc, all times in CET):
Introduction to the urban energy landscape (part 1)
11:00 - Welcome and introduction
11:15 - Keynote: Renewable energy in cities – REN21 global report by Lea Ranalder (Project Manager & Analyst, REN21)
11:30 - Panel: Energy transition in cities: opportunities & challenges
Rana Adib (Executive Director, REN21 - Renewable Energy Policy Network for the 21st Century)
Edoardo Croci (Coordinator, Green Economy Observatory, GREEN - Centre for Geography, Resources, Environment, Energy and Networks at Bocconi University)
Dhruba Purkayastha (Director, Climate Policy Initiative India and Director, USICEF - US-India Clean Energy Finance )
Domenico Vito (Climate Reality Project)
Antonia Proka (Rescoop EU - tbc.)
12:00 - Q&A
12:20 - Discussion wrap-up
12:30 - City presentation
Elina Tabakchi (Kazan City administration)
Edoardo Croci (Research Director, Bocconi University)
Francisco Jose Castro (São Paulo City administration )
12:45 - Lunch break
Perspectives on specific cities' energy transition (part 2)
13:30 - Workshop: Reshaping the energy transition in cities (2,5 h.)
Working groups formed by participants will be discussing the transition roadmaps of different cities. Together, we will challenge roadmaps, brainstorm ideas based on individuals' experiences and find solutions to push forward the energy transition in each selected city:
Milan, Italy
Sao Paulo, Brazil
Kazan, Russia
Glasgow, UK
Kolkata, India
Amsterdam, The Netherlands
15:30 - Outcome presentation and Q&A
16:00 - Closure
***Register now to learn more about the urban energy transition and bring in your perspective!***
Any questions about the European Youth Energy Network (EYEN), the event or its partners? Visit our website https://youthenergy.eu/ or drop us a message at ✉️info@youthenergy.eu.