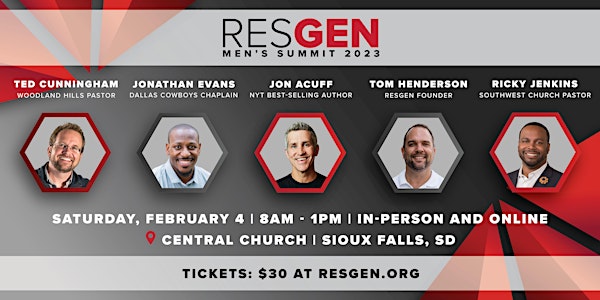 RESGEN Men's Summit 2023 LIVESTREAM (1 Ticket Needed Per Viewing Audience)
The RESGEN Men's Summit is a half-day event encouraging men to fulfill their purpose as leaders, husbands, fathers and Christ followers.
Refund Policy
Refunds up to 1 day before event
Eventbrite's fee is nonrefundable.
About this event
RESGEN Men's Summit 2023 is a half-day conference with the mission of encouraging men, ages 18 and up, to grow and fulfill their purpose as leaders, husbands, fathers, and Christ-followers. The event features five dynamic sessions, free resources, and snacks throughout the day.
Cost: $30/Person (Only 1 Ticket Needed Per Viewing Audience)
--------------------------------------------------------------------------------------------------------------------
INSTRUCTIONS FOR LIVESTREAM VIEWING
View the RESGEN Men's Summit on our Watch Page - resgenmenssummit.com At the prompt, log in with the email you used to buy your ticket via Eventbrite. You cannot watch the event on the Eventbrite website.
Our new Watch Page offers a 2-Hour Delay option for viewers not wanting to watch in Central Time. Go to https://delayed.resgenmenssummit.com and enter the email you used to buy your ticket via Eventbrite.
If you will be viewing the event at a Host Site (e.g. Church or business other than Central Church), YOU DO NOT NEED TO PURCHASE A TICKET. The Host Site t will provide you with an email to access the Watch Page and will take care of the viewing.
SPEAKERS
JON ACUFF is the New York Times bestselling author of seven books, including his most recent, Soundtracks, The Surprising Solution To Overthinking.
Published in more than twenty languages, his work is both critically acclaimed and adored by readers. When he's not writing, Acuff can be found on a stage, as one of INC's Top 100 Leadership Speakers. He's spoken to hundreds of thousands of people at conferences, colleges, and companies around the world including FedEx, Nissan, Microsoft, Lockheed Martin, Chick-fil-A, Nokia, and Comedy Central. Known for his insights wrapped in humor, Acuff shared the stage with an American Icon when he opened for Dolly Parton at the Ryman Auditorium.
For over 20 years he's also helped some of the biggest brands tell their story, including The Home Depot, Bose, and Staples. His fresh perspective on life has given him the opportunity to write for Reader's Digest, Fast Company, The Harvard Business Review, and Time Magazine.
He lives outside of Nashville, TN with his wife Jenny and two teenage daughters.
JONATHAN EVANS is a mentor, author, speaker, and former NFL fullback who treasures his relationship with Christ along with the opportunity to use his life to glorify God. Jonathan seeks to impact today's athletes, men, and young adults by equipping and encouraging them in their faith.
Jonathan serves with his pastor, friend, and father, Dr. Tony Evans, both in the local church and the national ministry. They also teamed up together to write Get in the Game, a practical guidebook filled with sports analogies and spiritual truths aimed at strengthening readers with the skills they need for living victoriously.
Jonathan is a graduate of Dallas Theological Seminary with a master's degree in Christian Leadership. He also serves as the chaplain of the Dallas Cowboys and co-chaplain of the Dallas Mavericks. Jonathan is a dynamic speaker at churches, conferences, men's events, banquets, youth, and FCA events. He is committed to developing the next generation of devoted Christian leaders.
Jonathan and his wife Kanika are the proud parents of Kelsey, Jonathan II, Kamden, Kylar, and Jade Wynter. They reside in Dallas, Texas.
RICKY JENKINS is the Senior Pastor of Southwest Church in Indian Wells, CA. Southwest is a thriving community of believers compelled by its vision to be a Gospel-Centered, Multiethnic, Intergenerational church that LOVES Discipleship! Located in the heart of the Coachella Valley, Southwest is one of the fastest-growing churches in the nation that have been praying fervently for revival in our times.
From his beginnings in Pearl, Mississippi, all the way to Oakland, California, to Memphis, Tennessee, and Chicago, Illinois, Ricky has been preaching the gospel for over 20 years. Fueled by Acts 20:28, Ricky is called to pursue God passionately and pursue God's people compassionately for the glory and honor of Jesus Christ. With a shepherd's heart, Ricky's preaching weaves together biblical exposition, vivid illustration, heartfelt application, and an extra helping of humor with which to convey the glorious gospel of Jesus Christ.
Ricky is married to the light of his heart, April Jenkins. Together they have three beautiful children—Camden, Grand, and Andi. Ricky is currently pursuing a Ph.D. in Historical Theology at Trinity Evangelical Divinity School in Chicago, IL. His research interests revolve around pastoral leadership, racial reconciliation, and issues of justice during the Civil Rights movement. The Jenkins' have been serving in the Coachella Valley since January 2018. They enjoy opening their home to create safe spaces where the gospel can flourish, and memories can be made.
TED CUNNINGHAM is the founding pastor of Woodland Hills Family Church in Branson, MO. He and his wife, Amy, have been married for 23 years and have two children, Corynn and Carson. Ted is the author of Fun Loving You, Trophy Child, and Young and In Love and the coauthor of Come to the Family Table with his wife. He also co-authored four books with Dr. Gary Smalley, including The Language of Sex and From Anger to Intimacy. He is a comedian on the Date Night Comedy Tour and a graduate of Liberty University and Dallas Theological Seminary.
TOM HENDERSON is the founder and lead communicator for Restoration Generation. He is driven by a passion to reach people with the life-saving message of Jesus Christ and help them restore the broken relationships in their lives. He is the author of Heart Not Hype and speaks to thousands of people every year via the RESGEN Giving Life Podcasts and at music festivals, schools, camps, and conferences throughout the country. He has been married to Laura for 25 years and they have 2 boys, Isaiah and Chase.
Summit Sponsorship Opportunities 
Personal and Corporate Sponsorships help
- defray event costs to allow for lower registration fees
- provide scholarships for men with limited resources 
- support the ministry of RESGEN
Contact Tom Henderson | tom@resgen.org | 605-929-4969 | www.resgen.org