The ReSet conference is designed to awaken and catapult women into God's plan and purpose for their lives.
About this event
The ReSet Women's Conference is an opportunity for women 16 years and older to gather and experience powerful worship with dynamic teaching that will stimulate growth in their relationship with Jesus Christ. In the wake of an unprecedented year that left many feeling stuck, distraught, and void of purpose, this conference aims to encourage, challenge, and enlighten women of God's plan for their lives.
Featuring Guest speaker Lisa Harper
Thursday night concert led by Christian artist DOE.
Other Artist and Speakers:
Psalmist Rochelle Saunders
Gianina Caceres, Roslyn Rice, Tara Owens
Dates & Times:
Thursday, May 19th, 2021
6:00PM Doors open
7:00 PM to 9:00 PM Concert by Doe Jones
Friday, May 20th, 2021
10:00AM Doors open
11:00AM to 1:30 PM
1:30PM to 4:00PM ReSet Break
(During this time enjoy our spa rooms, grab a bite to eat or make arrangements for child pick up from school)
3:00PM Doors re-open
4:00PM to 6:00PM Evening Session
6:00PM to 9:00PM ReFresh After Party (Catered Meal, Live DJ, & more)
Saturday, May 21st, 2021
8:00AM Doors open
9:00 AM to 12:00 PM
Cost of event: $150.00
Installment payments options are available.
*All purchases are non-refundable.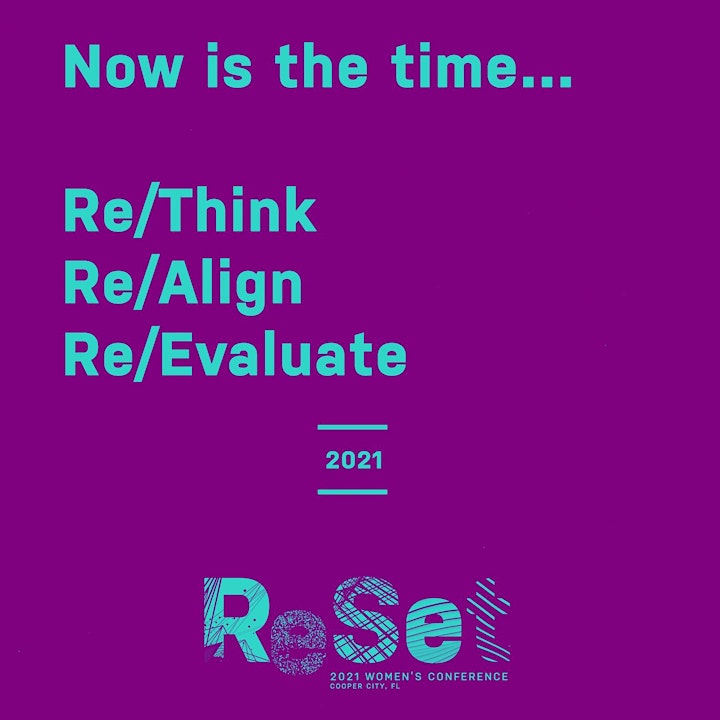 As we move forward during the COVID-19 pandemic, Christ the Rock Community Church will continue to follow the CDC guidelines and recommendations. If the date of the conference is changed or re-scheduled due to the COVID-19 Pandemic you will be notified via email and your spot will be secure for a future date. We will keep you informed as the conference date approaches.
FREQUENTLY ASKED QUESTIONS
Where is the ReSeT Women Conference located?
The conference will be hosted in our home church, a very convenient location/ Christ the Rock Community Church, 11000 Stirling Road, Cooper City, FL, 33328. We are a 25-minute drive west of Fort Lauderdale Airport and 45 minute drive north of Miami International Airport.
Is it open seating?
Yes, it is open seating on a first come first-serve basis.
Will childcare be available?
Childcare is not available for this event.
Will food be served?
Your registration includes a Friday evening dinner and a Saturday morning continental breakfast. Beverages include coffee, tea, and water. In addition, the registration package received at check-in on Thursday will include a power bar and water.
Friday Night "ReFresh Reception" Menu: Petite Salmon Filet, Teriyaki Chicken Breast, Stir Fry Vegetables, Wild Rice, Fresh Garden Salad. There will be a vegetarian menu as well.
What is included in my conference registration?
Your conference registration includes, welcome packet, first-come first-serve seating to all conference sessions, and a variety of great speakers. Our featured guest, Lisa Harper, will bring a message crafted for us Friday night and Saturday morning. Our Thursday night worship concert will be led by Doe Jones. We are sure you will be blessed as you worship with sisters in Christ. Friday afternoon worship will be led by Rochelle Saunders with teaching by Roslyn Rice, Gianina Caceres, and Minister Tara Owens, and Lisa Harper.
ReFresh Reception
Friday evening you will enjoy a delicious dinner, inside a beautifully decorated air-conditioned tent as the Reception area.
What about payment installments?
We do offer 2 payment installments. The first installment is $75 and the second installment is $75. If you choose to pay the installments, the last installment is due by April 24th.
Will the conference be live-streamed?
No, the event will not be live-streamed or aired online. This is an event to be experienced live. We will, however, offer the purchase of the sessions for online viewing after the event
Organizer of "ReSeT" Women's Conference 2021
Christ the Rock Community Church is a vibrant, Jesus Centered, Family Focused, Multicultural and Multigenerational, Bible Believing, Nondenominational Church in South Florida. Each week, thousands of people come to our campus to enjoy the many ministries and opportunities for the whole family to learn more about Jesus. Christ the Rock specializes in Family Ministry from infants to senior citizens. We are fearlessly leading people to an ever-growing personal relationship with Jesus Christ!