Description
Overview
College Church and Crossway invite you to a 2-day men's event featuring the teaching of pastor and speaker David Murray, along with good food (BBQ!) and games.
David Murray has heard countless men ask the question, "How did I get here?" These men are on the brink of burnout or in the midst of a breakdown. They are exhausted, depressed, anxious, stressed, and joyless. Their time is spent doing good things, but their pace is unsustainable—lacking the regular rest, readjustment, and recalibration they need.
But there is good news: God has graciously provided a way for men to reset their lives to a more sustainable pace. Drawing on personal experiences—and time spent counseling other men in the midst of burnout—David Murray offers weary men hope for the future, helping them identify the warning signs of burnout and offering practical strategies for developing patterns that are necessary for living a grace-paced life and reaching the finish line with their joy intact.
For more information about David Murray, visit his website: www.HeadHeartHand.org.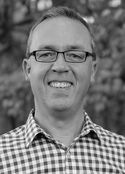 David Murray (PhD, Vrije Universiteit Amsterdam) is professor of Old Testament and practical theology at Puritan Reformed Theological Seminary. He is also a counselor, a regular speaker at conferences, and the author of Exploring the Bible. David and his wife, Shona, attend Grand Rapids Free Reformed Church.
Books by David:
Reset: Living a Grace-Packed Life in a Burnout Culture
Exploring the Bible: A Bible Reading Plan for Kids
Exploring the Bible Together: A 52-Week Family Worship Plan (Forthcoming May 2020)
---
Schedule
Friday, March 13
6:00 p.m. - 7:00 p.m. - Doors Open & Check In
6:00 p.m. - 6:45 p.m. - Pizza Dinner Available
7:00 p.m. - 8:15 p.m. - Large Group Session 1
8:30 p.m. - 10:30 p.m. - Games and Snacks
Please note this is NOT an overnight event.
Saturday, March 14
7:30 a.m. - 8:30 a.m. - Coffee and Bagels
8:30 a.m. - 9:15 a.m. - Large Group Session 2
9:30 a.m. - 10:30 a.m. - Breakout Sessions
10:45 a.m. - 12:00 p.m. - Large Group Session 3
12:00 p.m. - 2:00 p.m. - BBQ Lunch
---
Tickets
Standard Ticket = $60.00
Student Ticket = $25.00
If you would be interested in making a donation to help provide the opportunity for others to attend, you will have the opportunity to do so upon checkout. Thank you in advance for your generosity!
---
Contact
For general questions about the event, please send an email to conferences@crossway.org.
Scholarships are available! To inquire about receiving a scholarship to attend, please send an email to men@college-church.org.