About this Event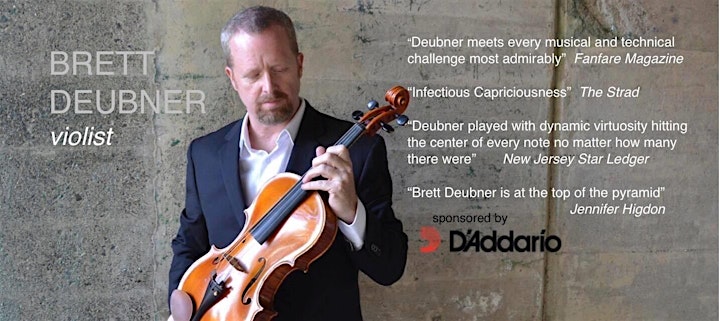 Collegium Musicum is proud to present internationally acclaimed viola soloist Brett Deubner in a special performance featuring the music of 21st century composers. He will be joined by multiple Grammy nominated pianist and Collegium Musicum regular Allison Brewster Franzetti in this performance of works composed for Deubner. As the foremost champion of music written for the viola he has been the recipient of over 100 works composed for him. He has soloed with over 80 orchestras on 5 continents and is on the faculty of Queens College's Aaron Copland School of Music.
As a sought after soloist who has performed with orchestras on five continents, Deubner has redefined the role of "solo artist" and has given the viola a new standing in the world of classical music with his virtuosity, commitment to championing new music and his mentoring of this generation's young artists.
Deubner studied at the Eastman School of Music in New York where his principal teachers were Zvi Zeitlin (violin), Martha Katz (viola) and John Graham (viola). At Eastman he quickly made a name for himself performing as violin and viola soloist with the Eastman Philharmonia and leading the orchestra in Heidelberg at the Schloss Spiele Festival. After graduating, Deubner successfully landed major orchestra positions, was a founding member of several highly acclaimed chamber ensembles and was on the string faculty of leading music schools as well as participated in world renowned festivals.
As a concerto soloist, Deubner's debut with the Grammy award-winning New Jersey Symphony Orchestra premiering Lalo Schifrin's Triple Concerto resulted in numerous subsequent engagements throughout the U.S. and abroad. Deubner has gone on to perform worldwide as one of this century's most important viola soloists having with more than 80 orchestras in 11 countries to unanimous approval for "the warmth and sparkling" quality of his playing. (Doblinger Press, Vienna) To date Deubner has received over 50 viola concertos composed and dedicated to him and he has made 20 CDs on various labels such as Naxos, Centaur, Innova and Albany to critical acclaim and glowing reviews. His most recent CD release with the Orquesta de Heredia has garnered a 2019 Latin Grammy nomination for "Best Classical CD Recording".
One of the busiest viola soloists on today's concert stages, Deubner will make debuts during the 2019-2020 season with the Fort Wayne Philharmonic, the Portland Columbia Symphony, the Guayaquil Symphony in Ecuador, the Reading Symphony, the North Mississippi Symphony, and the Coastal Symphony of Georgia to name a few. Deubner will perform Richard Danielpour's viola concerto numerous times this season as well as the concertos of Joan Tower, Telemann, Vivaldi, Harberg, Mozart, and the world premiere of Daniel Perttu's "Merlin" concerto with the Perrysburg Symphony
Recent engagements with the Grand Rapids Symphony, Knoxville Symphony, the Missoula Symphony, the National Symphony of Ecuador, the Orquesta Sinfonica de Loja, the State Symphony of Medelin in Venezuela, the Thuringer Symphoniker of Germany, the Orchestre Bell'Arte of Paris, and the Kiev Kamerata of Ukraine have garnered international praise for his unparalleled technique and powerful vocal quality.
During the 2020-2021 season, Brett Deubner will perform with the Bismarck Symphony, the Michigan Philharmonic, the Rigdewood Symphony, the Boston Civic Orchestra, Orlando Contemporary Chamber Orchestra as well as return visits to the Berklee College of Music, the Olympia Philharmonic, and the Round Top Festival Institute.
A devoted and passionate chamber music collaborator Deubner has performed with Pinchas Zukerman, Joseph Kalichstein, Andre Michel-Schub, the Tokyo Quartet, Vermeer Quartet, Colorado Quartet as well as clarinetists Guy Deplus and Alexander Fiterstein, and flutists Ransom Wilson and Carol Wincenc. Brett Douglas Deubner makes his home in the New York Metropolitan area where he is currently on the string faculty of the Aaron Copland School of Music at Queens College in New York. He is on the faculty of the Round Top Festival in Texas, the International Music Festival of Guaranda, Ecuador and is the director of his own festival in Siracusa, Sicily. Brett Deubner is endorsed by D'Addario Strings and uses Kaplan Amo. In 2017 he received the U.S. Congressional Certificate of Recognition for his committment to Music and Education. He plays on a viola made for him by Alejandro Bacelar.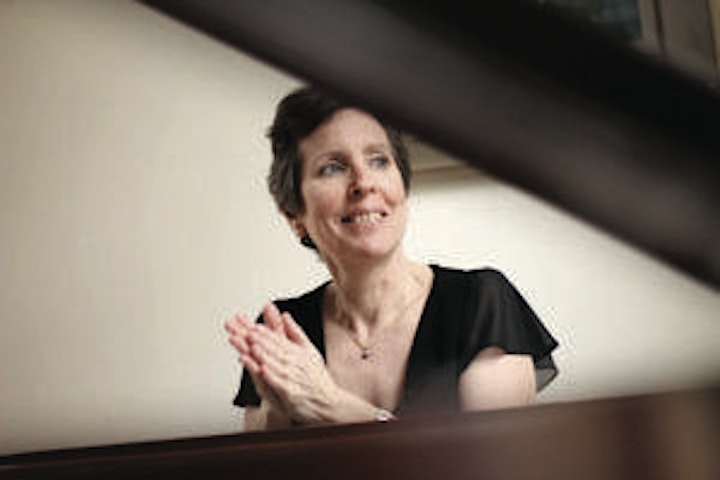 2014 and 2018 Latin Grammy® Nominee for Best Classical Album and 2008 Grammy® Nominee for Best Instrumental Soloist without Orchestra, pianist Allison Brewster Franzetti has received international acclaim from critics and audiences alike for her stunning virtuosity and musicality, both as a soloist and chamber musician. Her performances include the live Latin Grammy® Awards television broadcast, the Grammy® Awards Classical Music Tribute to Earl Wild and Lang Lang at the Walt Disney Concert Hall in Los Angeles, the American Classical Music Hall of Fame, the Robert Schumann Festival at the Marcella Sembrich Museum in Lake George, New York, the Campeche Festival in Mexico and at the opening of the VI International Festival of Music at the Teatro Colon in Buenos Aires, Argentina. She has been a guest artist with the Brooklyn Philharmonic (featured on NBC-TV News), the Long Island Philharmonic, the English Sinfonia, the City of Prague Philharmonic, the Denver Symphony, the Colonial Symphony, the European Women's Orchestra, the Montclair Orchestra, the New Jersey Intergenerational Orchestra and the Adelphi Orchestra, amongst others. She has played the world premiere of "Piano Concerto No. 2" by Carlos Franzetti at the Teatro Colon with the Orquesta Filarmonica de Buenos Aires conducted by Javier LoGioia Urbe, commissioned for Dr. Brewster Franzetti as part of their 50th anniversary season, the European premiere with the Janacek Philharmonic conducted by Dennis Burkh, and the US premiere with the Queens Symphony Orchestra, conducted by Constantine Kitsopoulos. Solo recital performances include her critically acclaimed debuts at Merkin Hall in New York and the Teatro Colon in Buenos Aires, her recital debut at the prestigious Wigmore Hall in London, and tours throughout the US, Mexico, Europe, and Argentina. Ms. Brewster Franzetti is the piano soloist on the soundtracks of the American/Argentine film, "Tango Fatal," the Argentine/French film, "Ronda Nocturna," and the French/Spanish film, "Dans le rouge du couchant."
Her latest CD with Carlos Franzetti, "Buenos Aires Noir," nominated for a Latin Grammy® Award, was named "Classical CD of the Month" by Jazz Station and won a silver medal from the Global Music Awards for Outstanding Achievement. Their CD, "Luminosa," was named one of the 25 Best Instrumental Albums of 2017 by Jazz Station. Naxos Records released a complete boxed set of "Mieczyslaw Weinberg – Complete Piano Works" in January 2015, which include several world premieres. Her collaborations with saxophonist Paul Cohen include the recordings, "On Common Ground" and "American Landscapes." 2014 CDs include her Latin Grammy®-Nominated solo recording, "Alma – Piano Music of Argentina," on Amapola Records and "Song of My Nights – The Flute Music of David Maslanka" with flutist Kimberly McCoul Risinger. 2012 and 2013 marked the release of 4 individual CDs dedicated to the complete piano music of Mieczyslaw Weinberg on the new Naxos label, Grand Piano and "Pierrot et Colombine" on Sunnyside Records. 2011 CDs include "Alborada," recorded with composer/pianist Carlos Franzetti and the City of Prague Philharmonic for Amapola Records, and "Quiet City," recorded with saxophonists Christopher Brellochs and Paul Cohen, for Sono Luminus Records. Other CDs include "Maurice Ravel – Ma Mere L'Oye, Valses nobles et sentimentales and Daphnis et Chloe Suite No. 2" on Amapola Records; "Piano Concerto No. 1 and Symphony No. 2" by Carlos Franzetti on Amapola Records; the Grammy®-Nominated CD, "20th Century Piano Sonatas," on the Naxos label; a CD recorded with flutist Kimberly McCoul Risinger, "Sonata Fantasy," on Albany Records; a double concerto CD, "Reflexiones," on Amapola Records; the 2003 Grammy® Award Nominee for Best Classical Crossover Album, "Poeta de Arrabal" on Amapola Records the 2002 Latin Grammy® Award Nominee for Best Tango Album, "Tango Bar," on Chesky Records, "South American Landscapes" on Premier Recordings, "Scriabin/Ravel/deFalla" on Amapola Records and "The Unknown Piazzolla" on Chesky Records. Also available on Amapola Records is her world-premiere recording of "Piano Concerto No. 2" by Carlos Franzetti with the Janacek Philharmonic. She is a featured soloist on the 2001 Latin Grammy® Award Winner, "Tango Fatal" on Amapola Records, "Images Before Dawn – Symphonic Music of Carlos Franzetti" on Premier Recordings, and the 1997 Grammy® Award Winner, "Portraits of Cuba" on Chesky Records. She has recorded two major works by Roberto Sierra, "El Mensajero de Plata" and "Bayoan," with the Bronx Arts Ensemble for Newport Classics and Albany Records. She has also recorded Latin American and English chamber music for the Musical Heritage Society.
An accomplished accompanist and chamber musician, Allison Brewster Franzetti has collaborated with some of the finest performers, composers and directors in the world, including Sir James Galway, John Corigliano, Stephen Paulus, Lowell Liebermann, Melinda Wagner, Paul Moravec, Jennifer Higdon, Aaron Jay Kernis, John Musto, Robert Aldridge, Victoria Bond, David Maslanka, Carlos Franzetti, Herschel Garfein, Paquito D'Rivera, Ruben Blades, Wenzel Fuchs, Benny Goodman, Julius Baker, Ransom Wilson, Eugenia Zukerman, Nestor Torres, Robert White, Mark Morris, and members of major US and international symphony orchestras. She has performed at Carnegie Hall, Lincoln Center, festivals in the United States, Mexico and Europe, and on radio and television.
Dr. Brewster Franzetti is the author of synopses for the book, "101 Opera Librettos," published by Black Dog & Leventhal in New York. She writes liner notes for Amapola Records, Chesky Records, Sunnyside Records, Milan Records, and Premier Recordings.
As composer, Dr. Brewster Franzetti's compositions are included on the recordings "Poeta de Arrabal" and BMG Kidz. She has collaborated extensively with librettist/lyricist June Rachelson-Ospa on several projects, notably "The True Colors of Weedle," "Hyde and Seek," and "Before the Curtain." "First Comes Love," written with Diane Seymour and Amanda George, was presented by Musical Theatre Works in several cities throughout the United States.
Born in New York City, Allison Brewster Franzetti received a Bachelor of Music degree from the Manhattan School of Music, a Master of Music degree from the Juilliard School, and a Doctorate in Musical Arts from Mason Gross School of the Arts at Rutgers University. She has won first prizes from the Paderewski Foundation and the Piano Teachers Congress of New York as well as awards from the Kosciuszko Foundation and the Denver Symphony Orchestra. She was the recipient of the Arthur G. Humphrey Memorial Prize, two HEART (History, Education, Arts – Reaching Thousands) Grants from the Union County Board of Chosen Freeholders, the Starr Foundation and Executive Women of New Jersey. Dr. Brewster Franzetti was appointed Concert Artist in Piano and Chamber Music at Kean University in 2001 and was elected to the honor society Phi Kappa Phi in 2002. Kean University bestowed its first Graduate Commencement Performing Artist Award on Dr. Brewster Franzetti in 2003. She was appointed Part-Time Lecturer at the Mason Gross School of the Arts, Rutgers University in 2010. Dr. Brewster Franzetti was Director of Chamber Music for Rutgers Community Arts, Mason Gross School of the Arts at Rutgers University, from 2013-2019. She joined the faculty of the InterHarmony International Music Festival in 2019.