RESERVE SOON!! Las Vegas, Future Landing Site for the Reusable DREAM CHASE...
Sales Have Ended
Ticket sales have ended
Thank you for registering, and I look forward to seeing you on 1 December for this extraordinary event!
Sales Have Ended
Ticket sales have ended
Thank you for registering, and I look forward to seeing you on 1 December for this extraordinary event!
Description
____________________________________________________________________________________________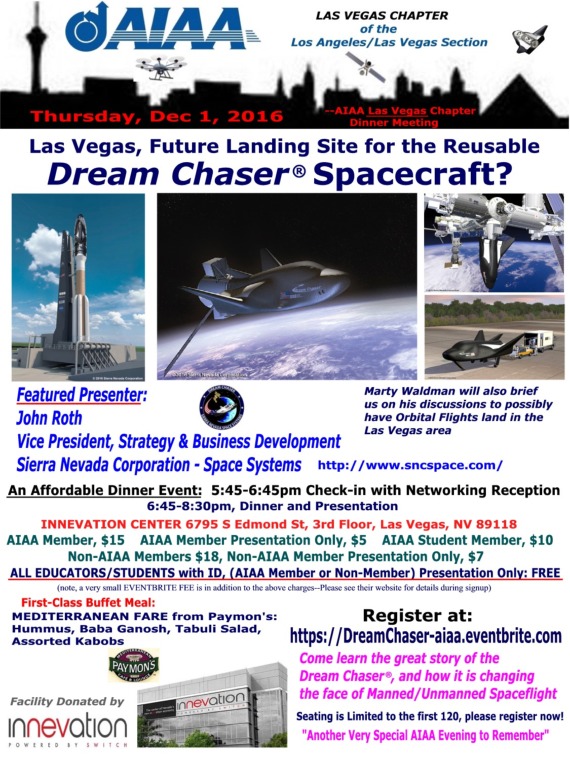 Las Vegas has the possible opportunity to have the Dream Chaser® reusable spacecraft land locally. Along with this possible opportunity comes the Inspiration, STEM/STEAM opportunities, business and excitement it can generate for our area.
Possible business opportunities for future entrepreneurial Las Vegas companies are to support the the Dream Chaser® in the disciplines of payload engineering/development and integration, Cybersecurity, vehicle processing/operations as well as vehicle maintenance to ready it for its next spaceflight, prior to transport to its launch site.
Simultaneously, while the ongoing re-examination of the National Airspace System (NAS) to accommodate UAS's is challenging, the unique requirements of a reentering Spacecraft cutting across busy airways and interleaving with airport operations is an additional challenge which will require the brightest minds to solve if our future will reflect the "Jetson" scenario, whereby Airlines, Private aircraft, UAS and now Spacecraft operations safely coexist. The Mitre Corporation has begun studying this, and recently published its preliminary findings the July 18, 2016 issue of Aviation Week & Space Technology with an article by Ms. Lillian Zarrelli Ryals titled "Mixing Aircraft and Spacecraft".
This future vision gives Las Vegas an opportunity to be a world leader not only with UAS airspace definition, but also by defining what it takes to integrate space reentry operations into the NAS along with its work with UAS airspace integration.
This possible new highlighting of Las Vegas on the worldwide map as an aerospace hub of excellence builds upon its rich aviation past/present which is demonstrated everyday here in this amazing city.
This presentation is specially designed to fully bring you up to speed on the game-changing Dream Chaser® reusable spacecraft as presented by Sierra Nevada leadership, and a preliminary assessment of what would be required to safely land it in our area. Here's a very descriptive article about the Dream Chaser® Landing at commercial airports: http://www.americaspace.com/?p=86264
This presentation is also intended to get your ideas flowing on how you can perhaps be involved in the possible opportunities described above. Please take a look at this excellent article to read how forward-thinking Huntsville is actively pursuing Dream Chaser® landings at their International Airport: http://alabamanewscenter.com/2016/08/21/huntsville-targets-dream-chaser-landings-sierra-nevada-ties-grow/
I look forward to seeing you on December 1st 2016 for this comprehensive briefing which will probably be unlike any other you have ever witnessed. The venue is terrific, and food is also!