Reserve one of 3 Private Website Reviews / Marketing Consultations with Ala...
Description
If your website was an employee, would you fire it?
Have a private, one-on-one website review and/or marketing consultation with marketing expert Alan Berg and find out, while here's here, in Dedham, MA... and save $100!

Have an interactive experience with one of the best in the business. Alan Berg, author, professional speaker and marketing expert, is bringing his unique marketing talents to the Boston area for the NPVA meeting and afternoon of education. You can enhance that experience with a personal consultation with Alan the next day.
Only 3 businesses will be accepted to participate in these website/marketing reviews. This will ensure that each company will get a hands-on, real world look at how to improve their websites and/or collateral materials (business cards, brochures, postcards, menus, flyers and more). You can bring as many people from the same company as you'd like. Bring your web or graphic designer, too.
You'll hear Alan discuss how to make your website convert more of the traffic you're already getting. Alan will look at each participant's website and collateral materials and you'll walk away with real, usable tips on how to improve them.
You'd pay a lot more to have Alan review your website and materials. Be one of only 3 businesses to have this opportunity, so register today above before they're all gone.
Each session will be 60 minutes and we're offering it to you for only $249, save $100 off his regular $349 initial consultation rate.
To have one of the sessions on Tuesday, April 23rd, reserve your time above.
If you have any questions call or email Alan at 732.42..6362
For more information about Alan's books, DVDs and Audio CDs, visit his website. Come to the conference or website review sessions and get yours there at special reduced pricing.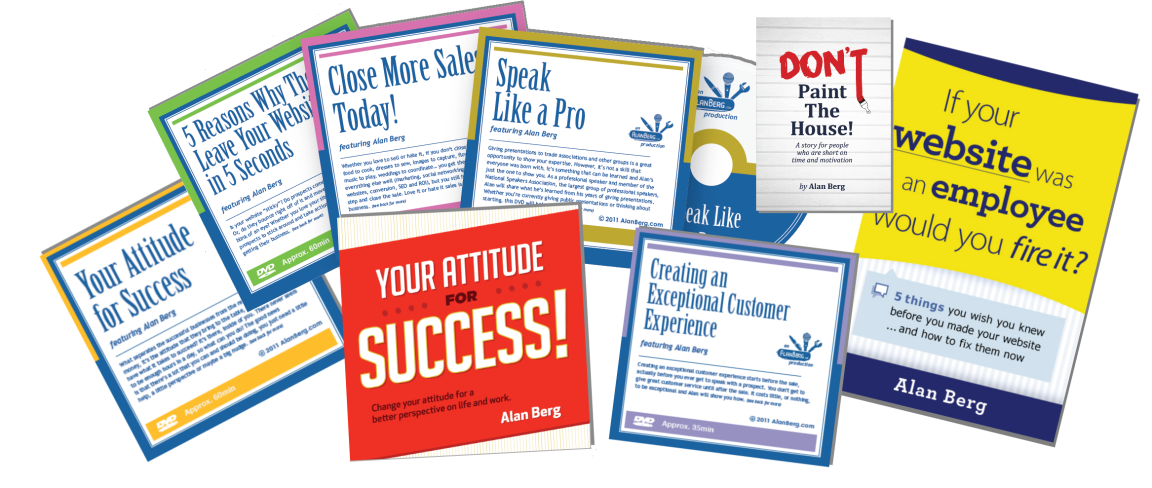 ---
Video/Audio Recording Notice: This event may be Video and/or Audio Taped. By attending you understand and agree that your image/voice may appear on such recordings.