| | |
| --- | --- |
| Reservations For Success™ Dinner Series - WISE Women Invest In Real Estate - A Women's Night Out Event | |
Event Details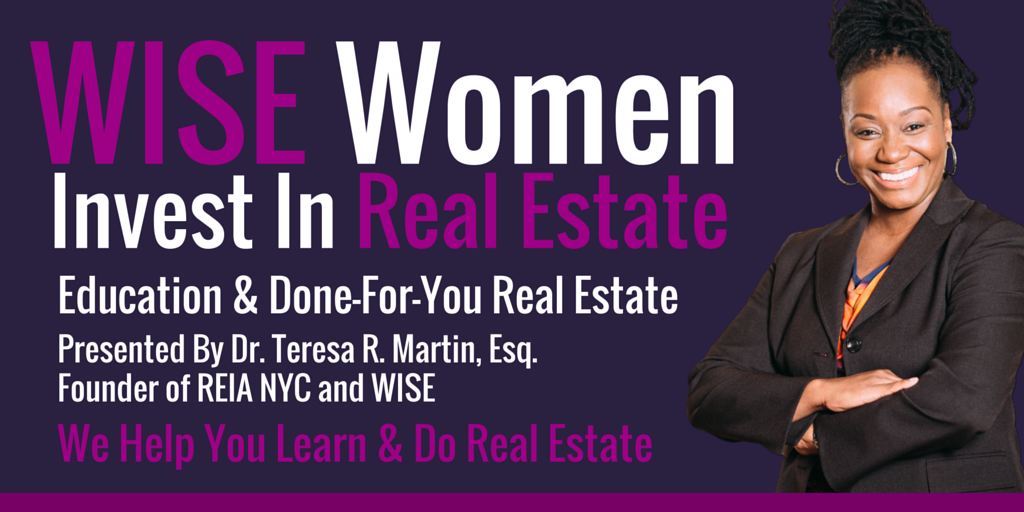 Creating Your Own Real Estate Game Plan

There is a big difference between real estate strategies and real estate Game Plans. Examples of real estate strategies are flipping a home, buying wholesale, or buy and hold. A Game Plan, on the other hand, is the series of steps that are specific to you and customized to your goals, which also shows you how to implement those steps so that you can achieve your goals.
Introduction
This dinner series will show you how your custom Game Plan and real estate education helps you prepare to invest in real estate. You will learn how to take full advantage of a Power Team to help you prepare for your first investment property and succeed as Real Estate Ambassador.

Power of Real Estate
You are either on the side of real estate that is making you money or the side of real estate that is making some else money.  The goal of each prospective investor is to be on the side that is make YOU money.  

"Ninety percent of all millionaires become so through owning real estate." -Andrew Carnegie

There are three primary facets of the real estate equation that make real estate an incredible wealth building vehicle:

1) Real estate allows investors to "velocitize" wealth.
2) Each property has multiple profit centers.
3) Today's incredible real estate opportunities.

Some of our Dinner Topics include:
Business Credit & Funding

Creative Real Estate

No Money, No Credit

Partnering

Lease Options (Rent-to-Own)


Finding Your Power Team

Hot Properties / Hot Markets

Economic Patterns

Designing a Customized Game Plan

Creating a Wealthy Mentality

Creating a Tax Free Retirement

3 Levels of Action Guaranteed to Make you More Money Immediately

How to Increase the Purchasing Power of Each Dollar
No Fee just a $15 food minimum required!
When & Where

Dallas BBQ Chelsea
261 8th Avenue (Downstairs)
(Located on the corner of 23rd Street)
New York, NY 10011


Organizer
Dr. Teresa R. Martin, Esq.'s Enjoy Your Legacy
THE BRAND
Dr. Teresa R. Martin is the Founder, President & CEO of Generational Wealth Zone, a premier full-service wealth creation company featuring a portfolio of category-leading brands that include Real Estate Investors Association of NYC (REIA NYC), TheBusinessCreditCoach.com, Enjoy Your Legacy / Legacy Coaching, a leading personal finance and real estate coaching brand.

BEHIND THE BRAND
Teresa is one of the most-sought after personal finance and real estate strategist in the industry and a competent consultant, attorney, real estate investor, entrepreneur, educator, facilitator and a steward of hope as well as financial peace who deeply understands and emphasizes the importance of financial education both in business and in life. She was born in Long Island, NY and in late 1990s, she began her career in the legal industry. Despite the paucity of mentors, Enjoy Your Legacy's Teresa Martin was inspired to give her best in everything that she does and excel in the corporate industry and to her self-employment when she created her own law firm which became very successful in just a short period of time- the Law Offices of Teresa R. Martin, P.C. In this practice, she has successfully hoed her special skills in areas of bankruptcy and real estate. She also specializes in residential and commercial real estate transactions, credit restoration and foreclosure defense litigation services.

Teresa R. Martin, Esq. is a versatile professional and has exceptional business skills who has earned consistent investment returns in both up and down markets.

THE MOVEMENT
Aside from being a successful attorney and founder of Enjoy Your Legacy, Teresa is also a well-seasoned real estate investor who took the industry in awe with her focus on creative acquisition strategies that she has developed alone, has implemented and taught to others as the Founder/ Counsel of Real Estate Investors Association NYC. She was looked up by many people as well for being an inspiring Director as well as past President of the nation's largest non-profit organization that is very much dedicated to investment education, New York Chapter of Better Investing.

Teresa also sits on the Board of Directors for National Real Estate Investors Association and represents the interests of about 40,000 members across the United States. Her extensive legal experience which is coupled with her great passion for financial ministry and consumer education made her join as well as complete her Group Leader training with the Fellowship of Companies for Christ International (FCCI) in 2005. Teresa continues to equip, encourage and help the others to understand sound financial biblical principles through Generational Wealth Zone LLC. It is a conduit for a person to achieve financial freedom through a tutelage in the areas of business ownership, financial education and real estate investing. Her core interest is the financial literacy of young adults, women and other possible emerging markets that represent the financially disenfranchised segments in the population.


Reservations For Success™ Dinner Series - WISE Women Invest In Real Estate - A Women's Night Out Event