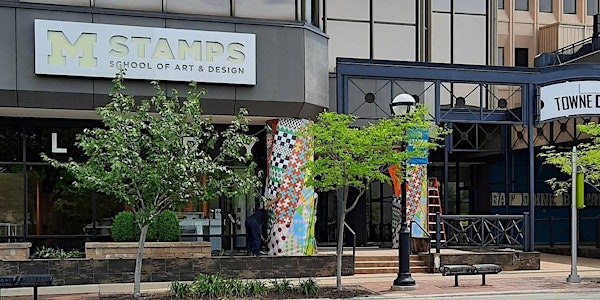 Reservation for Stamps Gallery Exhibition Visit
Location
Stamps Gallery
201 South Division Street
Ann Arbor, MI 48104
Schedule your visit to Stamps Gallery to experience the solo exhibition of renowned artist Stephanie Dinkins, "On Love & Data"
About this event
Welcome to Stamps Gallery! We are thrilled to invite you to experience our fall exhibition, Stephanie Dinkins: On Love & Data as we re-open to the public at a limited capacity! We encourage all visitors to reserve time for their visit prior to arrival at Stamps Gallery as this will help us in our efforts to monitor occupancy levels. Indi­vid­u­als and groups of up to 6 can reserve a time to visit the gallery. Each group will have 30 min­utes to view the exhibition.
The Gallery will be open four days each week, with the first hour each day reserved for vis­i­tors with an increased risk for severe ill­ness (11 am-noon).
Wednes­day: 11:00 am – 5:00 pm
Thurs­day: 11:00 am – 7:00 pm
Fri­day: 11:00 am – 5:00 pm
Sat­ur­day: 11:00 am – 5:00 pm
Updated COVID-19 Health & Safety Poli­cies: Vis­i­tor Require­ments and Expectations
Mask Wear­ing: U‑M requires all indi­vid­u­als to wear face cov­er­ings in uni­ver­sity build­ings begin­ning August 11 regard­less of vac­ci­na­tion sta­tus. The full pol­icy is avail­able here.
All Stamps Gallery Vis­i­tors, includ­ing MCard hold­ers and mem­bers of the gen­eral pub­lic, must com­plete the Respon­si­BLUE health screen­ing. Please be pre­pared to show the green check mark from the app on your cell­phone upon arrival. Your self-reported vac­ci­na­tion sta­tus will be dis­played as part of the ​"results" of this screen­ing. U‑M fac­ulty, staff, and stu­dents are encour­aged to have their vac­ci­na­tion sta­tus ver­i­fied through U‑M's COVID-19 Vac­ci­na­tion Self-Report Form.
Hand Hygiene and San­i­ta­tion: Vis­i­tors agree to wash hands fre­quently and use the hand san­i­tiz­ers that will be avail­able in the Gallery.
Use Des­ig­nated Entrance and Exit: Please use the entrance on Divi­sion Street and exit the Gallery through the Atrium that leads you into the lobby of the building.
Observe Signs: Main­tain phys­i­cal dis­tance and fol­low the signs on the floor regard­ing direc­tion of move­ment in the gallery space.
Low-touch Expe­ri­ence: Shared head­phones, benches, coat racks have been removed. Should you need space to sit, please inform the Gallery Assis­tant who will pro­vide you with a fold­ing chair.
Increased Clean­ing of High Touch areas: High-touch areas such as han­dles of entrances and exits, Recep­tion Desk sur­face, MCard reader will be wiped down and san­i­tized sev­eral times a day. The Gallery itself gets deep cleaned three times a week.
Report­ing Symp­toms: If you are feel­ing unwell or expe­ri­enc­ing any symp­toms of the virus dur­ing or after your vis­it to the Gallery, please inform the atten­dant at the Wel­come Desk of the Gallery.
Reduced Occu­pancy: Occu­pancy will be lim­ited to 50 peo­ple at one time (25% of our gallery's capac­ity), includ­ing staff mem­bers. We ask that indi­vid­u­als and groups of up to 6 vis­i­tors reserve one time slot at a time as a means to ensure phys­i­cal dis­tanc­ing and lower density.
Ques­tions?
Con­tact Stamps Gallery Direc­tor Sri­moyee Mitra at srimoyee@​umich.​edu or 734−615−5137 or Exhi­bi­tions Coor­di­na­tor and Prepara­tor Joe Rohrer at jhrohrer@​umich.​edu or 734−615−3361.