Multiple Dates
Reservation for Stamps Gallery Exhibition Visit
Schedule your visit to Stamps Gallery
About this event
Welcome to Stamps Gallery! We are thrilled to invite you to experience our summer exhibition as we re-open to the public at a limited capacity! We encourage all visitors to reserve time for their visit prior to arrival at Stamps Gallery as this will help us in our efforts to monitor occupancy levels.
STAMPS GALLERY HOURS :
TUESDAYS, FRIDAYS & SATURDAYS: 11AM TO 4PM
NOTE: The first hour (11am to 12 noon) is reserved for visitors with an increased risk for severe illness.
Stamps Gallery's Updated COVID-19 Health & Safety Policies:
Visitor Requirements and Expectations -
All Stamps Gallery Visitors, including MCard holders and members of the general public, must complete the ResponsiBLUE Screening Check: https://responsiblue.umich.edu/sign-in
Mask Wear­ing: All vis­i­tors (above the age of 2 years old) are required to wear a mask that cov­ers their nose and mouth in order to enter the Gallery.
Hand Hygiene and San­i­ta­tion: Vis­i­tors agree to wash hands fre­quently and use the hand san­i­tiz­ers that will be avail­able in the Gallery.
Use Des­ig­nated Entrance and Exit: Please use the entrance on Divi­sion Street and exit the Gallery through the Atrium that leads you into the lobby of the building.
Observe Signs: Main­tain phys­i­cal dis­tance and fol­low the signs on the floor regard­ing direc­tion of move­ment in the gallery space.
Low-touch Expe­ri­ence: Shared head­phones, benches, coat racks have been removed. Should you need space to sit, please inform the Gallery Assis­tant who will pro­vide you with a fold­ing chair.
Increased Clean­ing of High Touch areas: The high-touch areas such as han­dles of entrances and exits, Recep­tion Desk sur­face, MCard reader will be wiped down and san­i­tized sev­eral times a day. The Gallery itself gets deep cleaned three times a week.
For more information please call 734−615−3361 or visit our website: https://stamps.umich.edu/stamps-gallery/about-the-gallery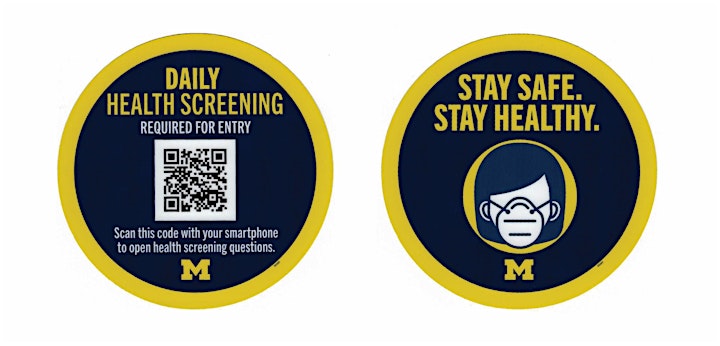 Organizer of Reservation for Stamps Gallery Exhibition Visit
The mission of the Stamps School of Art & Design is simple and profound — to prepare students to think in new ways, to educate them to become concerned world citizens, and to equip them with the skills for life-long accomplishment. Offering a unique art & design education within the University of Michigan, we focus on creative practice as an engine for cultural change and innovation.