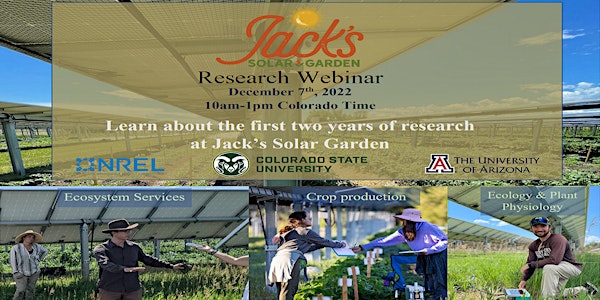 Research Webinar about Jack's Solar Garden
Jack's Solar Garden is the largest commercial research site for agrivoltaics in the US. Tune in to hear from our expert researchers!
Refund Policy
Refunds up to 7 days before event
Eventbrite's fee is nonrefundable.
About this event
Jack's Solar Garden is the largest commercial research site for agrivoltaics in the US. This webinar is dedicated to the researchers located at Jack's Solar Garden studying the various microclimates created by this single-axis tracking system and learning about how various types of vegetation react to these microclimates.
The National Renewable Energy Laboratory's Jordan Macknick will speak on their pasture grass and wildflower propagation research activities.
University of Arizona's Greg Barron-Gafford will speak about his team's work studying various vegetable crops grown underneath panels with variable irrigation controls, locations within the solar array, and under two different heights of panels.
Colorado State University's Christopher Toy will speak about his team's work studying ecosystem services provided by the pre-existing grassland under the panels as well as his various experimental treatments of the land.
Colorado State University's Matthew Sturchio will speak about his team's research into grassland ecology within the solar array - looking at water and heat stresses and forage growth potential.
Listen to these researchers discuss all their collective work together for the first time regarding Jack's Solar Garden on this 3hr webinar. Have your questions ready for the panelist sections!
10am - Byron Kominek to introduce the event and Jack's Solar Garden
10:20 - Jordan Macknick, NREL - An overview of how Jack's Solar Garden fits into the growing agrivoltaics field in the USA and the importance of this research
10:35 - Christopher Toy, CSU - Ecosystem services of grasslands and wildflowers at Jack's
10:55 - Matthew Sturchio, CSU - Grassland ecology at Jack's
11:15 - Panel Discussion with Chris & Matt w/ Q&A from audience
11:35 - Jordan Macknick, NREL - Pasture grass and wildflower growth at Jack's
11:55 - Greg Barron-Gafford, UA - Vegetable growth at Jack's
12:25 - Panel Discussion with Jordan & Greg w/ Q&A from audience
12:45 - Overall Panel Discussion - Lightning Round - Researchers will ask each other challenging question.
1:00 - End
SPEAKER BIOS
Byron Kominek
Byron is an experienced natural resource management specialist having worked in international development for over a decade. He has lived in various parts of Africa for over 6 years serving in the Peace Corps, with Doctors Without Borders, and the U.S. Agency for International Development. Byron is the founder and co-owner of Jack's Solar Garden. He manages the solar operation and helped found and currently directs the associated educational nonprofit, the Colorado Agrivoltaic Learning Center (that is putting on this webinar). He has a M.Sc. in Environmental Engineering and speaks French and Portuguese.
Jordan Macknick
Jordan Macknick is the Lead Energy-Water-Land Analyst for the National Renewable Energy Laboratory. He is a member of the Strategic Energy Analysis Center's Systems Modeling team within the Resources and Sustainability Group. Jordan's primary work addresses the environmental impacts of energy technologies, while seeking opportunities for energy and ecological synergies. In his energy-water-land leadership capacity, Jordan analyzes national and regional implications of different energy pathways in the context of water and land resources, evaluates opportunities to improve the energy management of water infrastructure, and explores innovative approaches to co-locating solar and agricultural activities. Jordan received his BA in Mathematics and Environmental Studies from Hamline University in 2005, and his Master of Environmental Science degree in Transboundary Natural Resource Policy from Yale in 2009. Jordan's areas of expertise include systems modeling of energy and water infrastructure interactions, renewable-powered water treatment systems, meta-analysis of diverse data sets, and low-impact renewable energy development.
Christopher Toy
Christopher is a PhD candidate in the Agroecology Lab at Colorado State University. He is advised by Dr. Meagan Schipanski. He received his BS in Evolution and Ecology from The Ohio State University in 2018 and contributed to plant community ecology research in Dr. Maria Miriti's lab during that time. He currently manages an experiment he designed at Jack's Solar Garden as a portion of his dissertation research. This experiment aims to assess the effectiveness of various vegetatation management practices at supplying ecosystem services post-solar energy installation. He joined the CALC team in April 2022 and hopes to facilitate easier access to high quality information concerning agrivoltaics.
Matthew Sturchio
Matt is a PhD student in the Plant and Ecosystem Ecology lab at Colorado State University. At Jack's Solar Garden, he studies how plants respond to the redistribution of environmental resources (sunlight, water, nutrients) within the solar array. An overarching goal of his research is to better understand how the expansion of solar energy infrastructure might impact the ecosystem health and function of grasslands in Colorado.
Greg Barron-Gafford
Greg is an Associate Professor and the Associate Director of the Community and School Garden Program at the University of Arizona. Greg and his students study how plants and ecosystems respond to threats from drought, climate change, and human pressures like over grazing or clearing for renewable energy production. For the last past decade, Greg's team have directed this science to build the field of 'agrivoltaics' in the USA. Greg began in southern Arizona, studying the benefits across the food-energy-water nexus, and over the years his team have developed a national and international program connecting with researchers in Colorado and Oregon and in Africa and the Middle East. Helping develop science-based solutions to help people adapt to the increasing pressures that come from a changing climate is a personal and professional goal of Greg's.