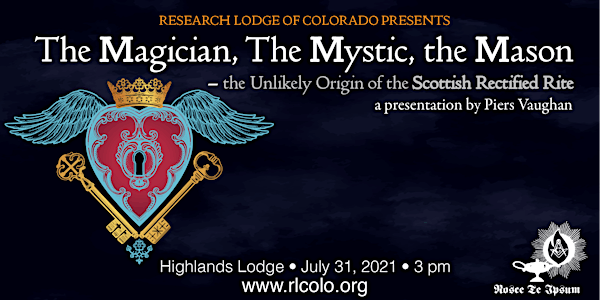 Research Lodge of Colorado Quarterly Communication: a Talk by Piers Vaughan
"The Magician, The Mystic, The Mason – the Unlikely Origin of the Scottish Rectified Rite"
About this event
Presentation on the founding of the Rectified Scottish Rite, it's influences from the Rite of Strict Observance and Martines de Pasqually's L'Ordre Elu Coën de l'Universe, and the role of Jean-Baptise Willermoz in its foundation and acceptance at the Concil of Wilhelmsbad in 1782.
Presented by W.Bro. Piers Vaughan of St. John's Lodge No. 1 in New York.
And "Freemasonry in Pike's Peak Coutry: Miners, Masons, and the Rush to Statehood, earliest Freemasonry in Colorado (1858-1861)" by Ben Williams, Sec'y of RLC (presented as part of Quatuor Coronati's Freemasonry on the Frontier Series).
Presentations start at 3 pm. THIS PORTION OF THE MEETING IS OPEN - non-members, candidates, EAs, FCs, MMs, everyone is welcome!
There will be a business meeting at 2 pm which is closed, and open to MMs only, for the purposes of discussing a dues increase.
Banquet follows at 6 p.m. All are welcome to attend the banquet. Attire: Men, dark suit and tie. Women, as they are.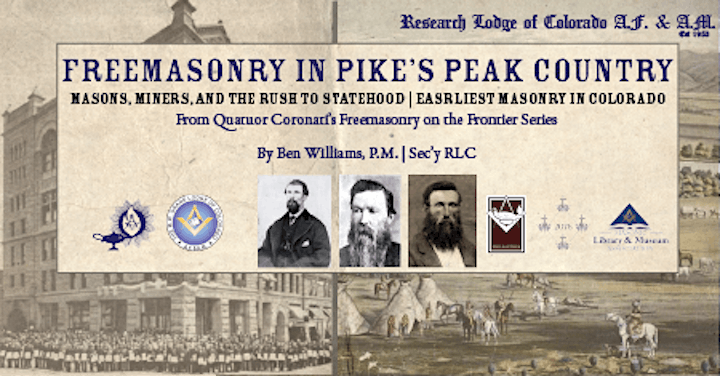 Organizer of Research Lodge of Colorado Quarterly Communication: a Talk by Piers Vaughan