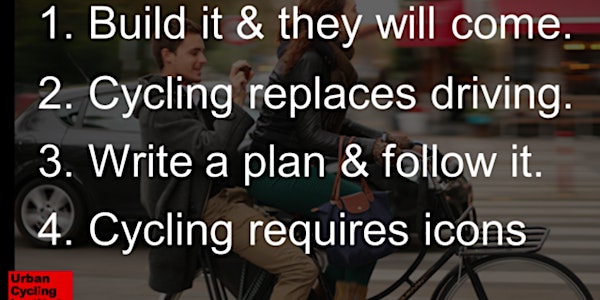 Research from Rotterdam, Urban Cycling Institute
When and where
Location
SMI Room: Civic Center Parking Structure: 330 Olympic Dr. Santa Monia, CA 90401
Refund Policy
Contact the organizer to request a refund.
Description
Rotterdam comes to Santa Monica —

Join us as we explore research and maybe some myths on how to expand on these simple notions:
Build it & they will come
Cycling replaces driving
Write a plan & follow it
Cycling requires icons
A presentation of research with students from the Urban Cycling Institute, Rotterdam.
Louis M. Uljee & Pieter Zonneveld & Students, Rotterdam Business School, Netherlands
---
Role of City Hall as HONEST BROKER:: Clean City, Quiet City, Safe City, Healthy City?
Bike share
Peer to peer bike constructions ( Apps?)
Entitlements: cars vs bikes vs pedestrians
Public transport + fishbone structure between stations + sharing bikes model
Flow theory Mihaly Csikszentmihalyi
Influence of (solar) e-bikes
Myths: Expand not the theories, what do they mean and how can we actually achieve them?
• Build it and they will come.
• Cycling replaces driving?
• Write a plan and follow it.
• Cycling requires Icons.
Swarm theory: The Genius of Swarms. A single ant or bee isn't smart, but their colonies are. The study of swarm intelligence is providing insights that can help humans manage complex systems, from truck routing to military robots. Applied to bike networks?
Evening of May 3rd in Santa Monica
Happy Hour reception will follow Location details TBD.