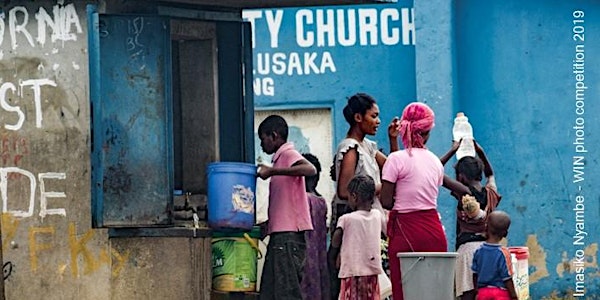 RESEARCH EXCHANGE - Combating Corruption in WASH: Lessons from Lusaka
Interactive webinar for researchers and sector stakeholders on building integrity and combatting corruption in urban WASH services
About this event
Rapid urbanization, inadequate and aging infrastructure, and climate change are exacerbating a sanitation crisis in cities across the globe. While anecdotal evidence suggests that corruption and integrity violations contribute to the crisis, the topic remains largely underexplored and underresearched. Join this event to learn from organizations and researchers that are addressing this research gap and get involved in various initiatives.
Programme
Accountability for Water - Tim Brewer, Water Witness International
Researching integrity in the water and sanitation sector - Umrbek Allakulov, WIN
Investigating integrity and anti-corruption mechanisms for effective regulation of urban sanitation in Lusaka - Bill Twyman, Aguaconsult
Challenges in and approaches to researching integrity in the water and sanitation sector - Chitimbwa Chifunda, WaterAid Zambia
Q&A and discussion
Zoom Link
https://waterintegrity.net/0mf
Meeting ID: 816 8600 8687
Passcode: 435377
Speakers
Bill Twyman, Water & Sanitation Specialist (Aguaconsult)
Bill works primarily concerns on how to ensure the sustainability of WASH services, and encompasses a mixture of research studies and technical assistance. In 2020, he led a study for the Water Integrity Network looking at how Lusaka's urban sanitation sector is regulated and the further steps that need to be taken to reduce instances of corruption and other integrity failures.
Chitimbwa Chifunda, Head of Policy Campaigns and Communications (WaterAid Zambia)
Chitimbwa works in the Development field leading Policy Influencing and Advocacy work at national and local level. Including Coalition Strengthening and Alliances, Communications, Campaigns, Social Marketing, Strategy Development, Economic Analysis, Program and Project Design.
Tim Brewer, Practice Lead in Research (Water Witness International)
Tim leads the accountability for water programme, developing and supporting research in Ethiopia, Kenya, Tanzania and the wider region. He has worked on water, sanitation, and hygiene policy globally and in many countries in Africa. In recent years he has been researching environmental sanitation provision in urban Ghana.
Umrbek Allakulov, Research and Evidence Coordinator (WIN)
Umrbek coordinates research partnerships and manages projects with a focus on corruption, its impacts, and the efficacy of integrity programs in the water and sanitation sector. He has previously worked with the World Bank in Washington DC and GIZ in Uzbekistan. Umrbek is Certified Fraud Examiner, data scientist, and holds a master's degree in International and Development Economics from HTW Berlin.