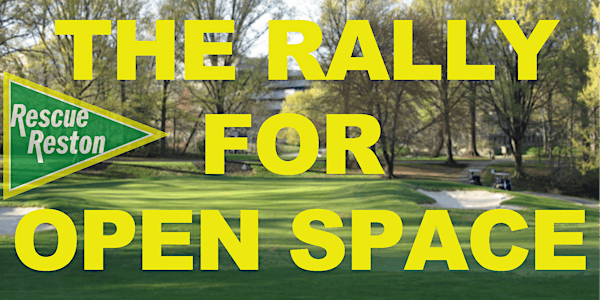 Rescue Reston's 10th Anniversary Rally for Open Space
A Rally to Celebrate Our Community-Led Efforts Protecting Reston's Recreational Open Space
When and where
Location
The Hartke Building 11890 Sunrise Valley Drive Reston, VA 20191
About this event
Join us on Saturday, October 15, 2022, from 1 pm to 3 pm where it all began in 2012 at the Hartke Building parking lot. We coalesced around a common vision, and purpose and have moved forward with unwavering community support over the past 10 years, we thank you for that! Gain an understanding of our current efforts to say NO to the Redevelopment of Reston National Golf Course and Hidden Creek Country Club and enjoy time with one another, celebrate our joint mission, our successes and our path forward.
The Rescue Reston 10th Anniversary Rally for Open Space will show all how strong we are together and demonstrate the level of community support there is for protecting Reston's recreational open space for current and future generations.
Let the world know that we stand united in protecting Reston's recreational open space and adhering to the Fairfax County Comprehensive Plan for Reston that calls for the continued designation of Reston's two 18-hole golf courses as golf courses
Learn how you can get involved and help continue to protect Reston's recreational open space
Meet other like-minded Restonians who also want to keep Reston a beautiful, vibrant and healthy community
Bring a friend and join us for a fun and informative time. Let's celebrate ten years strong and send a message that developers must respect the wishes of the community and respect the Comprehensive Plan for Reston.
Secure your FREE Tickets today. We'll see you there!
The Rescue Reston Team