RESCHEDULED The "Beautiful Woman Inside and Out" Conference Dec. 7th Chicago, Illinois

Saturday, December 7, 2013 from 8:00 AM to 5:00 PM (CST)
Event Details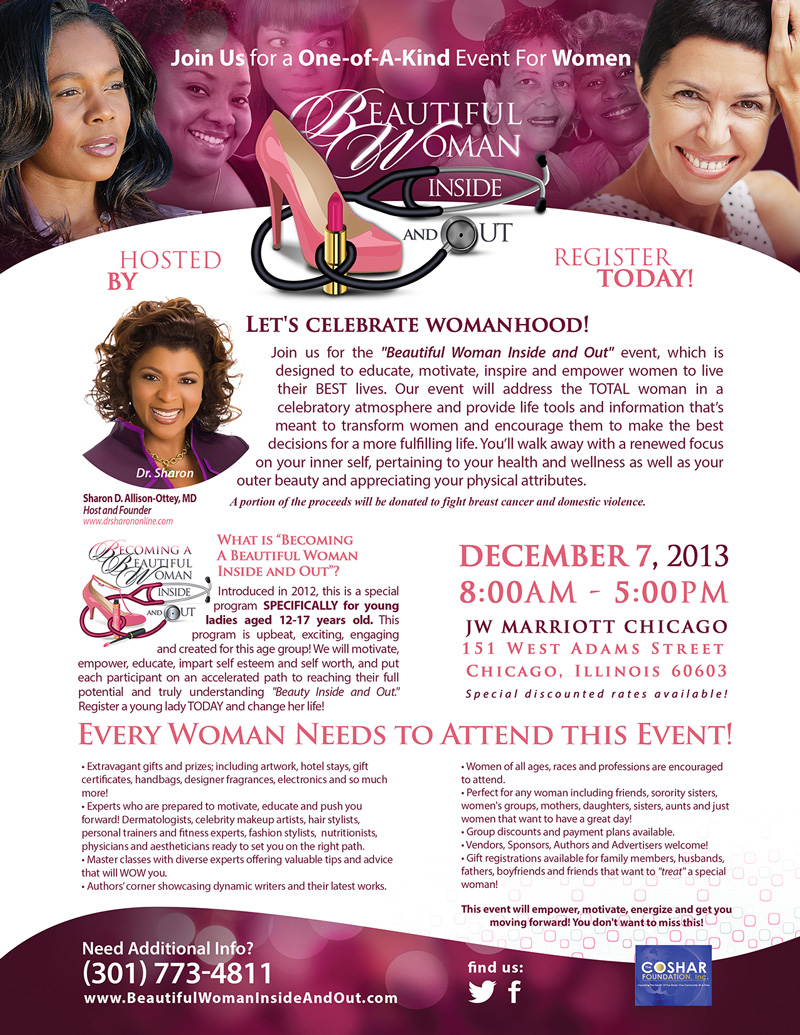 The "Beautiful Woman Inside and Out" event is designed is to educate, empower and equip women to live their BEST lives. Our objective is to address the "whole" woman and provide the necessary information in a culturally relevant manner that allows women to make informed choices about their health/wellness with a focus on both their inner (health/wellness) and outer beauty (physical attributes).

We launched this extraordinary event in 2011 and we invite you to visit the website, check out the pictures, read the comments, view our past programs and our promotional videos.  It is simply a one of a kind  event that you don't want to miss!  The experts are simply fabulous and you'll be laughing, smiling, pampered, empowered all day! 
In 2012, we added a new component to this program---one just for young ladies 12-17 years old; "Becoming a Beautiful Woman Inside and Out"!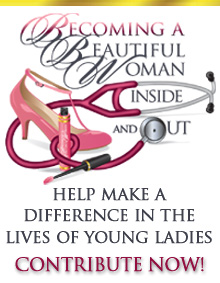 This is a FABULOUS program that engages young ladies with exciting workshops and surprises while instilling self esteem, self worth, motivation and inspiration to our young ladies! 
ANY young lady will greatly benefit from this dynamic program!  
Why  YOU Must Be at "Beautiful Woman Inside and Out":
Women are often so focused on their families, careers and just life in general, that they don't take time to care for and appreciate themselves. Well NO MORE! We've planned a day that you will NEVER forget! This is perfect for any woman that wants to be around other positive women, perfect for friends, mothers/daughters, wives, girlfriends, co-workers, family members, sorority sisters, women's groups, book clubs, teen groups, church groups and colleagues.  
This day long, high energy event is filled with leading experts which may include dermatologists, fashion experts, aestheticians, celebrity makeup artists, fitness and nutrition experts, physicians and celebrity hair stylists. All of these experts will share the same platform and you will NEVER be the same! These experts are the best in their field and are available to our registrants for "up close and personal" time during the sessions and in small sessions. Keep reading...we have sessions for young ladies aged 12-17;  our "Becoming a Beautiful Woman Inside and Out" program!
This event will be hosted at the beautiful JW Marriott in Chicago. This hotel will be even further "glammed up" just for YOU! Join us on Saturday December 7th, 2013.  The JW Marriott has special discounted hotel rates for our attendees!  We invite you to come in for the day or spend the night!
You WANT to be at this event! You will be in awe of the elaborate decorations, the food, the entertainment, the WOW features of this event and your time with women who are motivated to move forward. The level of expertise, the interactions with the experts, the ability to ask questions and get answers that you can understand provide the perfect ingredients for a unique opportunity that few women will ever experience. 
Women will want to arrive early for a special treat that kicks off our day! All registrants will enjoy a sumptuous breakfast, unlimited beverage breaks and an exquisite gourmet luncheon. Enjoy the entertainment from musical artists, comedians as well as other "surprises" which are planned for our registrants. We have riveting general sessions, "Master Classes" with our experts, smaller more intimate sessions which allow registrants to interact with professionals and get their answers questions and allow for on hands demonstrations. Our registration levels are personalized to meet the needs of our attendees; choose from (3) three levels of registration: Salon, Couture and the ultimate DIVA. (Registration and other fees are nonrefundable).  We do have payment plans available!
Don't let us tell you---- See what women who have attended are saying!
Visit our website for the testimonials; but here are a few:
"Beautiful Woman Inside and Out changed my perspective and really encouraged me to accept ME!  I have struggled for years with low self esteem and felt that I had lost my voice!  But no more---- I AM worth more than I've been giving myself!  I am Beautiful!"
"I am 13 years old and I had to send an email about the Saturday program.  My Mom made me attend and I am so glad that she did!  I loved every second and for the first time in my life I feel that I am pretty and smart and I don't have to hide either!"
 "This is just what I needed!  I've never felt more special, more pampered, uplifted and YES I now know that I AM BEAUTIFUL! Thank You!"
 "My husband registered me for this conference as a gift.  I must admit that I was a little confused about why he did that but .... I am so glad that he did!  This was one of the best days of my LIFE!!! I loved every moment and won't miss this again! Hubby got some serious cool points on this one!"
"Dr. Sharon, I am just getting myself together enough to write you and thank you for bringing Beautiful Woman Inside and Out to Chicago! It was truly life changing for me and I can never express my gratitude enough to you and your phenonmenal team. It was worth every moment and every cent--- I have NEVER been at an event like this! Oprah has NOTHING on you Dr. Sharon--- You are simply phenonmenal! Your spirit of giving and excellence shone through all day! I will be back and am thinking of meeting you in ATLANTA! I am a FAN!"

"This is the absolute best conference that I have EVER attended! I learned a lot, laughed and smiled a lot and yes even shed tears. I was in awe of the speakers and the personal attention that Dr Sharon gave to us ALL. It was worth every cent and the gift bags were WILD!"
 "It was CHRISTMAS time!  I won so many gifts and couldn't believe the gift bags! Thank you Dr. Sharon for this event---you are right--it is life changing!  I won two great art pieces that hang on my wall and everytime I see them I think WOW!  Can't wait for the next event!"
"I had the BEST time of my life with my Mom and my Best Friend of 30 years! We laughed, cried, were challenged and inspired by the speakers---- they were GREAT! Never been to any event like this and we will be back to MORE!"
 "More than I ever could have imagined, simply wonderful."
The reviews keep POURING in! To read more, visit: http://carldenpublishing.com/beautifulwoman/pages/about-bwio/testimonials.php
Trust us; we can't even begin to tell you how FABULOUS this event will be! You don't want to miss it! Space is limited, register today! Group discounts available. Be sure to grab your "Extra Keys" to "The Vault!" Check back frequently on our website, Facebook and Twitter (@ BeautifulWIO as we continue to announce other aspects of this event.
We have contracted with the JW Marriott in Chicago for reduced rates for our registrants desiring to stay overnight (locals) or those traveling in from out of town.  This is a beautiful hotel and the rates are  low for our participants, but we have a limited block--- book your room EARLY!  Click here to book online for our discounted rates https://resweb.passkey.com/go/BeautifulWomanInsideandOut or call 1-877-303-0104.
Hosted by The COSHAR Foundation, Beautiful Woman Inside and Out, Inc., Carlden Inc. and our partners under the direction of the engaging, thought provoking and entertaining "Dr. Sharon" (Sharon Allison-Ottey, MD) who's life mission is to motivate and empower persons to better lives. She is a nationally recognized speaker, author, health strategist and contributor to several publications as well as frequent guest on radio and television. Visit her site at www.drsharononline.com.
 All credit card transactions are via secured sites, eventbrite and/or google checkout. Feel confident that your info is secure, if you would like to register over the phone---call our office at 301 773 4811.
View our Previous Program Booklets:
 http://carldenpublishing.com/beautifulwoman/pages/downloads.php
                         *********************************************
What You Should Know
We're planning the most exciting, educational, comprehensive, thought provoking, hands-on, diverse, entertaining event that is open to ALL women of all races, ages, etc... You will be heard, answered, engaged, motivated, entertained and you will feel like the beautiful woman that you already are. We've talked a lot about the gifts, raffles and surprises; however this conference is a gift that YOU need to give to a woman that you love, your sister friend, daughter, mother, favorite auntie , grandmother, mentee/mentor, spiritual mother and most of all YOU! We pledge a 100% guarantee that you, beautiful woman, will LOVE this event and that you will not be the same!
Frequently Asked Questions
Do I need to be there all day? What if I have to leave early or come in later? We certainly want each of our registrants to get the full benefit of the day. However, we understand that as women we have to often "juggle" our lives. We ask that you take this one day to really focus on you and attempt to make provisions to spend as much time at the conference as possible. There are absolutely no "rules" about how long you stay, when you come or when you leave.  
What is a Master Class? A Master class is smaller than the general session and deals with a specific area. For instance, our celebrity makeup artist may cover in her master class the "how to's" of finding a foundation, using concealer or getting that just right "smoky eye." This is a session which allows for demonstration and question and answer. It is shorter in duration than the general sessions. Master classes will be conducted by physicians, dermatologists, makeup artists, personal trainers, hair stylists and nutritionists.  
What are the General Sessions? These sessions are held in the main ballroom, unless otherwise notified, and are topics that the hosts want to make sure everyone hears. These sessions will involve most if not all of the expert fields represented and will be engaging, fun and so very informative. Breakfast and Lunch will also be general sessions. 
What is the Authors' Salon? We are inviting several nationally recognized authors to this event . There will be a designated area for you to meet/greet them and to get your books autographed.  
What is the DIVA Photo Shoot? The photo shoot is part of the DIVA package and is a "mini" shoot with a fabulous photographer. Registrants will get a quick makeup touch up if desired and then step in front of the camera.  DIVAS will receive pictures via email or onsite. 
Can I submit questions in advance for the conference? We are happy to take your questions via email at info@beautifulwomaninsideandout.com. The moderators will select questions and poise them to the experts during several of the sessions. However, we will also make sure that registrants have time to ask "live" questions during each aspect of the conference. Further, even AFTER this conference is over, you will be able to still ask questions via our website and/or phone. We do advise that we give general information but that you should always consult your personal professional. 
Can you tell me again about the registration levels? How do they differ? It doesn't matter which level of registration that you choose, we can assure you that you will be empowered, educated and pampered! Space is limited on all levels of registration, but especially the DIVA level. We have designed this program in a way that caters to women's need for information in all of our topic areas. All meals, snacks and beverages are included as well as a registration bag that is filled with goodies! Please refer to the registration page and or our website for all of the details on the specific levels, and group discounts-- but here's a quick glance:
SALON: This is our general registration category. 
COUTURE: This is our upgraded registration category, with added bonus gift (s).  
DIVA: The name says it all, this is our highest registration level, with special seating, special bonus gifts and special "photo shoot".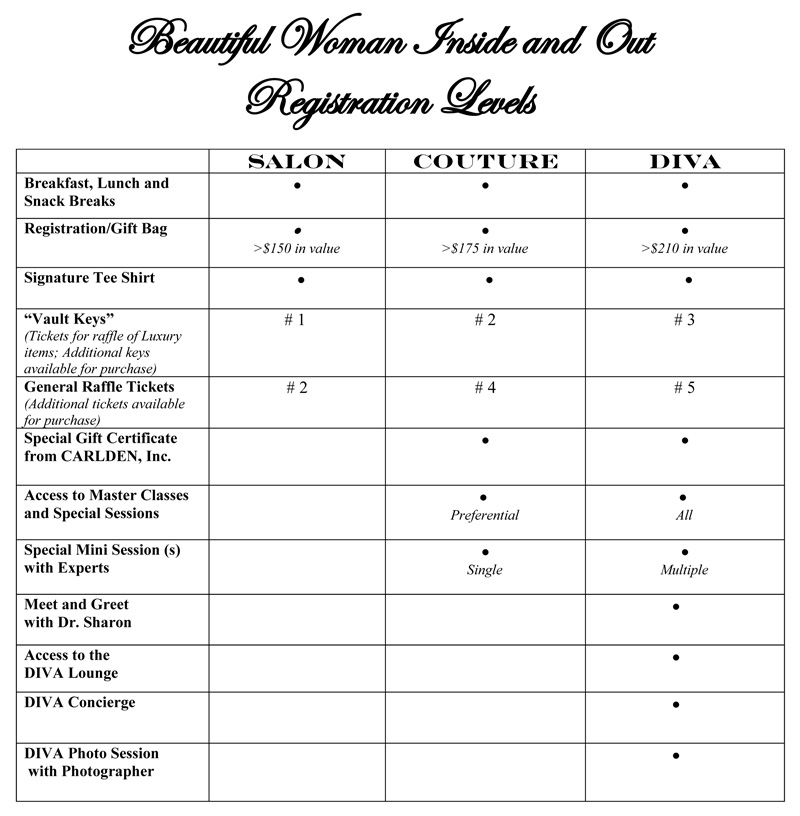 My Wife needs a break!  Can I register her? Absolutely!  This is a great "gift" for a special woman in your life--your wife, girlfriend, Mom, daughter, etc....Check out the "Sweetheart Package", this package really makes a woman feel special!  Simply complete her registration online or call our office at 301 773 4811.  We can also arrange for "extras" like a special card, a note from you and other options.  We also have special discounted hotel room rates for our registrants.
Are there payment plans available? Yes, payment plans are available.  You can break up your registration into two or three payments; all registrations must be paid in full by December 6th.
*Registration fees are non refundable, including payments.*
What is "Becoming a Beautiful Woman Inside and Out" (BBWIO)?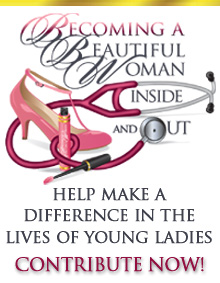 Introduced in 2012, this is a special program SPECIFICALLY for young ladies aged 12-17 years old.  This program is upbeat, exciting, engaging and created for this age group!  We will motivate, empower, educate, impart self esteem and self worth, and put each participant on an accelerated path to reaching their full potential and truly understanding "Beauty Inside and Out."  Our BBWIO registrants will enjoy the same level of events, "goodies" and surprises throughout the day!
The fees are very resonable for this age group and shows our commitment to nurturing young women.  We invite others to sponsor a young woman to help offset their registration.
Does my daughter need a chaperone for "Becoming a Beautiful Woman Inside and Out"?  No, we do not require that parents or guardians attend the event.  The hotel is a secure location and the young ladies will be in groups throughout the event.  We do ask that parents/guardians instruct the young ladies to stay with our group and avoid straying out of our conference area.  We do want to note that this is a PERFECT outing for mothers and their daughters or aunties/nieces,  etc.... However, we do not allow adults into our young ladies sessions. 
I am a little confused on the general raffles and giveaways versus "The Vault", what's the difference? Let's be clear, the most important items that you will receive at this event is information, time with leading experts from across the country in all the areas of our focus, a great exchange with other progressive women and time to take a "pause" in life and appreciate yourself. That being said the registration bags, gifts and "extras" are really just icing on the cake. We will have hundreds giveaways, some of which are raffle style and others are at the discretion of our hosts and moderators. You never know what will happen! The general gifts are simply fabulous and include gift baskets, gift cards, fragrances, books, art work and numerous other items.
However, there is another level which we have termed "The Vault" and these are luxury items that are worth in some cases several hundred to thousands of dollars (we've given away Ipads, wraps with fur trim, limited edition prints, framed pictures, limited edition sculptures, luxury vacations and more).  This event already has TONS of gifts for the "VAULT" and general raffle gifts
Every registrant will receive at least one "key" to the vault and with the progressive registration levels; you receive more "keys". However, there is also the opportunity to buy additional "keys" to increase your chance of winning. A little hint, the keys are "cheaper" if bought in advance versus onsite on the day of the event!  This is a good time to remind everyone that a portion of the proceeds from this event will be donated to fight breast cancer and domestic violence.
Take a peek at some of our current and previous giveaways and Vault Items:
http://carldenpublishing.com/beautifulwoman/pages/about-bwio/the-vault.php
Who are the vendors? Can my company be a vendor? The great part about this conference is that we appeal to a variety of different types of businesses. Literally, any business that desires to touch the lives of women should be interested in partnering with us. We have sponsors, patrons and vendors. Specifically, the vendors are a select group companies who must apply and be in with the theme of our conference. These booths may be informative, demonstrative, one on one with experts, educational booths; others are vendors with items that you may wish to purchase. They represent various aspects of the conference (health/wellness, medical, beauty, fashion, retail and a host of other companies). We have requested that they be engaging and provide you with a quality experience even in the booth. Additionally, you should stop by to see what "extras" they have waiting on you. All vendors must complete an application (on our website) and you will be notified of the status within 72 hours. There are opportunities for advertising in our program and on our website, as well as other opportunities including items for the gift bags, door prizes and luxury items. Visit www.beautifulwomaninsideandout.com to download the application and then email: sponsors@beautifulwomaninsideandout.com.
 
Are we going to have "healthy" food or is it really gonna be good? The food will be wonderful and we throw out the calorie counter (look at our previous menus in our programs)! We believe in balance and that food should look good and taste good! This is your day to be pampered and celebrated. We will teach you balance but trust us, these meals have been handpicked, tasted and the very best. The lunch is definitely a high end gourmet meal that will leave you fully satisfied and will be topped off by a decadent dessert. There will be beverage/snacks throughout the day. Please indicate on your registration form any food allergies.
Is this like a Health Fair? Absolutely not! We do lots of health fairs and events throughout the year and are experts in this area. However, we have intentionally NOT formulated this program like your traditional health fair because this is not our focus. Of course, we are going to talk about health but from a holistic view and with an eye on inner health (i.e. beauty of those arteries, that heart, that thyroid , your mental health, and how that affects outer health) and outer beauty (i.e. what not to wear, tips on how to maximize your looks, the options on weight management , antiaging options, obtaining healthy hair, options for getting the perfect eyelashes and more). We have planned fashion shows, entertainment, upscale location, meals that are FAB and an atmosphere of celebration!
What is the attire for the day? This is a fun filled day, no pressure and no specific attire!  Be mindful that there will be pictures galore and that our DIVAS will have their own photo shoot--so they may want to make sure that they are "cute." 
Is it true that you have a 100% Guarantee?  Do I really get my registration fee back if I am not satisfied after I attend this event?
YES!  We have a 100% guarantee that we have issued since our beginning and we've NEVER been requested to refund the registration.  To the contrary, women RAVE about the wonderful time that they've experienced.  However, we once again commit that if you are not fully satisfied with your day with us---we will gladly fully refund your registration fees! That's how confident we are in this program and our ability to WOW you!
Please visit www.beautifulwomaninsideandout.com for more information on this great program!  Register TODAY!!!!!!
When & Where

The JW Marriott Chicago
151 West Adams Street
Chicago, IL 60603


Saturday, December 7, 2013 from 8:00 AM to 5:00 PM (CST)
Add to my calendar
Organizer
Beautiful Woman Inside and Out, Inc
The  "Beautiful Woman Inside and Out"  conferences are designed  to educate, empower and equip women to live their BEST lives. Our objective is to address the "whole" woman and provide the necessary information in a culturally relevant manner that allows women to make informed choices about their health/wellness with a focus on both their inner (health/wellness) and outer beauty (physical attributes). It is a fun, glamorous event that is a very special day for women.  Celebrity hair stylists, makeup artists, dermatologists, wellness/health professionals, fashion experts and fitness and nutrition specialistsa are all part of the lineup!  It is an over the top day filled with extravagant gifts, special treats and prizes.
We also host the  "Becoming A Beautiful Woman Inside And Out" conference for girls ages 12-17! We have designed an agenda that will be engaging and empowering to these young ladies and WILL change their lives! Our workshops offer special age appropriate instruction and powerful tools of resourceful and strategic living have been designed just for them. Just as with our program for women, "Beautiful Woman Inside and Out", we pamper the young ladies, give them tips on fashion, etiquette, beauty, health/wellness and self esteem.
Check out our videos on our website, www.beautifulwomaninsideandout.com!  Here's one---http://youtu.be/5BmD3ktK1IQ
RESCHEDULED The "Beautiful Woman Inside and Out" Conference Dec. 7th Chicago, Illinois