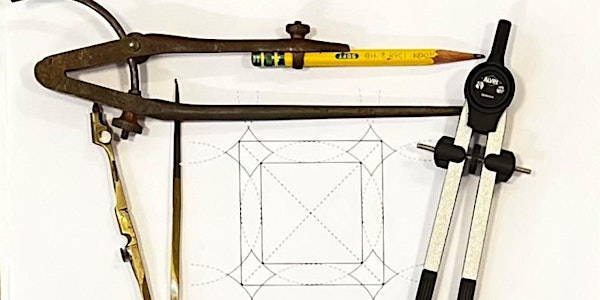 RESCHEDULED Practical Geometry: Construction Before the Industrial Rev
Learn techniques of the past to perform the tasks of today in this fascinating 2-session class
When and where
Date and time
Friday, March 3 · 6 - 8pm EST
Location
Hubbard Hall - Center for the Arts and Education 25 East Main Street Cambridge, NY 12816
About this event
Can you draw a square with a compass and a straight edge (a ruler with no numbers on it)? Your ancestors could. They used Geometry to work out the designs of quilts, furniture, machine parts, and buildings. This 'Practical Geometry' was taught in school as an art and a technical skill until at least 1930. Even as machines made many things, people who worked with their hands, who designed and built, used geometry. They who built the pyramids and they who built the houses and barns in Cambridge used compasses, twine, lines, straight edges and pegs for layout and design.
In our first meeting, I will share this history with a power point presentation. We will practice drawing a square beginning with a circle. In the second meeting we will draw more complex patterns for craft work or a house design using a compass, straight edge, and a pencil.
Taught by architect and historian Jane Griswold Radocchia. Both sessions will meet in the Board room of the Beacon Feed Studio, Hubbard Hall campus.