Location
1932 Palmetto Ave
1932 Palmetto Avenue
Pacifica, CA 94044
Paint & Sip Fundraiser at 7.3.1 Designs supporting the Four Directions-Unity Mural at Pacifica State Beach. Outdoors for space and health.
About this event
7.3.1 Designs will again be hosting a fun afternoon Paint & Sip Fundraiser on behalf of The Pacifica Murals Project and specifically the Four Directions-Unity Mural currently in progress at Pacifica State Beach. (For ample space, health and safety this event will be held outside in the back garden area. Be sure to dress in warm layers. And, note that while the State/County mask mandate has been lifted, each individuals choice is respected based on their own circumstances and comfort. Additionally, we request all be mindful of local business protocols when indoors.)
In partnership with Sanchez Art Center (fiscal sponsor of the project) and the Pacifica Muralists, you can support this great project by attending a creative three-hour Acrylic Painting Class for the first 24 art supporters. Gather some friends and come for a creative afternoon!
• Engage with and learn from artist and art instructor Robert Louthan. Robert created the west wall of the "Four Directions - Unity Mural" (see below). Robert will be sharing how to create a piece like his shown below of the breathtaking natural phenomena of the aurora borealis, dancing northern lights!
Register today for this fun event at 7.3.1 Designs on Palmetto Ave. Space is limited. Be sure to register soon to get your spot.
Your support of $45.00 will go directly to cover the artist costs of creating this inspiring artwork for the community and visitors.
During the Paint & Sip session and included in the event cost, participants (21 and over) will be able enjoy up to 2 glasses of wine and lite snacks. They will also get to take home their very own painting !
Don't miss out. Support Community and Local Artists!
Sign up Now!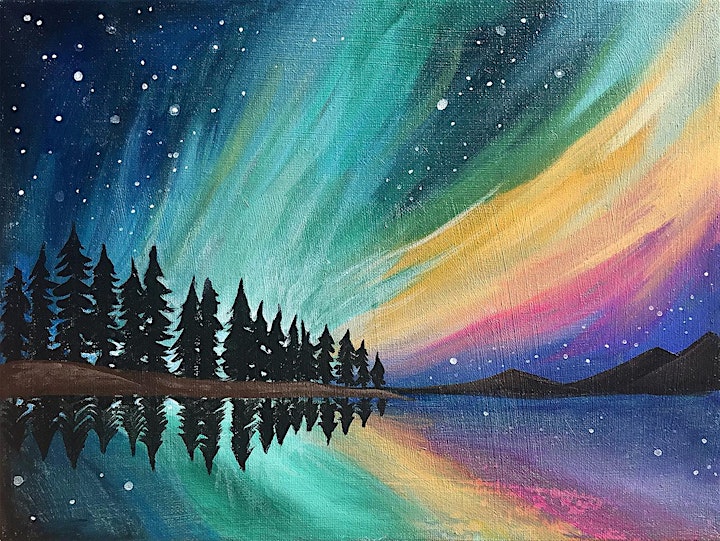 Top image of an amazing northern light show (aurora borealis) will be the inspiration piece for the Paint & Sip event on 3/27/22.
The bottom image is the west wall mural created by artist Robert Louthan, who will be leading the art activity.