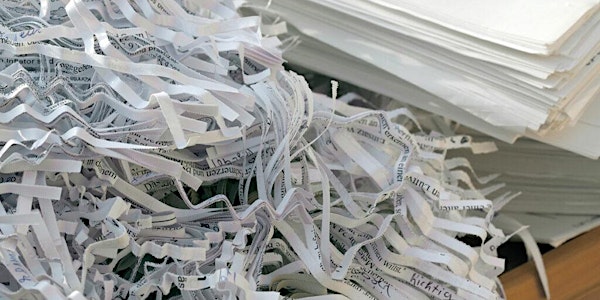 *Rescheduled* Central Texas Shredding Event – North Austin MUD #1 Residents
Central Texas Shredding will provide 2 shred trucks for North Austin MUD #1 residents to shred paper documents.
Date and time
Saturday, June 24 · 8am - 12pm CDT
Location
Rattan Creek Community Center 7617 Elkhorn Mountain Trail Austin, TX 78729
Agenda
8:00 AM - 9:00 AM
Group 1
---
Max of 4 file-sized box limit per ticket holder
9:00 AM - 10:00 AM
Group 2
---
Max of 4 file-sized box limit per ticket holder
10:00 AM - 11:00 AM
Group 3
---
Max of 4 file-sized box limit per ticket holder
11:00 AM - 12:00 PM
Group 4
---
Max of 4 file-sized box limit per ticket holder
About this event
Residents will need to obtain a free ticket to attend and dispose of items . All residents will need to provide their 15-digit District account number from their water bill for verification on the application. LIMIT 1 ticket per household for the event.
Approved items: paper loose or stapled, newspaper, folders, paper items with paper clips, spiral notebooks, checkbooks
Restrictions include: batteries, binder clips, cell phones, hard drives, and three-ring binders.
Please arrive during your assigned hour block. Enter the community center parking lot after providing your ticket to the car attendant and follow the cones to the drop location. Representatives will retrieve your boxes from your vehicle and shred the items and return your empty boxes to your vehicle. Each participant will be limited to a capacity of 4 file-sized boxes of documents to shred. Items can be dropped off in bags or personal bins in lieu of file boxes, but bins and boxes will be returned to the a resident on-site. The 4 file size box is used for capacity purposes. Items should be easily retrieved from the resident vehicle for quick retrieval by staff and be bundled or in boxes and not be loose papers. A customer unloading area will be available for staff to utilize if necessary to retrieve boxes.
Only cars presenting valid tickets for the 6/24 event will be accepted.