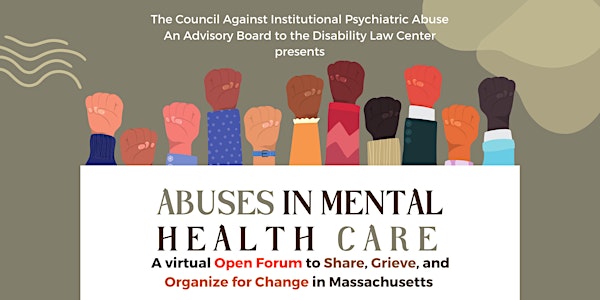 RESCHEDULED: Abuses in Mental Health Care: An Open Forum to Share
An open forum to share, grieve, and organize for change. A quarterly event hosted by CAIPA, the advisory board to the Disability Law Center.
About this event
We apologize, but unfortunately due to unforseen circumstances we need to reschedule this forum from August 10 to August 18. We will send out updated login details shortl
We believe you have a right to share and discuss what you have seen or experienced whether you are a survivor of or someone who has received services in the system, their family or friend, a peer supporter, a provider or anyone else who has born witness or been impacted by abuses in the psychiatric system.
This forum will participate in informing the 2023 focus areas for the Disability Law Center, the Protection and Advocacy Agency for Massachusetts.
This on-line forum will offer a brief presentation by members of the Council Against Institutional and Psychiatric Abuse (CAIPA, an advisory board to the Disability Law Center) and the Disability Law Center on abuses and rights violations, recent developments in the United Nations and World Health Organization (WHO) that support increased focus on rights-based approaches, and resources currently in existence in Massachusetts that can support people to file complaints and raise awareness.
However, the bulk of the forum will be for YOU - people who attend - to share about what you have witnessed and experienced, and so we can all learn from one another.
What you share will:
Help us define and highlight current problem areas
Identify training and advocacy needs
Help us push for change and an end to psychiatric oppression
Please note: Depending on how many people are in attendance, it may be challenging to make sure everyone has time to speak out loud. We are also offering a written survey for people who don't get a chance to share at the gathering, who would like to also put their thoughts in writing, or who are unable to attend at all. You can find the survey HERE.
If you need additional accommodations to be able to attend this event beyond options selected in the registration page, please call the Disability Law Center at 617-723-8455.
This event is being organized by CAIPA. You may register using a made up/fake name if you prefer, but please enter an e-mail address that will reach you so that we can send you reminders and follow-up information. Registration is primarily to help us have an idea of how many people to plan for being in attendance. Although this event is free, donations are welcome to the Disability Law Center HERE.