Event Information
Refund Policy
Contact the organizer to request a refund.
Eventbrite's fee is nonrefundable.
The rescheduled 2020 Post Best Banquet honoring Charlotte's finest.
About this Event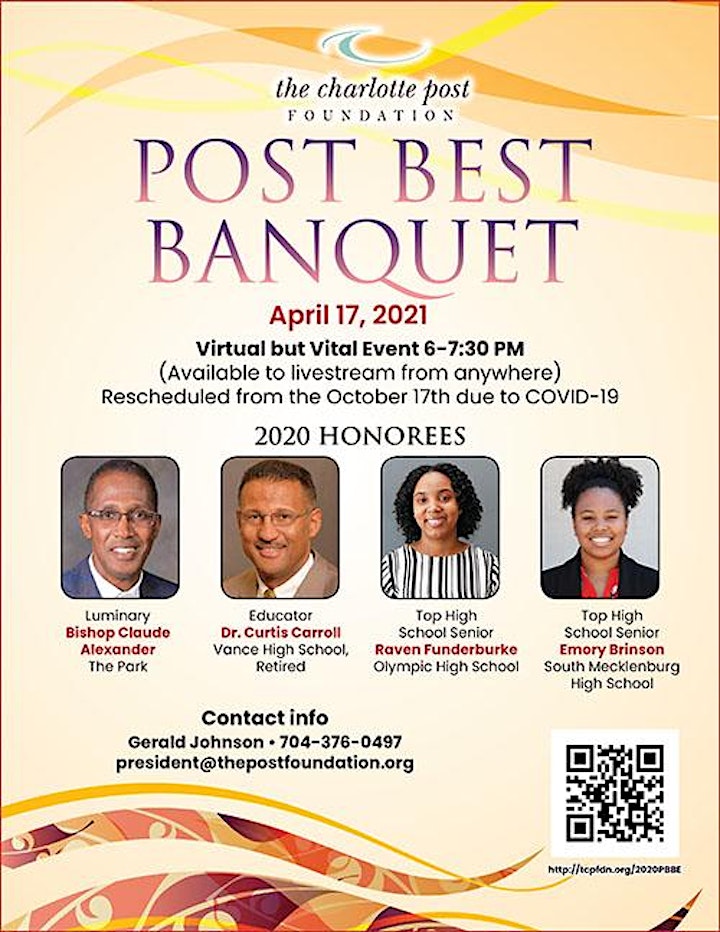 Our message is simple. We need you. As much as we have counted on you in the past, we now count on you more than ever. The work of The Charlotte Post Foundation has continually been to strengthen our community so that we might continue with vision/mission of the foundation. Our efforts have primarily been with targeted programming that impacts:
• Elementacry school students at Walter B. Byers Elementary School - through tutoring and academic support
. Graduating seniors in Charlotte-Mecklenburg Schools - through recognition of ahievements and scholarship awards
• The community at-large - through Black Lives Matter public forums which create space to highlight, inform and dialogue about key issues that are positively or negatively impacting the African-American community.It is no secret – no mystery – that the pandemic that is currently crippling our world is having a most detrimental effect on the African-American community and other people of color.
For us to move our community forward, it will take our collective efforts in leadership, collaboration and giving – all so that we can ensure that the vibrancy of our community can be sustained and moved forward in a positive direction.Our young people need our involvement like never before. The educational / learning gaps that existed prior to the pandemic have been magnified under the current conditions. The inability to attend school with in-person learning will have contributed to an even wider educational gap and we will need to be positioned to "offset the inevitable setback" that is likely occurring.
We need you. When children return to onsite learning at Walter G. Byers Elementary School at whatever point that may be, administrators and school staff will need to assess critical student needs and how they might best be addressed. It may be that our current program will need to be expanded to support teachers who work diligently in the instructional process.
We need you. As high school seniors prepare for college next fall, they will need financial resources to ensure that their academic preparation and goals are not impeded by lack of funds. Many families have experienced layoffs and job loss during the pandemic. These changes in the family dynamic have influenced finances in such a way that a high school senior might choose work over college due to the cost. The Charlotte Post Foundation Top Senior Scholarship Program will still need to be in place to assist students and families in handling expenses incurred in pursuit of higher education.
We need you. For us to move forward in a positive manner, we must be informed as a community. If we genuinely believe that knowledge is power, then we need to ensure that we have opportunities to engage and deliberate in thoughtful conversations that will serve to enhance us all. Each Black Lives Matter Forum that has been offered to-date has provided settings in which we can share our collective insights and knowledge so that we might ultimately make informed choices on behalf of our families, our community, and our economic vibrancy.
We need you. The message is simple. Thank you for how your giving will impact our children and families – not just in 2021, but in the years ahead.
Date and Time
Location
Refund Policy
Contact the organizer to request a refund.
Eventbrite's fee is nonrefundable.