RESA ATLANTA CHAPTER MEETING - FEBRUARY 2019
Description
RESA ATLANTA CHAPTER MEETING - FEBRUARY 20, 2019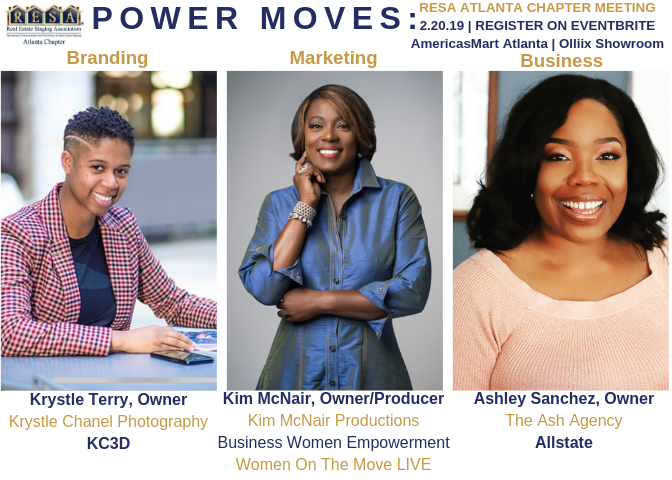 MEETING LOCATION:
AMERICAS MART
OLLIIX/JLA HOME
240 PEACHTREE STREET NW
SUITE 13G6 or 13E9
ATLANTA, GA 30303
WEDNESDAY; FEBRUARY 20, 2019
10 A.M. - 12 P.M.
All attendees must register through eventbrite to attend the meeting in order to gain access inside the AmericasMart building. Thank you in advance for attending and we look forward to seeing you there!
PARKING DETAILS:
PARKING DECK -
240 TED TURNER DRIVE, NW
ATLANTA, GA 30303
*If possible park on Level A - walk the bridge over Ted turner Drive to building 1. Visit the registration desk to sign-in and get your badge. Then proceed to the Olliix Showroom for the meeting. Leave early because we will start on time! If you get lost or need to speak with someone direclty for directions, please feel free to contact the AmericasMart directly for assistance - 404.220.3000 or 404.220.2405.
Our Mission
Advancing professionalism and excellence in real estate staging by creating industry standards in order to maximize profit potential for consumers and industry professionals.

Our Vision

Our vision is an industry where high standards are well-established and practiced universally, and the use of professional staging is standard practice when selling real estate.
SPEAKER BIOS:
Krystle Terry
Krystle Chanel Photography LLC is an Atlanta based-photography company founded in 2013 that specializes in real estate photography, interior design, and commercial real estate photography. Krystle Terry (owner) is fully immersed in Atlanta's real estate market as a real estate investor and owner of sister company KC3D, which commercially operates drones with licensed pilots and provides 3D virtual property tours.
Kim McNair
Live TV Show and Founder of BWEP- Business Women Empowerment Project, Inc.
Kim McNair established McNair Productions in 1991 over 25 years ago in Orlando, Fl.
In 2007 Kim McNair relocated to Atlanta, GA and expanded the brand to offer more services, the company has grown tremendously having a successful track record for developing, implementing and producing Special Events, Marketing and Public Relations. In 2013 Kim created a new brand "Women on the MOVE Summit" this annual conference that highlight women in business who are entrepreneurs, small business owners, CEO, Top executives and community leaders together to have panel discussions on build brands having stability in business and moving up the corporate ladder. Kim, says "we must come together to build empires".
Kim McNair has been bringing men/women together across the Southeast for workshops, summits, and conferences for the purpose of empowering and inspiring them to elevate their personal brands, businesses and organizations. Kim's personal trials and triumphs led to the establishment of the Business Women Empowerment Project, Inc. (B.W.E.P.), a nonprofit organization whose mission is to share access to resources that uplift women professionally and personally.
In 2015 she launched a NEW TV Show in Atlanta, GA called "WOMEN ON THE MOVE LIVE! Which Brings the energy and inspiration of the impactful Women on the Move events to a broader audience on the AIB Network and ION Television and WATCTV Atlanta 57. Her guest are women who are pacesetters in a variety of industries, businesses and careers who come together for an intimate and interactive discussion of the challenges and successes that have shaped their lives. January 2018 kicked of Season Four for this broadcast. www.womenonthemovetv.com.
Ashley Sanchez - The Ash Agency
Ashley Sanchez is a native young millennial from New Orleans, LA. She's an Allstate Agency Owner, Affordable Luxury Home Landlord, Real Estate Investor, Millennial Insurance Educator, Women's Car Buying Coach and Disaster Relief Advocate. While wearing many hats, Ashley discovered her true passion was helping people recover from the unexpected and educating them on how to do so. Her former car salesman experience has kept her aggressive with adding a pop of sophistication to assist those in their time of need.
​All of Ashley's work is surrounded with teaching people to become self-educated and self-advocates in the insurance realm. Being properly protected should never just be about you and your pocket…it should be about the loved ones [and other people's loved ones] you want to protect against life's unexpected. Take some time to visit with her and her team at The Ash Agency to make sure you are in good hands.
We look forward to meeting!
Katherine Jordan,
RESA Atlanta President