Description
Join Firelands Symphony Chorale and Chamber Orchestra conducted by Michael Shirtz on Sunday, March 25, 2018 at 4:00pm at St. Mary's Catholic Church, 429 Central Avenue, Sandusky, OH. This will be a one-hour concert with no intermission.

General admission tickets are $15 per person.
ABOUT THE HISTORY OF JOHANNES BRAHMS AND THE GERMAN REQUIEM
Johannes Brahms, (born May 7, 1833, Hamburg [Germany]—died April 3, 1897, Vienna, Austria-Hungary [now in Austria]), German composer and pianist of the Romantic period, who wrote symphonies, concerti, chamber music, piano works, choral compositions, and more than 200 songs. Brahms was the great master of symphonic and sonata style in the second half of the 19th century. He can be viewed as the protagonist of the Classical tradition of Joseph Haydn, Mozart, and Beethoven in a period when the standards of this tradition were being questioned or overturned by the Romantics.
German Requiem, Op. 45, German Ein deutsches Requiem, requiem by Johannes Brahms, premiered in an initial form December 1, 1867, in Vienna. Revisions led to an expanded work first heard in Leipzig, Germany on February 18, 1869. It represents Brahms's most ambitious vocal music.
By 1861 Brahms is believed to have completed two movements of what he called a cantata of mourning, a work begun in memory of his friend and colleague Robert Schumann, who had died in 1856. When his mother died in February 1865, Brahms was determined to finish the piece he had started. He completed four additional movements by the summer of 1866. Later revisions ultimately resulted in a total of seven movements.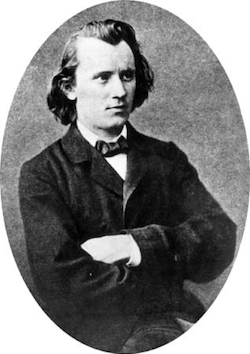 Typical requiems are settings of the Roman Catholic mass for the dead (missa pro defunctis). Yet the Protestant-raised Brahms took a different approach. Rejecting the usual Latin texts, he chose his own verses from reformer Martin Luther's German translation of the Bible, selecting New and Old Testament passages that would not only mourn the dead but also comfort the living.
Of the seven movements, four are set for chorus and orchestra. The other three include vocal soloists: a soprano in the fifth movement and a baritone in the third and sixth movements. Brahms's requiem, unlike those of Verdi or Mozart, is utterly devoid of fire and brimstone, instead highlighting the comfort to be found in God and in the afterlife. The best-known of the movements, the chorus Wie lieblich sind deine Wohnungen ("How lovely are your dwelling places," from Psalm 84), occurs exactly midway through the work.
In between these two appointments in Vienna, Brahms's work flourished and some of his most significant works were composed. The year 1868 witnessed the completion of his most famous choral work, Ein deutsches Requiem (A German Requiem), which had occupied him since Schumann's death. This work, based on biblical texts selected by the composer, made a strong impact at its first performance at Bremen on Good Friday, 1868; after this, it was performed throughout Germany. With the Requiem, which is still considered one of the most significant works of 19th-century choral music, Brahms moved into the front rank of German composers.