RE:QI is a 2D1N Conscious x Wellness Retreat in Singapore, taking place this February 25 - 26, in the idyllic nature oasis of Villa Samadhi.
About this Event
Tickets Are Still Available, Click Here To Secure Your Spot.
RE:QI is a 2D1N Wellness x Conscious Retreat, taking place this February 25 - 26, in the idyllic nature oasis of Villa Samadhi.
Inspired by the TCM and Ayurveda philosophy of life and living, we invite you to step away from the busy city life to reconnect with your inner-self while grounding to nature.
Collaborating with TCM physician, fine-dining chef, wellness and conscious-lifestyle experts, we designed an illuminating 2D1N journey. Each day offers a holistic line up of wholesome culinary experience and immersive workshops including Breatheology, TCM Acupressure Massage, Sound Healing, Movement Medicine, Barefoot Walking Meditation and many more.
MULTI-SENSORY EXPERIENCES
Collaborating with wellness and conscious-lifestyle leaders, we designed an illuminating 2 day journey. Each day comes with a unique focus, and a special line up of immersive experiences.
DAY OF YANG (DAY 1) disconnecting from the daily grind and getting in-touch with your inner-self and your qi.
DAY OF YIN (DAY 2) reconnecting with nature and preparing for a journey of mindful, conscious living.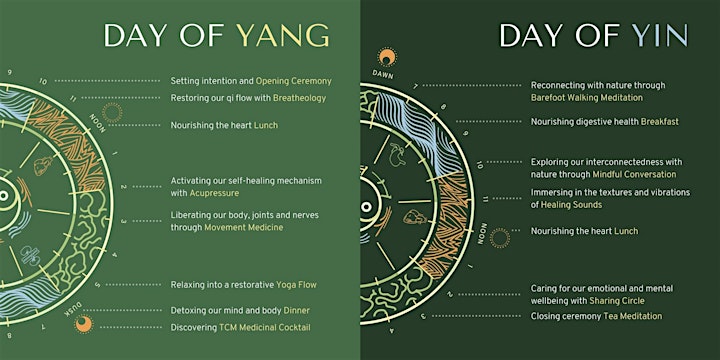 A WHOLESOME CULINARY JOURNEY
Your retreat experience is elevated with a nourishing daily menu. This TCM-meets-fine dining experience is developed through a rare collaboration between the critically-acclaimed Chef Ace Tan, and innovative TCM physician Jun Negoro. Ready your senses for a tantalizing fusion of Eastern medicinal herbs and South East Asian flavors.