Republican Party of Calumet County Lincoln Day Dinner
About this event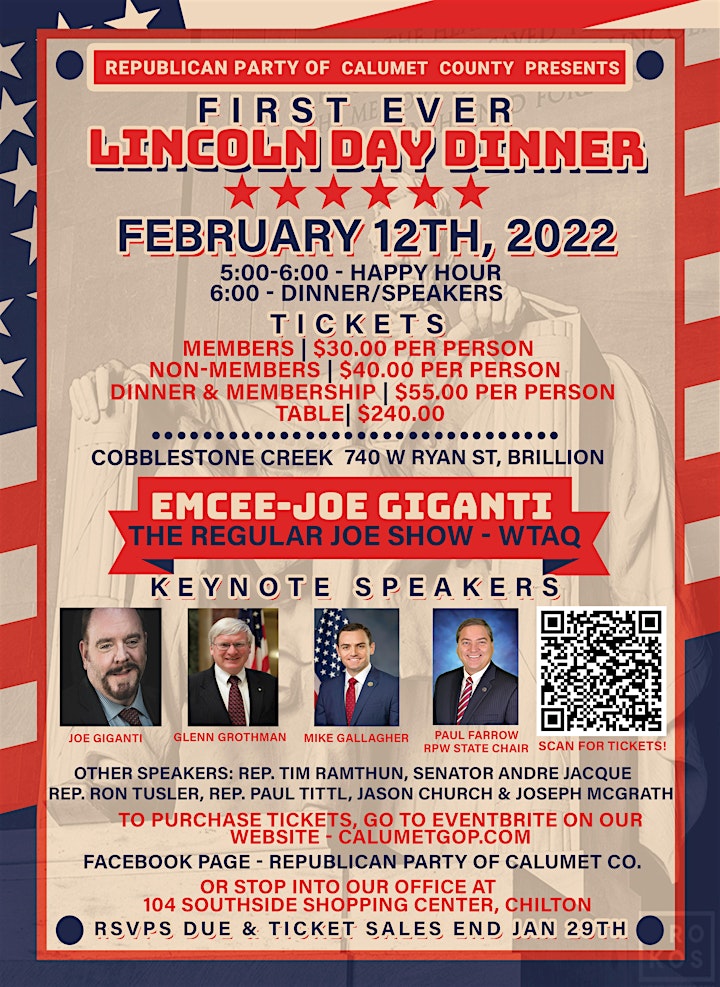 Republican Party of Calumet County Lincoln Day Dinner
If you signed up for a 2022 Republican Party of Calumet County membership, your ticket price is $30!
If you are not a member of our county party, your price is $40!
You can become a party member and receive a ticket for this event for $55!
You can buy an entire table for 8 people, costing $240 (same price for members and non-members)
___________
Meal - Salad w/ dressing (French, Rach, & Italian), Broasted chicken, Ham, Mashed potatoes and gravy, Green beans
Drinks: water, coffee, and milk. There is also cash bar!
Dessert: Cupcakes/Cake
___________
We will have basket raffles, 50/50 raffles, and more!
IF YOU WANT TO AVOID FEES, BUY TICKETS DIRECTLY FROM THE PARTY! YOU CAN BUY TICKETS AT OUR HEADQUARTERS DURING OUR OPEN HOURS, AT ONE OF OUR EVENTS, OR THE FORM CAN BE FOUND AT THIS LINK: LINCOLN DAY ORDER FORM
Ticket sales end January 29, 2022.
SPEAKERS:
EMCEE - Regular Joe Giganti
Special Video Message From Prominent Figures in the Party
RPW State Chairman Paul Farrow
Congressman Glenn Grothman
Congressman Mike Gallagher
Rep. Timothy Ramthun
Senator Andre Jacque
Rep. Ron Tusler
Rep. Paul Tittl
MORE SPEAKERS MAY BE ADDED AS WE GET CLOSER TO EVENT!
Organizer of Republican Party of Calumet County Lincoln Day Dinner