Actions and Detail Panel
Republic For Which We Stand
Sun, May 28, 2017, 6:00 PM – 8:00 PM EDT
Description
Update: Read an interview with the author in the May 4th Rappahannock News
John Henry's new play Republic For Which We Stand portrays the behind-the-scenes struggle of the founding fathers and mothers in designing the Constitution in Philadelphia in 1787. They make the fateful decision to place the war power in Congress so the new nation can be a Republic, not an Empire.
While they wait for a convention quorum, George and Martha Washington stage three plays at Benjamin Franklin's home. The plays-within-the-play dramatize the conquests of the three great warrior kings in Medieval England: William the Conqueror, Edward III and Henry V. After each performance, Benjamin, George and Martha — together with James and Dolly Madison, George and Sarah Mason — spar with Alexander Hamilton over the meaning and vision of the American Revolution.
Republic For Which We Stand picks up the thread of the larger argument over the general theory of man, riddled with jokes and slapstick humor, where Henry's Arguing with God leaves off. Theater Critic John Stoltenberg called AWG "sharp and smart, pithy — well nigh Wildean". Henry's new drama foreshadows how three generations of Presidential wars have turned what the Founders created on its head.
The cast of two-dozen citizen actors includes Bill Walton as George Washington, Gail Kitch as Martha Washington, Hugh Hill as Alexander Hamilton, Bruce Fein as James Madison, Pat Nicklin as Dolly Madison, Bill Nitze as George Mason, John Lewis as King John, Faith Lewis as Matilda, Bob Randolph as Edward III, Maeve Ciuba as young Edward III, Nina Herrick as Sarah Mason, Deverell Petersen as Madame de Stael, Camilla Peterson as Queen Isabella, Ed Hughes as Henry V, Shelley Giordano as Countess of Salisbury, Randolph Adams as Mortimer, Jennifer Ruger as Virgin Mary, Peter Stenner as Messenger and Father Tuck Grinnell as Priest.
Republic for Which We Stand is directed by Rick Davis, Dean of the College of Visual and Performing Arts and Professor of Theater at George Mason University. The premiere will take place at Henry's outdoor Stone Hill Amphitheater in the beautiful countryside of Rappahannock County Virginia. This event was made possible in part by a grant from RAAC's Mitchell Arts Fund.

Any weather issues will be addressed 48 hours before the performance by email.
---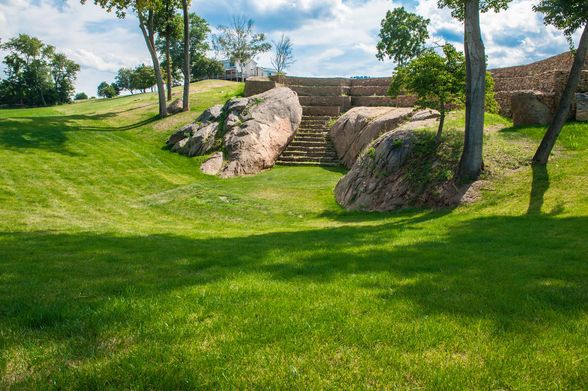 Stone Hill Amphitheater

Galileo's Torch 2014
Halloween Spectacle 2015
Arguing with God 2016