Actions and Detail Panel
Republic For Which We Stand
Sun, May 28, 2017, 6:00 PM – 8:00 PM EDT
Description
Republic For Which We Stand portrays the behind-the-scenes struggle of the founding fathers and mothers in designing the Constitution in Philadelphia in 1787. They make the fateful decision to place the war power in Congress so America can be a Republic rather than an Empire.

While they wait for a convention quorum, George and Martha Washington stage three humor filled plays at Benjamin Franklin's home. The plays-within-the-play dramatize the conquests of the three great warrior kings in Medieval England: William the Conqueror, Edward III and Henry V. After each performance, Benjamin, George and Martha, James and Dolly Madison, George and Sarah Mason argue with Alexander Hamilton over what it means to be an American.
Republic for Which We Stand is written by John B. Henry and directed by Rick Davis, Dean of the College of Visual and Performing Arts at George Mason University.
The premiere will take place at Henry's Stone Hill Amphitheater in the beautiful countryside of Rappahannock County Virginia.
---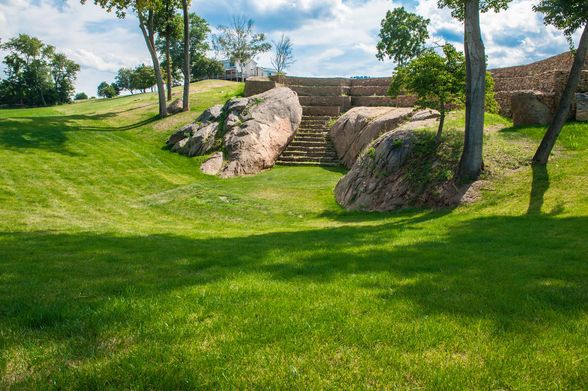 Stone Hill Amphitheater

Galileo's Torch 2014
Arguing with God 2016