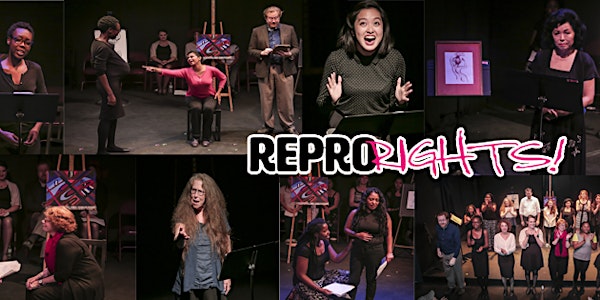 ReproRights! Radical Hope and the New Resistance
When and where
Location
Potrero Stage (formerly Thick House) 1695 18th Street San Francisco, CA 94107
Description
---
---
WE'VE OPENED UP NEW SEATS FOR THIS EVENT SO SIGN UP NOW! BUT IF YOU DON'T GET CONFIRMED BEFORE THE SHOW, COME TO THE THEATER AT AN HOUR BEFORE CURTAIN TO PUT YOUR NAME ON THE LIST. WE RELEASE NO-SHOW SEATS 15 MINUTES BEFORE THE SHOW AND IF WE CAN GET YOU IN, WE WILL.
---
---
We're thrilled to be collaborating a third time with guest curator ReproRights! Theater to present an evening of short play readings, monologues, and performance pieces at our 2017 New Works Festival on our theme.
Line up includes:
Karen Caronna, Elizabeth Flanagan, Mercilee Jenkins, Nicole Jost, Amanda Lee, Lorraine Midanik, Patricia Milton, Jeanie Ngo, Madeline Puccioni, Elaine Romero, Suzanne Vito, Naomi Westerman, Maggie F Wilson, L. Zephyr

With special guest Allie Lahey, Program Manager of NARAL Pro-Choice California. Curated by Jennifer Lynne Roberts.
Click here for more information on our website.
---
2017 NEW WORKS FESTIVAL: 3GT Celebrates RADICAL HOPE & THE NEW RESISTANCE
When the always-prophetic Ursula LeGuin was honored with he National Book Foundation's Medal for Distinguished Contribution to American Letters in 2014, she foresaw our future as artists today:
Hard times are coming, when we'll be wanting the voices of writers who can see alternatives to how we live now, can see through our fear-stricken society and its obsessive technologies to other ways of being, and even imagine real grounds for hope. We'll need writers who can remember freedom – poets, visionaries – realists of a larger reality. Like so many of our fellow artists (and fellow citizens), all of us at 3Girls Theatre Company felt discouraged and disenfranchised by the results of the 2016 election.
Every year we choose a theme for our annual festival to focus our work and help the community rally around important issues. At our 2017 New Works Festival, we invite you to join us in imagining "real grounds for hope" -- Radical Hope! Our Festival theme, RADICAL HOPE AND THE NEW RESISTANCE, was inspired by an essay by a recent essay by novelist Junot Diaz .
But all the fighting in the world will not help us if we do not also hope. What I'm trying to cultivate is not blind optimism but what the philosopher Jonathan Lear calls radical hope. "What makes this hope radical," Lear writes, "is that it is directed toward a future goodness that transcends the current ability to understand what it is." Radical hope is not so much something you have but something you practice; it demands flexibility, openness, and what Lear describes as "imaginative excellence." Radical hope is our best weapon against despair, even when despair seems justifiable; it makes the survival of the end of your world possible. Only radical hope could have imagined people like us into existence.
We agree! Radical Hope is what drives all of us at 3GT to continue throwing ourselves passionately into making theater that will move and engage you. Our 2017 New Works Festival includes ten days of original events that explore the need for artists to never let go of hope, despite what political forces surround us.