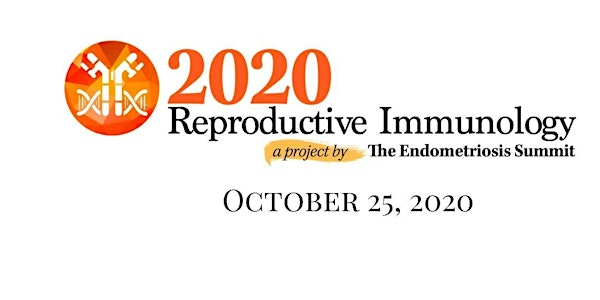 Reproductive Immunology by The Endometriosis Summit
Learn the Science behind Miscarriage, Pregnancy Loss, and Implantation Failure at this unique, one of a kind, one time event.
Refund Policy
Contact the organizer to request a refund.
Eventbrite's fee is nonrefundable.
About this event
Scheduled to appear:
Dr. Ole Bjarne Christensen, Dr. Henriette Svarre Nielsen, Dr Jose Scarpelini, Dr. Bruce Lessey, Dr. John Zhang, Dr. Melvin Thornton, Dr. Robert Klitz, Dr. Joanne Kwak-Kim, Dr. Jonathan Scher, Dr. Antonio Gargiulo, Dr. Patrick Yeung, Dr. Mona Orady, Casey Berna, Jessica Drummond, Christopher Butler, April Christina, Parijat Deshpande, Brandon Johnson, Shervonne Coney, Dr Nadera Mansouri-Attia, Michelle McGurk and your host Dr Andrea Vidali
Why might an individual experience unexplained infertility, IVF Failure and recurrent pregnancy loss? Reproductive Immunology studies the interactions between the immune system and the reproductive system.
The immune system may over reacting or under reacting impacts pregnancy. Explore this unique field of reproductive science to begin to understand why pregnancy is not happening, what can be done about it and how to change the immune system beneficially. This virtual event is for doctors, practitioners, and patients.
Our keynote panel features topics on endometriosis and the immune response. Fertility in the person with endometriosis is not always about only having a quality excision surgery -there may be more modulating the immune response that needs to happen for pregnancy.
In honor of the late Dr Jeffrey Braverman, BRI will sponsor the world's leading experts on Reproductive Immunological Therapies. Learn from the top researchers in Reproductive Immunological Therapies why reproductive immunological therapies are important. Understand why filgrastim (neupogen) may help those with multiple miscarriages or improve IVF implantation and why immunoglobulin therapies, like IVIG can make such a difference in improving implantation.
Meet and greet with leaders in the field and your peers in break out rooms on Fertility Advocacy, Excision of Endometriosis to Improve Fertility and a Questions and Answer time with top Reproductive Immunologists.
The stigma and isolation of fertility will be explored in the way only The Endometriosis Summit can.
While endometriosis is not a uterine disease, implantation is impacted by inflammation in the uterine lining. Explore how to control that inflammation. Understand why embryos may not be implanting all by the leading scientists in this emerging field of reproductive medicine.
Finish the day exploring how to prepare your body for fertility and pregnancy through diet, herbs, acupuncture, and physical therapy.
This is a once in a lifetime program for anyone looking to understand the science of fertility. All VIRTUAL so attendance can be from anywhere. The speakers assembled are pioneers in this field.
Scholarships available please contact event organizer