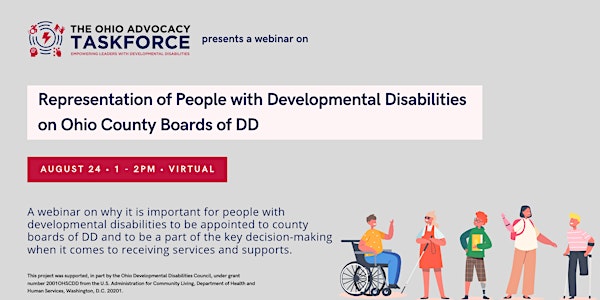 Representation of People with Developmental Disabilities on County Boards
The event will feature a panel of people with developmental disabilities, county superintendents and appointing authorities.
About this event
Statewide, there are 616 appointments made by county commissioners and probate judges to Ohio County Boards of DD. Very few of those appointments, currently or historically, have been for people with developmental disabilities despite state law directing the appointment of such individuals.
The webinar will highlight the importance of appointing people with developmental disabilities to County Boards of DD and why self-representation is important when making decisions about services and supports.
The panel will include:
Nathan Turner, Individual with DD/Member, Lucas County Board of DD, Moderator
James Harley, Chair, Ohio Advocacy Task Force
Kraig Walker, Superintendent, Brown County Board of DD/People First of Ohio
Renee Wood, Ohio Advocacy Task Force
Michael Richards, Person with DD/Member, Highland County Board
Tina Wozniak, County Commissioner, Lucas County
The event will have American Sign Language and CART Captioning.
This project was supported, in part by the Ohio Developmental Disabilities Council, under grant number 2001OHSCDD from the U.S. Administration for Community Living, Department of Health and Human Services, Washington, D.C. 20201. Grantees undertaking projects with government sponsorship are encouraged to express freely their findings and conclusions. Points of view or opinions do not, therefore, necessarily represent official ACL policy. This acknowledgement is also necessary on products published with other funds if those funds will be claimed as match for an Ohio DD Council project.