Event Information
Refund policy
Contact the organizer to request a refund.
Eventbrite's fee is nonrefundable.
This virtual film program highlights how "Representation Matters" in environmental issues and activism.
About this event
Environmental Racism has occurred throughout history, and our society is finally confronting it.
These powerful and uplifting short films examine the intersectionality between social justice and the environmental movement.
Featuring hopeful stories of those who have faced racial injustice and overcame adversity, these films teach and inspire .
(Run time, approx. 2 hours. )
Films Include:
A New View of the Moon (3 min.)
Become reacquainted with awe alongside strangers interacting with a telescope trained on the moon, reinforcing the premise that we are all co-habitants of the same Earth.
Brotherhood of Skiing (10 min.)
Formed in 1973 during the height of the black power movement and now grown to over 3,000 members, the National Brotherhood of Skiers organization is dedicated to overcoming barriers to create a welcoming space for people of color on the slopes and supporting black youth in snow sports.
Detroit Hives (6 min.)
This inspiring film showcases a young beekeeping couple working to bring diversity to the field of beekeeping and create opportunities for young Detroit natives to overcome adversity. Detroit ranks fourth in the United States for the most vacant housing lots so to address this issue, Detroit Hives has been purchasing vacant lots and converting them into buzzing bee farms. Detroit Hives explores the importance of bringing diversity to beekeeping and rebuilding inner-city communities one hive at a time.
Youth Leaders in Southeast San Francisco(8min)
Bayview-Hunters Point in Southeast San Francisco has been on the front lines of the environmental justice movement since the 1940s. This short documentary film follows three environmental youth leaders who are changing the world, starting with their own neighborhood.
The Accidental Environmentalist: Catherine Flowers (10 min.)
A mosquito bite decades ago leads Catherine Coleman Flowers on her life's journey. This captivating film brings viewers into the world of Flowers, an Alabama activist who became passionate about the environment when she found out that tropical diseases, like hookworm, were showing up in her community because of sewage treatment problems. Her journey to solve problems at the intersection of poverty, climate change, and politics has taken her from the Alabama Black Belt to Washington, D.C., Switzerland and back.
Station 15 (15 min.)
High school student and poet, Chasity Hunter experienced intense flooding in her New Orleans neighborhood during both Hurricane Katrina and recent summer rainstorms. Inspired to find out how safe her city really is, she investigates its infrastructure and questions water experts, finding her own voice along the way.
A Letter to Congress (3 min.)
Wallace Stegner's 1960 letter to Congress about the importance of wilderness is the framework for a new message, one in which our unified voice can help prevent the transfer of our most valuable heritage— our public lands— to private and corporate interests.
From Darkness to Light (13 min.)
Life is challenging for women in Zanzibar, a semi-autonomous region of Tanzania made up of numerous islands where half the population lives below the poverty line. Mothers and grandmothers in Zanzibar are becoming solar engineers thanks to training from Barefoot College –so they can bring electricity to their villages where previously they relied on paraffin.
This Land (13 min.)
Runner and advocate Faith E. Briggs used to run through the streets of Brooklyn every morning. Now she's running 150 miles through three National Monuments that lie in the thick of the controversy around United States public lands.
Our National Parks belong to everyone. So why are they so white? (5 min.)
Only 20 percent of visitors to National Parks are people of color. As the broader conservation movement continues to struggle with diversity and inclusion, many worry that things will get worse. Learn about the troubling history of public lands and meet the conservationists of color trying to change the parks' future.
The Hammocks (27 min.)
While an early generation of climbers was summiting Everest and enjoying Yosemite's spectacular beauty in the 1950s, African Americans couldn't gain access to beaches in America. The Hammocks tells the story of a defiant friendship between Dr. Williams Sharpe and African American outdoorsman John Hurst. The friendship itself was an act of resistance and the subsequent story of a coastal Barrier Island's journey to its place as a pristine Jewel on North Carolina's Coast is surely inspiring. This is a story of how African Americans asserted their rights not only to open school lunch counters and public spaces, but also recreational wild places.
Words Have Power (6 min.)
Ten-year-old Jaysa's dynamic speeches at rallies and city hall catalyze her community against the coal-fired power plant that causes her asthma – and they succeed in shutting it down. Evoking social justice and environmental racism, she wonders why so many such plants are put in her neighborhood.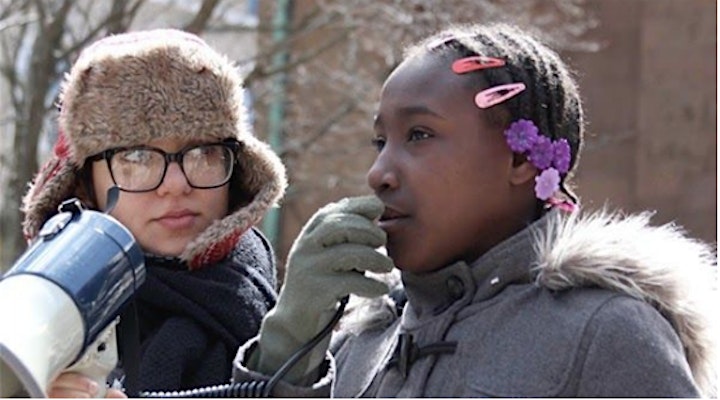 Top Photo Credit: The Hammocks
Bottom Photo Credit: Words Have Power
Date and time
Location
Refund policy
Contact the organizer to request a refund.
Eventbrite's fee is nonrefundable.
Organizer of Representation Matters - 10 days Video On Demand
Main Street Pops
Exceptional Events in Unexpected Spaces
Dynamic and Engaging Pop-Up Programming designed to bring people together.
Live and Virtual events & immersive experiences that inspire communities to reconnect.
Popping Up Where You Need Us!
Art Shows
Artisan Markets
Holiday Immersive Experiences
Film Festivals
Virtual Programming
Fundraisers