(Re)Present 2015

Thursday, May 7, 2015 from 6:30 PM to 9:30 PM (PDT)
Event Details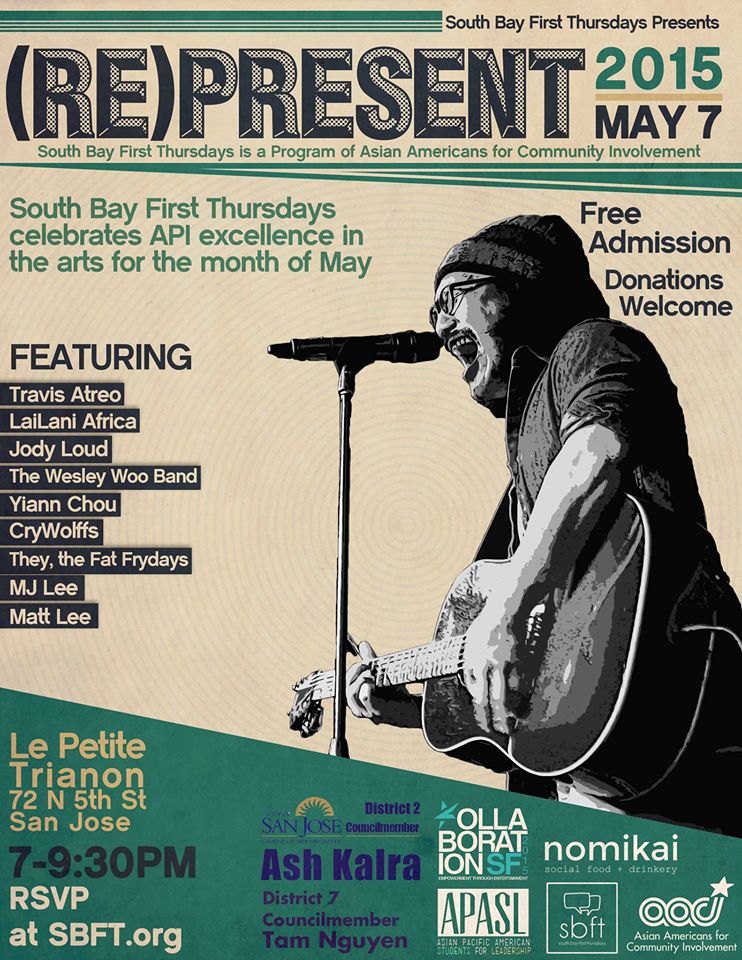 In celebration of Asian Pacific American (APA) Heritage Month, South Bay First Thursdays returns with its annual variety show (Re)Present to recognize APA excellence in the arts and culture.  
Date & Time: Thursday, May 7 from 7:00 p.m to 9:30 pm. Doors open at 6:30 p.m.
Location: Le Petit Trianon Theatre, 72 N. 5th Street, San Jose, CA 95112
FREE PARKING IN GARAGE ACROSS STREET
http://www.trianontheatre.com/ 
To RSVP: Facebook | Eventbrite
Admission is FREE. Donations are appreciated to benefit SBFT's monthly community events and programming. 

(Re)Present 2015 Official Afterparty
Time: 10:00 pm - 12:00 am
Location: nomikai on 48 S First St. 
Down the street from venue

Sponsors
Office of SJ Councilmember Ash Kalra
Office of SJ Councilmember Tam NguyenEsq
nomikai
Enlightenment Studio - http://www.enlightenmentstudiosj.com/

Community Partners
Kollaboration SF Bay Area
De Anza Apasl

Performers:

Travis Atreo (Headliner) - https://www.youtube.com/user/TravisAtreo/videos
Travis Atreo is a producer, singer and songwriter originally from Seattle, WA, and the lead singer of the band New Heights. In 2013 Travis moved to LA to further pursue his career as a producer and has worked on many projects for other YouTubers such as Jason Chen, Joseph Vincent, AJ Rafael, ClaraC, Tiffany Alvord and more. Last October Travis began posting weekly covers on his own YouTube channel and in the short time has attracted over 6 million views from people all over the world, even attracting Taylor Swift herself to share his cover of her song "Style". This fall Travis plans on releasing his first solo EP.

Lani (Lailani Africa) -
http://lailaniafrica.com/ 
Lailani Africa is a singer-songwriter based in the Bay Area. Her style reflects many influences. She is a touch of Jazz, Hip Hop, R&B and pop with a hint of indie flavor. Through the years, she dedicated her time learning the craft of songwriting. She seeks growth, ever-changing sounds, and unique collaborations. Her experience in music has led her to become an advocate of the arts. She hopes to inspire and raise awareness of arts education for our children's schools. Lainlani aims to create music that is soul conscious, music that makes you think, and music that makes you feel good. 

Jody Loud - 
https://soundcloud.com/jodyloud
Jody Loud is a 26 year old Chinese-born rap artist from California. He grew up on Nas and cable television, and doesn't eat milk with his cereal. His music explores social issues through clever punchlines and facetious humblebrags. He likes big butts and he cannot lie.

Wesley Woo
http://www.wesleywoomusic.com/
Wesley Woo is an award winning singer, songwriter, and guitarist with roots in Blues and Post Rock. Currently performing with "Wesley Woo Band," his songs sound somewhere between U2 and Coldplay. Wesley was awarded " 2013 Best Song of the Year" by West Coast Songwriters SF for his song "Stay," from his album "Do Re Mi."

Yiann Chou - 
http://yiann.bandcamp.com/
Yiann learned to sing and play the drums and guitar after consistent exposure to music at her childhood Taiwanese and Chinese Christian church in San Jose. Now she deeply values connection with music and the arts, history, and nature. Looking at pictures of food is pretty fun, too.

CryWolffs! Violin - 
http://crywolffs.wix.com/crywolffs
Corey Wolffs aka CryWolffs Violin is an electric violinist from San Mateo, California. He started learning violin at the age of four and has now melded his classical training with his passion for performing, his love of popular music, and his infatuation with music technology. He has performed on stages up and down the West Coast and regularly participates in Asian American Cultural and Community Events.

They, the Fat Frydays - 
They, the Fat Frydays began in an art studio with five boys sitting around drinking whiskey and talking about women, trucks, and dogs. In a drunken haze a country band was formed.

MJ Lee. - 
MJ Lee. is an independent pop singer/songwriter based in San Francisco. Her tuneful melodies, probing lyrics, and rich arrangements evoke the sounds and words of Sara Bareilles, Vienna Teng, and Jónsi. 

Matt Lee - 
Originally from Chicago, Matt is simply a guy who loves to play guitar. With a background in classical training, his music interests have expanded over the years to various acoustic fingerstyles and as a recent bay area transplant he's hoping to share his love of music to the local community.

Questions? Please contact Son at son.chau@sbft.org
When & Where

Le Petit Trianon Theatre
72 North 5th Street
San Jose, CA 95112


Thursday, May 7, 2015 from 6:30 PM to 9:30 PM (PDT)
Add to my calendar
Organizer
South Bay First Thursdays (SBFT) is a volunteer-run organization that holds events on every first Thursday of the month to discuss topics relevant to the Asian-Pacific Islander (API) community. Our events consist of a panel of experts followed by facilitated group discussions.  Beyond providing the community with knowledge, SBFT also provides a chance for young professionals to build networks and new friendships with people in the non-profit, for-profit, and government sectors.
Our Vision:
South Bay First Thursdays aims to foster an engaged and empowered community that believes in equality, education, action, and diversity.
Our Mission:
South Bay First Thursdays exists to inspire, educate, and mobilize the community about API relevant issues by promoting safe and facilitated dialogues.
SBFT is fiscally sponsored by Asian Americans for Community Involvement (AACI), Santa Clara County's largest community-based organization focused on the Asian community.