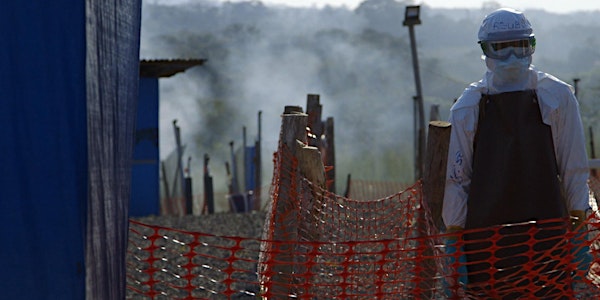 Reporting from the Frontlines: The Battle Against Ebola [Berlin, Germany]
When and where
Location
BMW Foundation 58 Reinhardtstraße 10117 Berlin Germany
Description
When a deadly virus ravages through villages and across borders, journalists must dive headfirst into its path. The world relies on these reporters to reveal the political and cultural truths of the emergency, but at personal expenses. What does it take to report from the Hot Zone? What opportunities, challenges, and findings during the Ebola epidemic coverage affected them most?
Join global health journalists Amy Maxmen and Carl Gierstorfer as they discuss the realities of reporting and the vulnerable populations they cover.
October 14, 2015
6:30-7:45pm
Reception follows event.
BMW Foundation
Reinhardtstraße 58
10117 Berlin
Amy Maxmen is a journalist who covers disease, science policy and evolution among other topics. She also writes about how scientists interact with the world. Prior to writing, she earned a Ph.D. in evolution from Harvard University. In her most recent collection of stories reported from Sierra Leone, Amy covered Ebola for several outlets, including National Geographic, Newsweek, The Economist, Al Jazeera, and Nature. She reported on the vital role of anthropological and medical research during the Ebola emergency. She wrote about the cultural aspects that fueled the outbreak, and those that diminished it. She also covered the failures and obstacles in international aid, including the lack of pay for health workers on the front lines. (Follow Amy on Twitter: @amymaxmen)
Carl Gierstorfer is a journalist and filmmaker with a background in biology. He has produced and directed documentaries for ARTE, ZDF, Smithsonian Channel and the BBC. As a videographer, he has reported from all corners of this world. Carl's most recent Pulitzer Center-supported film, "We Want You to Live: Liberia's Fight Against Ebola" (co-produced by SWR/ARTE, Al Jazeera, Sales: PBS International), reveals one community's fight for survival against Ebola through the eyes of Liberians battling to bring the outbreak to an end. The film follows four characters over the course of five months in their struggles against the disease. An earlier film, "The Bloody Truth," is a detective-like medical documentary following researchers in their efforts to determine the origins of HIV. The film premiered on ARTE for World AIDS Day 2014. (Follow Carl on Twitter: @carlgierstorfer)
Questions: ebaumgaertner@pulitzercenter.org