Description
Everybody, Everybody, Testify!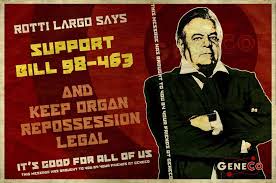 One-night only screening of REPO! THE GENETIC OPERA with director Darren Lynn Bousman & co-writer/GraveRobber Terrance Zdunich!
This exclusive event is in honor of REPO! THE GENETIC OPERA's five year film anniversary. The screening will be followed by a live audience Q&A with director Darren Lynn Bousman and co-writer/star Terrance Zdunich. They will discuss the history and future of their unique project.
This is a private event, so all ages are welcome, but parents should use discretion when bringing children to the event. The film include gore, some foul language and scary imagery, and the question and answer portion of the evening will be unscripted and may contain foul language.
Official merchandise will be available at the theatre for cash only purchases.
Sensitivity Warning: some strobe effects are used in the film.
Note: sales tax and fees are included in the ticket prices; all sales are final.