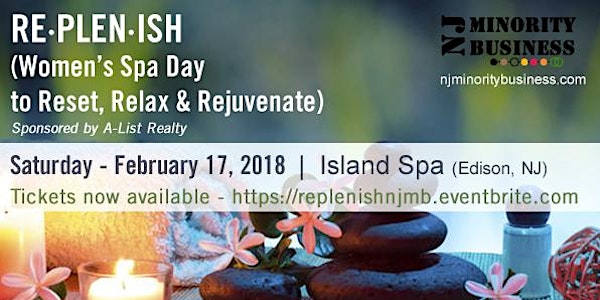 RE·PLEN·ISH (Women's Spa Day to Reset, Relax & Rejuvenate)
When and where
Location
Island Spa & Sauna 1769 East Lincoln Highway Edison, NJ 08817
Description



Jumpstart 2018 refreshed and recharged!
RE·PLEN·ISH (Women's Spa Day to Reset, Relax & Rejuvenate)
Join the NJMB network for a relaxing spa day! As busy professionals we work hard and should play even harder while striving for success and pushing ourselves to the next level. NJ Minority Business (NJMB) recognizes the need for professional women to RE·PLEN·ISH - our minds, body and soul; at this event you can unwind and do just that. You will also make new professional acquaintances from various industries who may be a source of valuable information, become a new client, provide encouragement or spark a refreshing conversation. [Attendees can also feel free to ask informal / candid questions about buying/ selling/ financing real estate. Private office consultations can also be scheduled by request. This is a no pressure / spa day.]
Please secure your tickets by Thursday, February 15th.
---
Event Overview
10:00 AM to 10:30 AM
Arrive at venue and pickup your ticket from an NJMB representative
10:00 AM to 11:30 AM
Get situated and self explore the venue
Partake in the sauna experience and other spa offerings
11:30 AM to 12:30 PM
Motivational message by Patricia Price/ Introductions & 30 Second Intros
12:30 PM to 1:30 PM
Lunch / Snack buddy break / Structured networking
1:30 PM to 2:00 PM
Closing & Follow Up Group Networking
2:00 PM to 12AM
RE·PLEN·ISH ends at 2:00 PM; though you are free to stay at spa until closing, as per venue policy. This is the perfect time to continue relaxing, schedule spa services and to further explore and enjoy the spa.


---

Please read below for details on the venue and FAQ's
About Island Spa (venue)
Island Spa & Sauna a 30,000 square feet day spa aims to revitalize your mind, body and soul. We offer unique dry saunas made of earthy materials (clay, rock salt, charcoal, and more!) which touts unique health benefits. Encapsulated inside you will discover a world of extraordinary spa services from massages to traditional Korean body scrubs or facials, just to name a few. At our food court you will enjoy traditional Korean cuisine and at our juice bar you will discover a variety of fresh juices, smoothies and light refreshments. We invite you to getaway to a stress free haven. Learn more about Island Spa; view their frequently asked questions.
---

FAQ's

Who should attend this event?
Professional women seeking to relax and network with other professional women


What is the fee to attend RE·PLEN·ISH?
$35 (non-refundable)
This includes introductions and networking amongst the NJMB group
Includes special perks from NJMB sponsors (when available)
Includes entry to the spa facilities

Includes access to 5 Dry saunas - everyone is clothed in case you're wondering; (dry saunas include - charcoal, salt, clay, island, treasure, ice), 4 soaking tubs, steam room, toiletries, shower area, uniform, towel, sleeping room, lounging area, and wifi.
DOES NOT INCLUDE spa services (massage, facials, etc...). All spa services can be purchased à la carte onsite directly from the spa facility or you can make reservations in advance. We suggest scheduling spa services after the RE·PLEN·ISH mixer ends at 2pm. View details about the faciliies online.

How long is the RE·PLEN·ISH spa day?

NJMB will be onsite from 10am to 2pm. Attendees should arrive promptly at 10:00am to receive tickets directly from an NJMB representative.
Once you receive your ticket (onsite/on event day between 10-10:30am) for RE·PLEN·ISH from an NJMB representative you are welcome to spend the entire day onsite to relax per the venue's rules/policies.

How do I get my ticket to enter the spa and network with the RE·PLEN·ISH / NJMB group?
To patricipate in RE·PLEN·ISH, please register in advance using this webpage.
You must receive your actual ticket from an NJMB representative.
Group information along with tickets will be dispersed onsite/on event day between 10-10:30am.

Secure your ticket online by February 15, 2018.
What type of industry professionals attend NJMB events?
Real Estate professionals
Tax Advisors
Lawyers
Financial Advisors
Mortgage Lenders
Title Companies
Hair & Beauty professionals
Health & fitness
IT & Digital
Sales & Marketing
HR advisors
+more!
How do I sponsor this event?
Get excited! It's time to RE·PLEN·ISH
PS- Tell a friend! The more the merrier :)
---
Questions?
Text 609.839.2203 with any questions/concerns

---
About NJ Minority Business (NJMB)

NJMB provides a platform, in addition to creative services and information, to help diverse professionals connect and grow professionally. To learn more about NJ Minority Business, visit - www.njminoritybusiness.com


NJMB is dedicated to bringing new experiences and unique networking opportunities to our professinal network of 55,000 professionals in the NJ tri-state. Join us for this exciting, relaxing spa experience.
---
Special thank you to our event sponsors!
SPONSORS:
A-List Realty
American Financial Network, INC