Description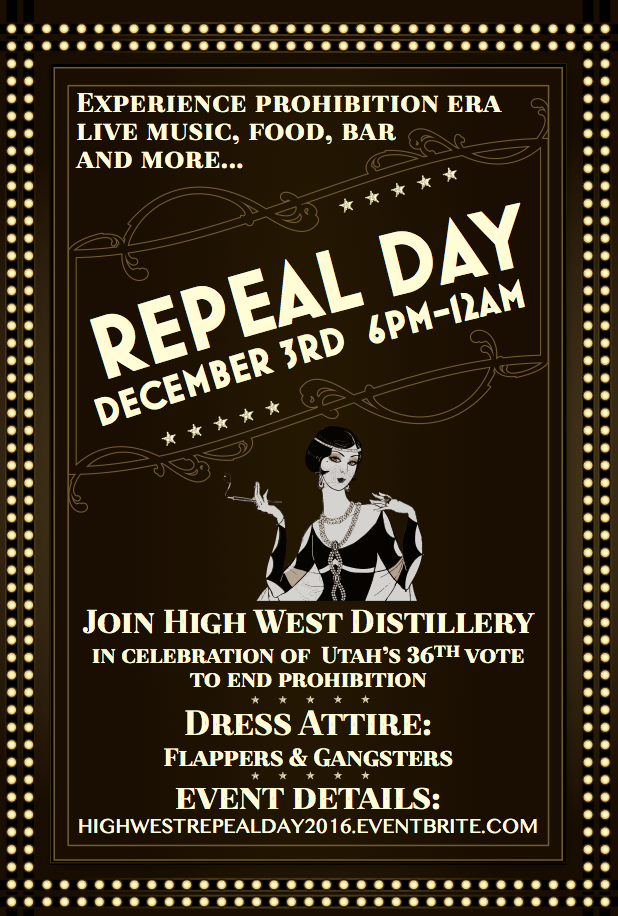 You're invited to celebrate Repeal Day with High West Distillery!
December 3rd at our distillery in the mountains of Wanship, Utah
6:00PM - 12:00AM (21 yr. or older)
Transportation is INCLUDED in ticket price! Varied ticket types below contain information regarding schedule times (pick up, arrival and departure).
Guests will enjoy prohibition era food, cash bar, live music and exclusive access to purchase a celebratory Barrel Select #4423, our very own American Prairie Bourbon aged an additional 9 months in barrels that used to hold The 36th Vote Barrel Aged Manhattan.
Party Attire: Flappers & Gangsters
Limited transportation tickets are available for purchase.
Please note, that the ticket time corresponding pick up also explains the departure time. If a guest misses their departure bus back to Salt Lake City or Park City they are responsible for their transportation from the distillery.
SHUTTLE SCHEDULE:
COACH BUS
Salt Lake City Shuttle Schedule (Millcreek Park & Ride - 3300 S 230 W, South Salt Lake, UT 84115)
1st Pick up:

6:30PM

to be dropped off at High West Distillery by

7:15PM

2nd Pick up:

8:00PM

to be dropped off at High West Distillery by

8:40PM

1st Departure from Distillery (1st pick up must use this shuttle - not final shuttle) headed back to Salt Lake City:

10:15PM

Final Departure from Distillery (2nd pick up must use this shuttle - not earlier departure shuttle) headed back to Salt Lake City:

11:45
Park City Shuttle Schedule (Park City High School)
Pick up:

7:00PM

to be dropped off at High West Distillery by

7:30PM

Departure from Distillery (1st pick up must use this shuttle - not final shuttle) headed back to Park City High School:

10:30PM
28-PASSENGER SHUTTLE
On-site at the distillery running shuttles from lower parking lot to distillery